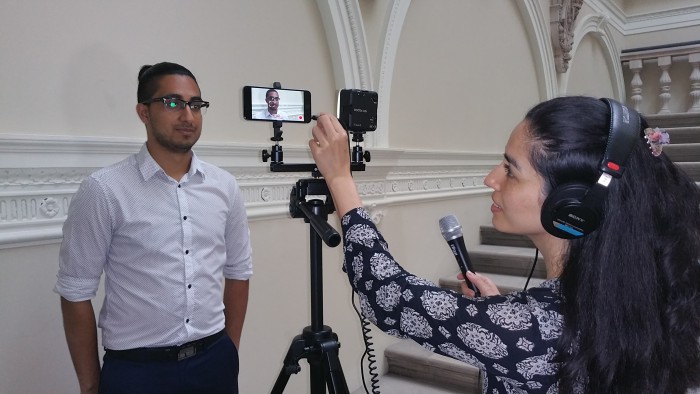 The latest smartphones make everybody a potential video director. But there's more to creating effective videos than an iPhone and a sprinkling of enthusiasm. The FCO's Digital Transformation Unit is rolling out a new wave of training to staff in British Embassies and High Commissions to help them make better use of these powerful digital tools to enhance their public communications.
FCO staff work in far-flung locations around the world, sometimes in difficult and dangerous circumstances. Communications are integral to that work, and video is playing an increasingly important role in engaging audiences.
Just as journalists are turning to mobile video for news gathering, the portability and relatively low cost of smartphones present an opportunity for more FCO staff to take video production 'on the road.'
In a fast-moving, 24 hour media environment it is more important than ever that the work that we do is communicated well, and quickly. Video can help to bring to life the issues and policies we work on for global audiences that are increasingly choosing mobile and social over more traditional media.
So here in DTU we're now piloting an improved, hands-on training workshop for FCO communications staff around the world to help familiarise them with the equipment and techniques they can use to record, edit and publish video using smartphones.
We hope that by understanding and practising some basic principles, our colleagues will be able make consistently good quality videos. In addition to the basics of lighting, sound and composition, this also means understanding how to plan their production effectively and how to communicate a message clearly and simply. We also hope that it will inspire our colleagues to try more creative techniques once they've mastered the basics.
Our first workshop in smartphone video was trialled successfully at a regional conference for FCO communicators in Dubai earlier this year. We'll shortly be rolling the training out to more of our regional Digital Hubs (in Madrid, Washington, Singapore and New Delhi). Ultimately it will become part of the FCO's Digital Curriculum, part of the professional development programme available to all staff.
The training complements the professional video production advice and consultancy available to the FCO network from our Creative Services Unit, based in London.
You can see some examples below of video created by our staff following the new training course. We hope to bring you further highlights reels later in the year!
http://blogs.fco.gov.uk/grahamharradine/2015/08/25/getting-smart-about-mobile-video/