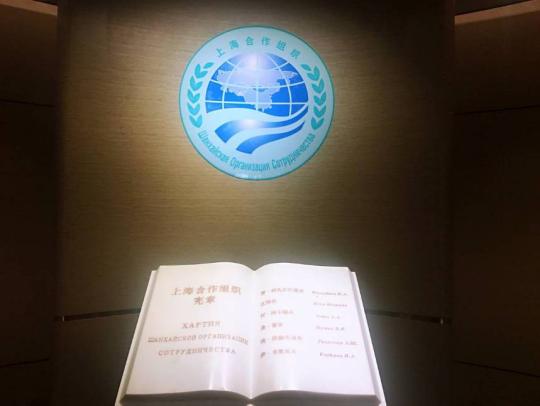 ecns.cn; Editor: Gu Liping, 2019-04-22; article contains an English-language video of an interview with Norov
The Shanghai Cooperation Organization's (SCO) Secretary-General Vladimir Norov will attend the Second Belt and Road Forum for International Cooperation in Beijing next week.
How can members of the SCO increase connections between their people through the Belt and Road Initiative (BRI)?
Below is the transcript of CGTN's interview with Norov. It has been edited for brevity and clarity.
Q: The bedrock of the Belt and Road Initiative is inter-connectivity. What role does the SCO play in promoting people-to-people exchanges?
A: We have a special agreement about cultural cooperation, and a lot of exhibitions are being held in our countries. Communication between people plays an important role.President Xi Jinping during the Summit of Bishkek in 2013 announced the creation of the China Special Committee of the SCO for long-standing good cooperation and partnership. This fulfills the role of public diplomacy [JB emphasis].
The Charter Hall of the SCO Secretary building. /CGTN Photo
The BRI plays an important role as it revives the historical Silk Road along which people traveled without barriers. That's why we are now focusing on the liberalization of trade and tourism.
Q: The international marathon of the SCO will be held both in Kunming, Yunnan Province, and in Kyrgyzstan. Could you please give us more details on this event ?
A: The SCO marathon will be held in Kunming on December 8, and on May 11, another marathon will take place in Kyrgyzstan in a very beautiful place on the Issyk-Kul Lake.

[JB: Issyk-Kul Lake; image from Wikipedia, which states: "Issyk-Kulj is an endorheic lake in the northern Tian Shan mountains in eastern Kyrgyzstan. It is the seventh deepest lake in the world …"]
Those sports events strengthen mutual respect and mutual understanding, and connect people, based on the Shanghai Spirit.
Chinese President Xi Jinping and leaders of other member states of the SCO meet the press in the coastal city of Qingdao, east China's Shandong Province, June 10, 2018. /Xinhua Photo
Q: How can the SCO members expand cooperation under the framework of the BRI?
A: By actively participating in the BRI, our countries can raise their export capacity. China is open and is promoting this.
At the same time, by actively participating in the BRI, our countries can very successfully use infrastructure projects to modernize and develop new transport communication linkages.
Any cooperation is a two-way street. The benefit should be for both sides, and only then would cooperation be successful and attractive. The Chinese leadership is promoting such cooperation.
Original Article