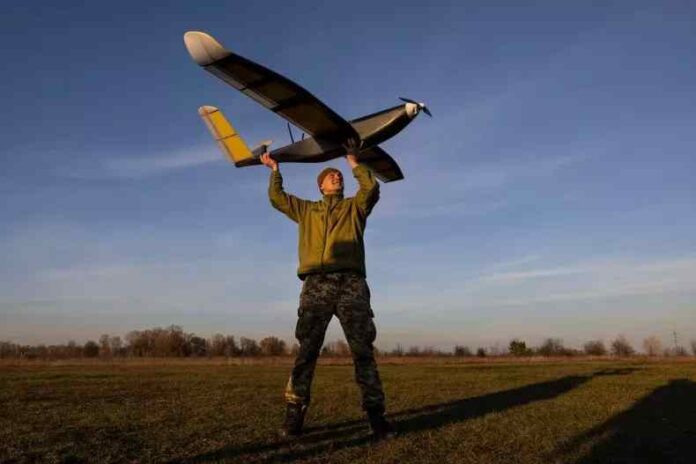 Ukraine is using commercial drones to record frontline victories, uploading videos that verge on the gamification of real-life combat.
More extreme footage has emerged from Russia, including execution videos.
The techniques appear inspired by "innovations" made by ISIS during its rapid ascent across Syria and the Levant nearly 10 years ago.
When Constantine Kalynovskyi served with the Ukrainian Armed Forces during Russian President Vladimir Putin's initial invasion of Ukraine in 2014, the combat veteran's unit lacked equipment that has drastically changed how audiences consume war reporting in today's full-scale invasion—surveillance drones.
Nine years on, Ukrainian combatants are using commercial drones and GoPro cameras to record their battlefield victories, uploading videos that capture with precision the destruction of enemy tanks, sniper kills, and grenade explosions.
Ukrainian battalions such as the White Wolves are filming footage for social media consumption from a bird's-eye view that verges on the gamification of real-life combat. Meanwhile, footage has also emerged from Russia, including the gruesome sledgehammer execution of a former convict who fled notorious paramilitary outfit the Wagner Group, and a video that appeared to show a Ukrainian soldier being beheaded with a knife.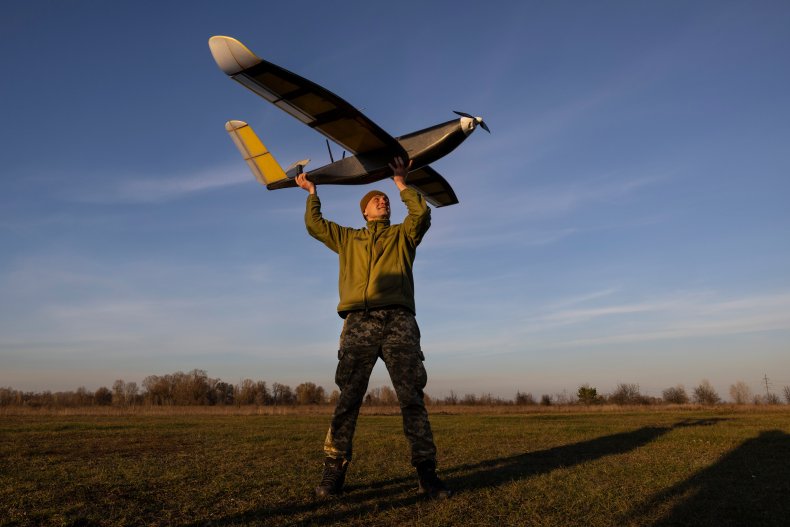 Some of these video techniques were pioneered by ISIS, the Islamic State group, during its rapid ascent across Syria and the Levant nearly 10 years ago. The group published sophisticated, polished, and sometimes graphically violent videos as part of a wider campaign for recruitment, to try to show its legitimacy, encourage supporters and frighten enemies.
For Ukraine, the motivation behind the creation of slick videos from battlefield scenes is to draw in enough viewers globally to ensure that the country's fight against Russia isn't forgotten, and to prove that the West's financial and military support for Kyiv hasn't been, and won't be, in vain.
That's according to Kalynovskyi, who was mobilized in 2014, when Putin invaded Ukraine's eastern Donbas region and illegally annexed the Black Sea peninsula of Crimea.
He served for 14 months before he was demobilized due to a freezing of the conflict. Kalynovskyi moved to the United States in 2018, where he now assists Ukrainian units in procuring protective, medical, and surveillance gear—including in-demand DJI Mavic 3 drones that are being used by soldiers to film battlefield footage.
Surveillance Drones
"In 2014, such videos would be really rare. The only drones that were available back then were military-grade, professional drones—the smaller commercial drones simply did not exist," Kalynovskyi told Newsweek.
Surveillance drones have "changed absolutely everything on the battlefield," he said.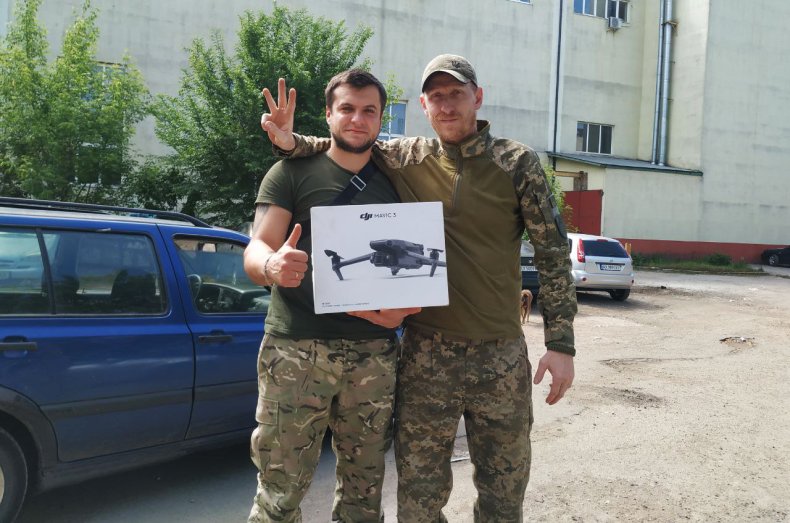 "We have seen how Ukrainian military aid comes in from supporting countries. It usually comes in when Ukraine is successful, because no one wants to help someone who does not know how to use the help."
"With this drone footage, Ukraine is capable of showing that we can defend. We can fight, we can we can stand our ground, we can resist this genocidal war. Drone footage and media coverage cemented the support for Ukraine all over the world," he said.
"It's shown that the Russians can be fought—they're not some superpower. A big reason why Ukraine is getting so much support, in my opinion, is due to the availability of this footage."
Newsweek contacted the defense ministries of Ukraine and Russia by email for comment.
Gamification of Combat Videos
Ukraine's White Wolves unit has been releasing videos throughout the conflict showing how its forces destroy Russian targets, including tanks. One such clip tweeted by Ukraine's security service the SBU in March shows an aerial view of military vehicles exploding after being hit from above.
Sean Heuston, a professor who teaches courses on propaganda, social conflict, and media studies at The Citadel, the Military College of South Carolina, told Newsweek the clip is "a great example of the gamification of combat videos and the strange quality overlap between video games and real-life footage" that ties in with video techniques employed by ISIS.
ISIS, Heuston said, emphasizes a type of propaganda video that "unfortunately is much more appealing to younger audiences."
"They often resemble action movies and prioritize dramatic conflict, whether that be combat footage or on-camera beheadings. And thus, they're more likely to generate views and clicks," he said.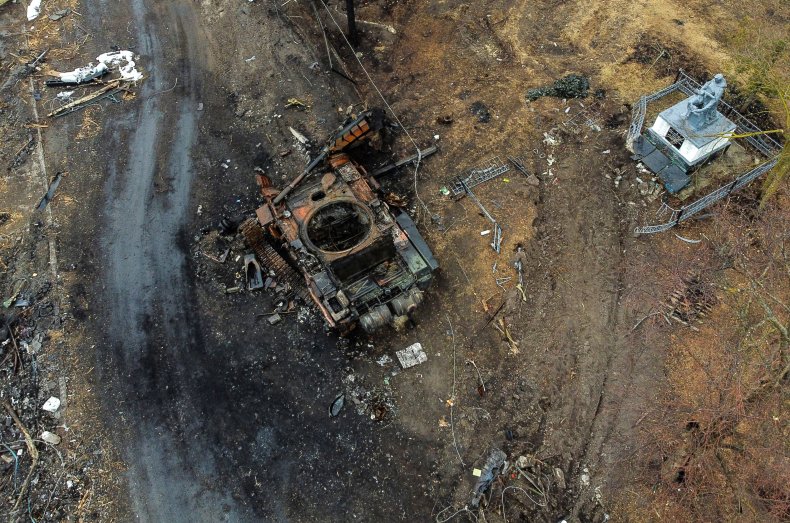 Heuston said some Citadel cadets have told him it has become difficult for them to tell the difference between real-life combat footage and video-game footage in the ongoing war in Ukraine.
"That sort of blurs the line between the two, especially when most young people watch videos and play games on their phones, where the small screens minimize differences between high-quality video and lower-quality video that might look a lot worse on a laptop screen," he said.
"The White Wolves videos are so sharp and clear that you can even get a good look at the ammunition they're using as the shells plunge toward their targets."
Russia vs Ukraine
Russia and Ukraine are "looking at different targets" in the types of videos that are being produced throughout the war, Heuston said, assessing that Russia's focus appears to be drawing in recruits, while Ukraine hopes to pull in financial and military support from the West by keeping audiences invested.
"I think Ukraine has figured that out and has sort of reverse engineered the important parts of or some important parts of the ISIS propaganda approach, while separating it from the morally horrifying or morally repugnant parts of ISIS," he said.
Ukrainian President Volodymyr Zelensky has used media "brilliantly" so far in the war, Heuston said.
"The type of video that Ukraine is releasing is not an afterthought. It's part of Ukraine's grand strategy which employs different forms of power from traditional diplomacy to public appeals via social media. Videos like the ones they are releasing draw eyeballs and generate clicks."
Ukraine has "figured out how to go viral repeatedly" and "how to keep international attention on the Russian invasion."
"I'd say Ukraine is conducting a masterclass in contemporary warfare and digital diplomacy, and its use of videos helps keep attention and money and material coming in to sustain the war effort," said Heuston.
Ukraine understands that it has not only the battlefield operational level to contend with but the larger issues of support and continued funding worldwide. "I think they are intelligently trying to keep the Russian invasion from becoming normalized," he added.
Russian propaganda has "not done that nearly as effectively," Heuston continued. "Putin doesn't primarily care about presenting an acceptable face to the international community."
"Most likely, Russia has basically decided that the potential benefit of the sledgehammer video and macho posturing will outweigh the risks to them—I think they see the benefit as possibly drawing large numbers of Russian recruits. But they are, by all accounts, short on manpower and desperate to do that."
Recruitment Videos
Many recruitment videos produced by ISIS prey on a target's weak sense of identity, something that has been mirrored by Russia throughout its full-scale invasion of Ukraine, Heuston said.
A video ad was shared to Russian social media networks in April that promises volunteers can become "a real man" by fighting in Ukraine. It urges men to abandon their mundane jobs in Russia for the more manly pursuit of combat and a salary of 204,000 rubles per month ($2,500).
The recruitment video asks Russian men with domestic occupations like grocery store security guard and taxi driver if this is "the kind of defender" they "dreamt of becoming." Men are urged to find where their "strength lies" by joining the military, with the ad concluding "you're a real man, be one."
Heuston drew parallels to Shamima Begum, a British-born woman who entered Syria to join ISIS at the age of 15. He noted that she has spoken publicly about being radicalized and recruited by ISIS videos that "presented this notional caliphate as a utopia."
"I don't want to trivialize it by reducing it all to advertising. But clearly, some of this has an advertising element to it. And in some ways, the fundamental thing of, identify the problem, and then propose a solution."
"The Russian recruiting video that challenges the masculinity of young men and frames enlistment as a way to prove that they're real men effectively targets the widespread sense of disaffection many young men worldwide struggle with because real life mostly isn't like the video games they spend so much time playing," Heuston said.
"If you dangle the opportunity to play a real-life first-person-shooter game in front of enough young men, quite a few of them will bite."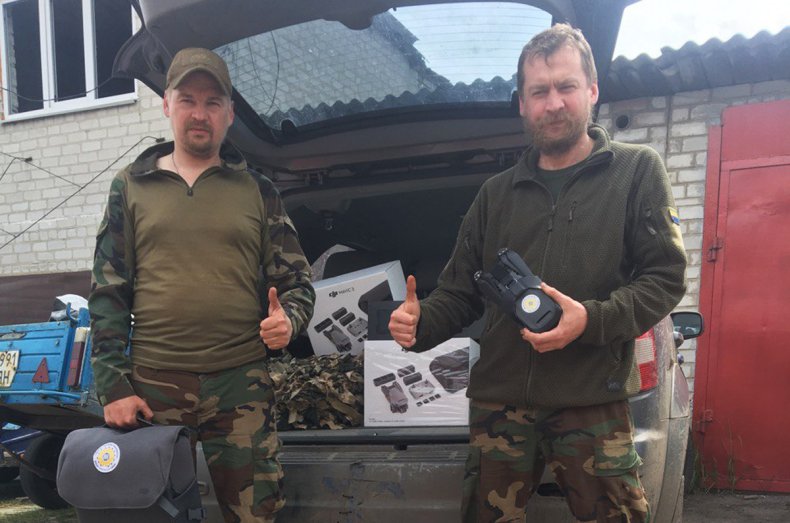 Kalynovskyi said recruitment videos in Ukraine vastly differ from Russia-produced adverts.
"Russia wants to promote masculinity of a big man with big muscles that wants to fight and defend his neighborhood through his Motherland. But in Ukraine, we don't do such promotions," the combat veteran said.
"We have a lot of those videos that are more like emotional, appealing to a person's human side as opposed to a masculine side. Completely opposite from what Russia is doing."
Combat footage aside, Kalynovskyi said drones have "changed absolutely everything on the battlefield" compared to when he served in the armed forces in Ukraine in 2014. The equipment has played a vital role in preventing Russia from seizing territory in Ukraine in the full-scale invasion, he said.
"The drone is something that I call a force multiplier. If your unit knows how to utilize and has the drones, your effectiveness can be multiplied by like tenfold," he explained. "Before you would need some frontline observers to tell you if you hit the target or you did not."
"It's because Ukraine managed to utilize these cheap commercial drones, I will say that's one of the key reasons why Ukraine managed to stop this invasion—in Kyiv, in Chernihiv, in Kharkiv, in Sumy—because we simply had this intelligence information."
Kalynovskyi added: "If we're talking about surveillance drones, they provide information and information here is the key."
https://bityl.co/J068
Does Social Media Really Bring Us Closer To The Reality Of Conflict?