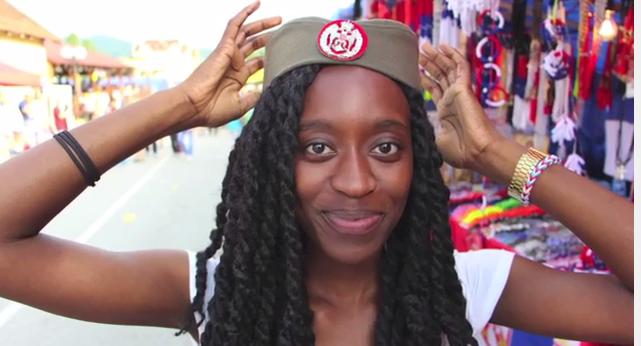 This wonderful young lady met her Serbian boyfriend on the social media site, Say Serbia, that my Chicago Serb friend and I helped bring about.  Hope they name their first child after me. ;) She contacted me on Facebook to ask for a few tips and bits of advice prior to coming here this past summer.
We had plans of meeting up while she was here, but we never seemed to be in the same place at once. One day I was with some friends in Novi Sad and bumped right into her and her Serbian boyfriend. They told me about a ton of experiences that she had encountered. She told me about her plan to create a video diary of her Serbian vacation when she returned to Ireland. Guess what I received in my mailbox today? This beautiful 28 minute video that documents her entire trip. I wanted to grill her with a few questions before posting it and she was kind enough to respond.
1. What did you hear about Serbia before visiting?
"I had never really heard much about Serbia. The only word I would have used to describe it previously would have been Sports! I was aware of a few of their athlete e.g. Vidic, Ivanovic, Seles, Djokovic etc"
2. Did you have any fears about visiting Serbia?
"As a kid, one of the stereotypes I heard a lot was Eastern Europe is dangerous, especially if you are black, as a result I never questioned that statement and deemed it to be a no go area for me.  As I got older and began to interact and befriend more people from different nationalities I realised most stereotypes I've heard are extremely false and through stereotypes prejudice and discrimination are formed. I wanted to overcome that.  I became more interested in travelling and learning about different cultures .My mum visited Poland a few years ago and loved it. It really encouraged me to want to travel more and experience places for myself. That's where my curiosity to visit the eastern part of Europe began. Naturally I researched alot about different places to visit but after randomly talking to someone from the Balkans (he didn't want to tell me he was from Serbia at first) and seeing how friendly and pleasantly easy to talk to he was, I wanted to learn a bit more about Serbia. Which is how started reading about other people's travel experience and also how I came across YouTube videos of this American guy who was excited and passionate about Serbia.
Initially I wasn't scared about visiting but when I started informing people about my upcoming trip, I was really taken back by the prejudice comments I was hearing from others, who I'm certain couldn't even point out the country on a map if asked. This did lead me to start to worry about my visit just from allowing others comments to scare me. Two weeks before I was to leave, I messaged a black girl from London who had just returned from the EXIT festival held in Novi Sad. She shared with me her observations during her time there, how she loved every minute she spent in Serbia, how friendly and courteous people were and not to allow opinions of others to dictate my decisions and said that I should go there and see for myself before passing any judgement. Today I'm glad to say I'm delighted I went."
3.  I have heard a lot of propaganda about Serbs being racist. What are your thoughts after being here ?
"I did get alot of stares especially in Zrenjanin; people didn't even try to hide it. I was asked to take many pictures in Guča but you realise that people are just curious about you. People were interested in my background, my hair, the type of music I like etc. I didn't experience any hostility during my visits to different towns and cities. 
Serbia is country that is often misunderstood by the world and seems to be painted in a negative way. All i can say is that it's a place full of rich heritage, culture diversity and truly exceptionally warm and hospitable people. It's the people who are the true treasure of this country. I've been to different countries but Serbia by far is the only place where i've truly felt welcomed and well looked after. It is impressive how they are willing to show you their home places and share their personal stories with you. I cried days before my flight, i just didn't want to leave. Not many places or people can make you feel that way."
4. What are four words that you would use to describe Serbia after spending your vacation here?
Divini ljudi
Odlicna hrana
Hospitality
Rakija
5. What is one thing that really shocked you about Serbia?
"I wouldn't say shocked but more touched. People don't earn alot and yet you wouldn't realise that from their behaviour. A friend of ours had been working almost 24hours one day and yet whenever we went out he always made sure to come and spend time with us while I was around. Everyone would always offer to pay for me, they wouldn't accept no for an answer. What I'm trying to say is that regardless of whatever situation they are in, people were still generous, caring and humble, making sure I was well looked after and even offering me gifts before I left. . My boyfriend's baba gave me a gift she had owned for over 30 years. I loved the fact that every meal we ate together at the dinner table or that the Sunday lunch was always at the grandparents' house, and everyone would insist that I should eat more because baba thought I was too skinny. Ne hvala, Sita sam was a phrase I used far too often. These kinds of gestures no matter how big or small really touch my heart."



6. Name one thing that annoyed you or something you disliked about Serbia.
"smoking indoors"
7. Favorite food and drink?
"Oh my goodness, there are too many to choose from. The food was so delicious with so many different flavours and very healthy. Most of the ingredients used were from my bf's fruit and vegetable garden."
Food
Gomboca
Gibanica
Cevapi
Sataraš
Domaćinski
Homemade plasma favoured ice cream
Drink
Medovača Rakija (had one too many
8. What would you tell any other women of color or women in general that were considering a trip to Serbia?
"I'd say go for it and experience Serbia for yourself. Immerse yourself in the culture, people and food of course. I highly recommend."
Please follow and like us: