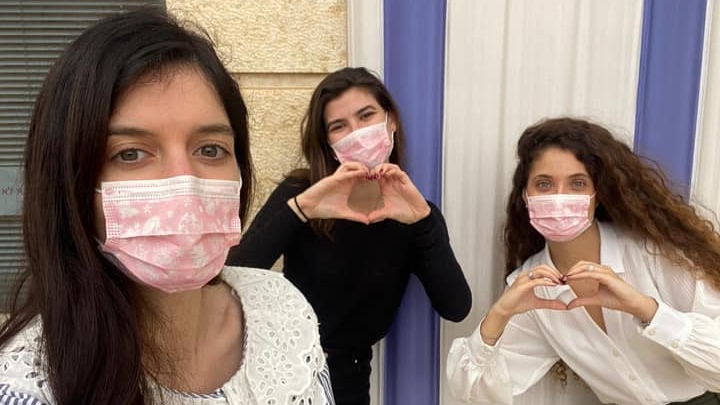 "May Allah keep you, our cousins." Warm messages such as that have been flooding into the Arabic-language social media accounts of the Israel Ministry of Foreign Affairs. They come in response to a post featuring a selfie of three Ministry employees and a message of support and hope to the Arab world.
After being posted to the Ministry of Foreign Affairs' Facebook and Twitter accounts, the selfie was viewed 6 million times and received tens of thousands of comments.
The Arabic-language message accompanying the selfie read:
"This is a message to you from Israel: We pray to Allah to protect the inhabitants of Arab countries. The Coronavirus is spreading quickly in the world these days, knows no borders, religions and nationalities."
Many, if not most of the responses were positive, such as:
"May Allah keep you and bless you" – Zachary from Sudan.
"Beautiful message of solidarity and peace" – Amin from Iraq
"Our hearts with Israel and the entire world in all its shades, religions and beliefs to defeat this virus together" – unnamed Iraqi
"May Allah preserve everyone. Humanitarianism first and foremost. Complete medicine for all patients" – female user from Morocco
"Beautiful behavior, good neighborliness, love and peace spread are the way to heaven" – Khaled from Saudi Arabia
"A thousand congratulations to our cousins, and thank you" – Ibraham, location unidentified
"Long live the Arab-Israeli fraternity, we long for health and peace for all" – unidentified Arab user
Of course, not all responses were positive. After decades of anti-Israel indoctrination, many in the Arab world continue to view the Jewish state as an intractable foe.
"Allah will keep everyone but you and Iran" – Rowan from Damascus
"Allah will keep you, but only until you develop a vaccine for Corona" – unidentified Arab user who hates Israel, but clearly recognizes Israel as mankind's best hope to defeat COVID-19
"You are not human beings, and we are not brothers" – unidentified Arab user
The social media accounts managed by the Department of Digital Diplomacy at the Israel Ministry of Foreign Affairs are followed by millions of people across the Arab world. In recend days, there has been a lot of expressed interest in Israeli efforts to develop a vaccine for COVID-19, as well as Israeli inventions to help maintain good hygiene.
Many inquiries were received from the Ministry's official pages on Facebook, Twitter and Instagram regarding possible treatments for the coronavirus. Sohir from Egypt, to give but one example, praised Israel's efforts on behalf of all mankind, and wished: "Inshallah, may you succeed."