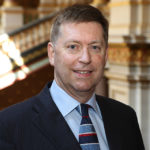 Skip to content
British Ambassador to Japan
4th October 2019 Tokyo, Japan
Japan welcomes the Rugby World Cup
Well, the Rugby World Cup is underway at last. With four teams to support: England, Scotland, Wales and – together with the Irish Embassy – the all of Ireland team; and 50,000 British fans here, it's a really busy time for the whole embassy. And following Japan's historic victory over Ireland, the whole country is going rugby crazy.
We put out a lot of useful travel advice for visiting fans on our digital media, as part of the Foreign Office's Travel Aware guidance. We keep this regularly updated, for example when there were warnings of a typhoon potentially hitting Sapporo, which would have significantly disrupted fans' travel plans. Fortunately the typhoon veered off. And we've used the brilliant London-based Japanese stand-up comedian Yuriko Kotani, to make a series of funny videos about aspects of Japanese culture that visitors should be aware of. For example, Japan is a much more cash-based society, some foreign prescription drugs are banned, and if you have tattoos you may be turned away from some establishments, like onsen baths, because tattoos here are traditionally associated with Yakuza gangsters. The Japanese media became quite interested in how we covered all this.
And our consular staff will be deploying to fanzones in each of the nine cities where we will have teams playing, all over the Japanese archipelago. They're easily recognisable in their British embassy t-shirts. We're expecting British visitors to have safe, trouble-free and very enjoyable visits to this great country. And that's certainly been the case at the matches I've attended so far. But just in case anything happens, it's good to know that there will be consular professionals, who speak Japanese and have good links to the local authorities, present on the ground.
The Embassy is also busy looking after the many VIP visitors who will be in Japan, including the Princess Royal as patron of Scotland Rugby, and representatives from the UK government and Devolved Administrations. The RWC is a wonderful showcase for Japan. But it's also a great opportunity for Japanese to learn more about the different nations which make up the UK, and of the Union we represent. The teams all got a warm welcome in the different regions of Japan where they had their training camps, and now that the tournament is underway, they are winning new friends wherever they travel. After one match, I found myself sitting on the tube next to a Japanese lady who seemed to be googling the lyrics for "Swing Low Sweet Chariots" so she could sing along.
My Residence is busy hosting numerous events to promote the home nations, involving rugby players past and present, and Japanese businesses who invest in or trade with the UK. And in some of the cities hosting matches, we're setting up pop-up "tasting galleries" for Japanese consumers to sample food and drink from all four corners of the UK, from Scottish gin to Welsh lobster. In fact we're using the World Cup to kick off a Year of UK in Japan 2019-20, running all the way through to next year's Olympics and Paralympics, to promote UK business and technology, food and drink , and with a cultural season including the BBC proms and the National Gallery. Alongside the official tournament, there are also parallel events involving Parliamentary, Military and wheelchair rugby teams.
Being an ambassador can be quite busy, hard work. But occasionally an experience comes along that makes you realise what an amazing job it can be too. Being invited down to the changing room after England's first match to chat to Eddie Jones and the players was one of those moments. Good luck to all our teams.
Please follow and like us: