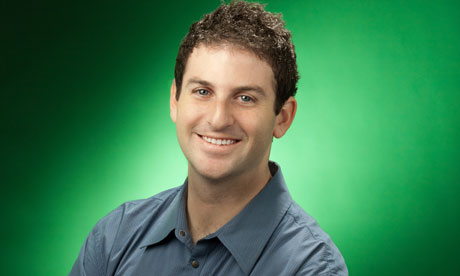 From Wikipedia, the free encyclopedia
For the eighth President of Carnegie Mellon University, see
Jared Cohon
.
Jared Cohen (born November 24, 1981) is the Director of Google Ideas[1] and an Adjunct Senior Fellow at the Council on Foreign Relations.[2] Previously, he served as a member of the Secretary of State's Policy Planning Staff and as an advisor to Condoleezza Rice and later Hillary Clinton.[3] Initially brought in by Condoleezza Rice as a member of the Policy Planning Staff, he was one of the few staffers that stayed under Hillary Clinton.[4] In this capacity, he focused on counter-terrorism, counter-radicalization, Middle East/South Asia, Internet freedom, and fostering opposition in repressive countries.[5] According to The New York Times Magazine, Cohen was one of the participating architects of what was labeled in 2010 as "21st century statecraft" along with Richard Boly and several foreign service officers in the Department of State's Office of eDiplomacy [6][7][8] In 2013, Cohen was named by Time Magazine as one of its 100 most influential people.[9]
Early life and education
Cohen was born in Weston, Connecticut.[10][11] Cohen received a bachelor's degree from Stanford University in 2004, majoring in history and political science and minoring in African studies.[12] He subsequently earned a master's degree in International Relations from Oxford University, where he studied as a Rhodes Scholar.[13][14]
Career
Before graduating college, Cohen pursued interests in government and in mass media. He was an intern at the U.S. State Department. In 2004, he was a miscellaneous member of the crew for one episode of a PBS Frontline documentary "Ghosts of Rwanda" on the 10-year anniversary of the Rwandan genocide.[12][15]
U.S. State Department
Following his internship and graduation, Cohen served as a member of the Secretary of State's Policy Planning Staff from 2006 to 2010. He was 24 years of age. His service began under former U.S. Secretary of State Condoleezza Rice,[16] during the Bush Administration.
In her book No Higher Honor, Condoleezza Rice writes of Cohen:
| | | |
| --- | --- | --- |
| " | When he [Steve Krasner] came to the State Department, Steve brought together a terrific staff of 'young guns' to push new ideas. One of his most inspired appointments came in 2006, when he hired the twenty-something Jared Cohen, who'd been a student at Stanford and had taken a four-month sojourn on his own in Iran. He would use his position at Policy Planning to begin to integrate social media into our diplomatic tool kit. That would pay off handsomely some years later, when Twitter and Facebook became accelerants of democratic change in the Middle East.[17] | " |
Cohen was one of the few members of Policy Planning kept on by Secretary of State Hillary Clinton. He played a role in helping shape counter-radicalization strategies and advised on US policy towards Iran and the Middle East. Beginning in April 2009, Cohen aided delegations focused on connecting technology executives with local stakeholders in Iraq, Russia, Mexico, Congo, and Syria.
In the midst of the June 2009 protests in Iran, Cohen sought to support the opposition in Iran. He contacted Twitter, requesting that the company not perform planned maintenance that would have temporarily shut down service in Iran, because the protestors were using Twitter to maintain contact with the outside world. According to The New Yorker Ryan Lizza, "The move violated Obama's rule of non-interference, and White House officials were furious." In an interview with Clinton, she "did not betray any disagreement with the President over Iran policy," but "cited Cohen's move with pride."[18]
While serving on the Policy Planning Staff, Cohen became an advisor to Richard Holbrooke, who was the first Special Representative for Afghanistan and Pakistan. He took several trips with Holbrooke to Afghanistan, where he helped develop some of the early strategic communications strategies.[19]
Cohen was among the early adopters of social media in the U.S. government. In April 2010, Cohen had the third largest number of Twitter followers in the US government, behind Barack Obama and John McCain.[8][10] By Sept 2013, he was not in the top 20.[20]
Google
Cohen left the State Department's Policy Planning staff on 2 September 2010.[21] On 7 September 2010, Cohen became an adjunct senior fellow at The Council on Foreign Relations focusing on counter-radicalization.[21] He was hired as the first director of Google Ideas, a new branch within Google in mid-October 2010.[22]
Books
Cohen is author of three books.
The New Digital Age
His most recent book is co-authored with Google Executive Chairman Eric Schmidt, entitled The New Digital Age: Re-shaping the Future of People, Nations and Business.[23] The book became a New York Times bestseller in its first week of publication, in May 2013.[24] The book considers the geopolitical future when 5 billion additional people come online, and the presumed terrorism, war, identity theft, conflict and altered relations between nations that results. It grew out of an article, "The Digital Disruption",[25] which was published in Foreign Affairs magazine in November 2010. It suggests that technology would rewrite the relationship between states and their citizens in the 21st century, and was possibly prescient about the uprisings in Tunisia and Egypt that followed in 2011.[26]
Julian Assange wrote critically of the book:
| | | |
| --- | --- | --- |
| " | [It] proselytizes the role of technology in reshaping the world's people and nations into likenesses of the world's dominant superpower, whether they want to be reshaped or not. The prose is terse, the argument confident and the wisdom — banal… This book is a balefully seminal work in which neither author has the language to see, much less to express, the titanic centralizing evil they are constructing.[27] | " |
Another critical review by Evgeny Morozov in The New Republic stated:
| | | |
| --- | --- | --- |
| " | Schmidt and Cohen dispatch their quirky examples in such large doses that readers unfamiliar with the latest literature on technology and new media might accidentally find them innovative and persuasive. In reality, though, many of their examples—especially those from exotic foreign lands—are completely removed from their context. It is nice to be told that innovators at the MIT Media Lab are planning to distribute tablets to children in Ethiopia, but why not tell us that this project follows in the steps of One Laptop Per Child, one of the most high-profile failures of technological utopianism in the last decade? Absent such disclosure, the Ethiopian tablet project looks much more promising—and revolutionary—than it actually is… Just a modicum of research could have saved this exercise in irresponsible futurology, but living in the future, Cohen and Schmidt do not much care about the present, which leads them likely to overstate their own originality… This reveals only how little they know about the world of reporters and NGO workers who actually work in places such as Burma, Iran, and Belarus.[28] | " |
Early books
Cohen's first book, One Hundred Days of Silence: America and the Rwanda Genocide, was published in 2006 by Rowman & Littlefield and chronicles U.S. policy toward Rwanda during the 1994 Genocide.[29]
His second book, Children of Jihad: A Young American's Travels Among the Youth of the Middle East, was published by Penguin Books (Gotham) in October 2007 and has also been published as an audio book and translated into Dutch and Italian.[30]
He and co-author Eric Schmidt published "The Dark Side of the Digital Revolution" in the Wall Street Journal in 2013,[31] and a 2012 article for The Washington Post, entitled "Technology Can Be Harnessed to Fight Drug Cartels in Mexico," which grew out of a trip the two took to Ciudad Juárez.[32][33]
Other activities
Cohen has been involved in the Tribeca Film Festival, serving as a juror in multiple categories over a number of years.[10][34][35] Cohen serves on the Director's Advisory Board at the National Counterterrorism Center (NCTC).
References