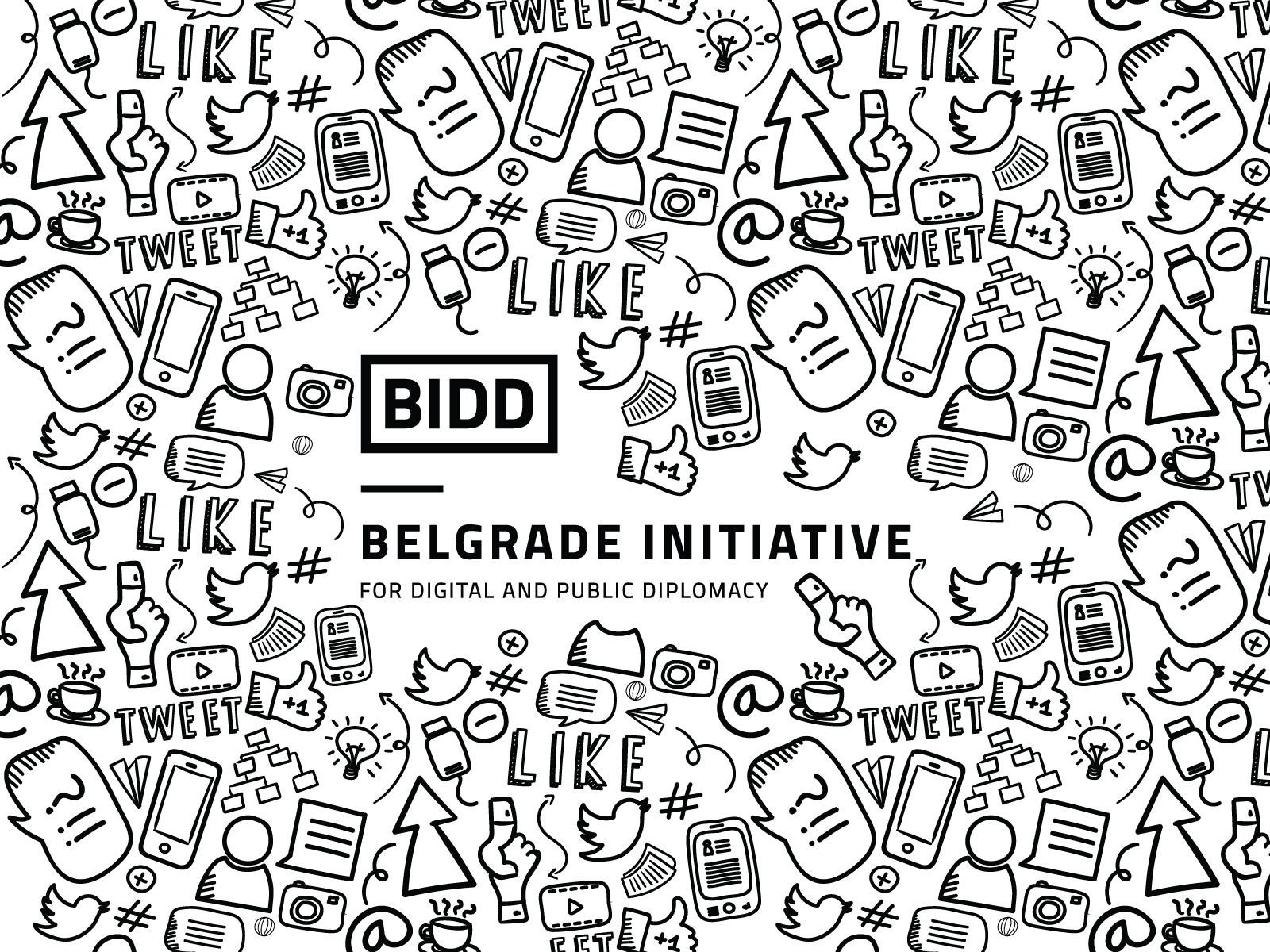 What about selfie campaigns?
"One of our brightest campaigns is #SelfieWithFlag," wrote the foreign ministry of Ukraine in a 2016 guest blog on Twiplomacy.com. "We decided to hold it to celebrate the Day of National Flag of Ukraine (August 23). So we just published a post with the motto 'Gonna travel abroad? Take Ukrainian flag!' and invited all Ukrainians and friends of Ukraine abroad to take a selfie with the Ukrainian flag near a famous tourist attraction abroad, add the hashtag #SelfieWithFlag and publish the photo on social media," they explained.
According to the Ukrainian foreign ministry, the campaign generated "nearly 200 wonderful photos from all over the world and were impressed how people over the globe are ready to engage in social media campaigns."
WHAT ABOUT AMBASSADORS AND EMBASSIES?
Ambassadors, diplomats, and embassies are all over the place when it comes to using selfies. That is good because it means they are experimenting with it. But it makes it more difficult to collect best practices or good examples.
There are however good examples and few ambassadors might be able to beat Rufus Gifford, former US envoy to Denmark and a veritable superstar with the Danes.
During his posting, not only was Gifford able to connect with the Danish people thanks to his charisma and his use of digital platforms, but he was also able champion issues that were important to him and to the Obama administration, including LGBTI rights.
All of this while staying approachable and personable and with a goal to engage with his audiences both in Denmark and back home in the US and promoting American interests.
"These days, Gifford can hardly step out the door without being asked for a selfie from fans and although not everyone agrees with his decision to embrace reality TV, Gifford said the risk has been worth it," wrote CNN early this year after the debut on Netflix of a documentary series on Gifford.
From Denmark to Israel, ambassador Meron Reuben, head of protocol of Israeli foreign ministry, is also a good example. Since his appointment in 2015, ambassador Reuben has experimented with selfies even though not all his selfies are true selfies.
In his first-ever tweet in August 2015, he posted a selfie during the preparation for an ambassador credential ceremony.
His colleague Arsen Ostrovsky, executive director of the Israeli-Jewish Congress, responded: "Looking forward to more #selfies of you with visiting dignitaries and officials!." To which Reuben replied: "On the learning curve, but will do my best…"
Reuben's latest selfie was with the new US ambassador to Israel David Friedman.
From Israel to Ethiopia, where Mexican ambassador Victor Trevino even managed to squeeze himself and four other ambassadors in one selfie — Indonesia, Korea, Turkey (who took the selfie), and Australia — during a working lunch.
In Thailand, French ambassador Gilles Garachon was videoed while taking a selfie on stage with the audience of the Franco-Thai Chamber of Commerce. The ambassador posted the selfie only a few minutes later. Wow, all in real time!
In the US, did one ambassador manage to snap a few selfies with president Donald Trump? It seems Afghan ambassador Hamdullah Mohib took one at the inauguration parade.
The selfie, also posted on the Facebook page of the Afghan Embassy in Washington DC, received many comments, both positive and negative.
"Thank you for uploading the pictures, and this selfies," writes a follower. "Undiplomatic," another commented.
Habib Khan Totakhil, Kabul based correspondent for the Wall Street Journal, posted another selfie that the ambassador took with Trump, citing controversies. "Afghan ambassador to D.C. @hmohib clicked a selfie with @realdonaldtrump on the inauguration, he got criticized," he tweeted. "Now here is another one."
Washington DC seems not just selfies, but also artistic selfies, like this one with Norwegian ambassador Kåre R. Aasto and artist Helene Meldahl taken while in front of a painted mirror.
"Mirror mirror on the wall… who's the coolest ambassador of all? No doubt it has to be the Norwegian Ambassador to the U.S. Kåre R. Aas," posted Meldahl on her Instagram account. The selfie celebrated the 100th photo for her "mirrorsme" project.
"I was working as an intern at the Norwegian embassy in the US," she told Local.no. "To celebrate my 100th "mirrorsme" image, I thought it would be a cool idea to get the ambassador Kåre R. Aasto join the picture. It was funny because the drawing is in the ladies room at the Norwegian embassy, but the ambassador joined in with a joke and a relaxed attitude. He also re-tweeted the selfie on his Twitter account," she explained.
The nordic ambassadors in the US capital have been very strategic with selfies. Back in 2014, they came together for their first nordic selfie.
SELFIES AND EMBASSIES
Selfies are about people. They're about a moment, an instant. So how can embassies and diplomatic missions use them to engage with their audience?
In 2015, the Polish Embassy in London launched the #MyPolska campaign to celebrate Poland's Independence Day and to present the scale and diversity of the Polish contribution to the United Kingdom. The campaign included 17 interviews with Poles or people of Polish origin who made Britain their home. And it also included a call for selfies.
"By showing their faces, and telling their stories, we are making the word immigrant more humane", explained on an embassy Facebook post Jakub Krupa, the UK Correspondent of the Polish Press Agency who conducted the 17 interviews. "You can finally see who exactly are the 'immigrants' you hear so much about: they are extraordinary ordinary people just like me or you, with their personal dreams, struggles, ideas, hopes, and wishes," he said.
The idea developed even further in 2016 when the Polish ministry of foreign affairs expanded the campaign to all embassies around the world.
"Show your Poland, no matter what part of the world you are in: on Mount Kosciuszko in Australia or at the Tadeusz Kosciuszko Memorial in front of the White House in Washington D.C.," read a press release of the ministry. "Take a selfie with the Polish flag painted on your cheek on Józef Bem Street in Warsaw, or at the Statute of Józef Bem in Budapest. The list of places and symbols is open and your initiative counts. Then upload the photo to social media with #MyPolska."
And here's a heatmap posted on Twitter by Polityka w sieci on how the hashtag propagated and where it was mostly used.
A few years back, the European delegation to the United States launched a #EUselfie competition to promote EU Open House — every year, on or around May 9, European embassies in Washington DC open their doors to visitors to celebrate EU day in the US capital.
The initiative gathered many submissions on social media from both visitors and embassies' staff.
More recently, the Embassy of Italy in Washington DC (Italy in US) celebrated National Selfie Day 2017 with a selfie taken by its interns and posted on the Embassy's social media channels, including Twitter, Facebook, and Instagram. In response, the US Embassy in Rome, Italy responded with its own version.
EXPERIMENTING WITH 360 SELFIE
As photography is evolving, so are selfies.
Back in February I visited Tufts University for a seminar with the students of the Tufts' School of Law and Diplomacy. As I'm a sucker for selfies, I asked them to pose for one… But this time in 360 — later posting it on Twitter and Facebook.
It was not my first time using 360 for selfies. But it was my first time using Kuula, a social network for 360 selfies.
Anf for this post on #selfies for diplomats I created a Kuula gallery with some of the 360 selfies I took in the past couple of years, including at the White House with Obama and Renzi, and at the Embassy of Italy with Vint Cerf of Google — the father of the Internet — and with numerous panelists of the Embassy's Digital Diplomacy Series.
Here's the Kuula gallery:
Please follow and like us: