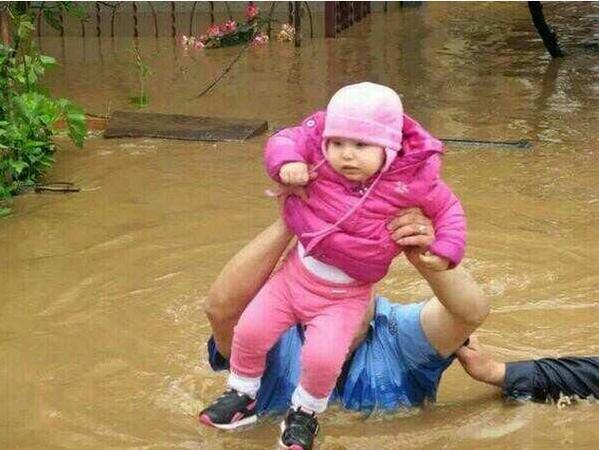 Serbian people are fighting a hard battle against the disastrous floods in my country. The enormous amount of water has caused massive damage and took lives. In these difficult moments all citizens of Serbia and Serbs living abroad are making every effort to help the people from the damaged areas. Thousands of people here are organizing and doing their best to help the ones that have lost their homes.
In Serbia, thousands of volunteers were helping with evacuations, and now the are collecting and distributing blankets, rubber boots, drinking water, food and hygiene kits to people affected. But not only in Serbia, Serbs from all around the world, in China, Slovenia, France, Italy, U.k and everywhere in the world are collecting clothes and foods to help Serbian people who lost everything.
In the UK for example, the British Serb magazine produced by Serbs in the UK, put up an amazing directory for all the UK-wide efforts to provide relief to the worst floods since records began in Serbia: UK map of collection points for flood relief effort and you can see the results there. Thank you my friend over at the British Serb magazine. Amazing job.
Another example in the UK is Dragan Marjanovic who moved to England seven years ago. He is also doing his best to help Serbian flood victims. This 34-year-old Serb who is originally from Obrenovac – a suburb of the Serbian capital Belgrade – which has been badly affected by the flooding, runs a fish and chip bar in Arlesey, a small town situated in the county of Bedfordshire, UK. Dragan Marjanovic is giving all the money he makes from selling chips this week to help people affected by flooding in Serbia. He said to a local newspaper why:
I want to raise some money for the people affected by the flooding. They have been left with nothing so I am going to send them anything I can. I would urge anyone else to contribute whatever they can afford to us. It doesn't have to be money, it could be shoes or clothes, literally anything. The floods have left people with nothing and if you have nothing anything is useful.
Bravo Dragan.
At the end, I want to say that I am touched to see so many people showing their generosity and helping. A big thank you to everyone for your immense support and contribution. We are starting a process of rebuilding Serbia which will take months, in some aspects, years and the generosity and willingness to help of Serbian people and Serbs around the world is truly incredible. You set an example for all of humanity.
Please follow and like us: