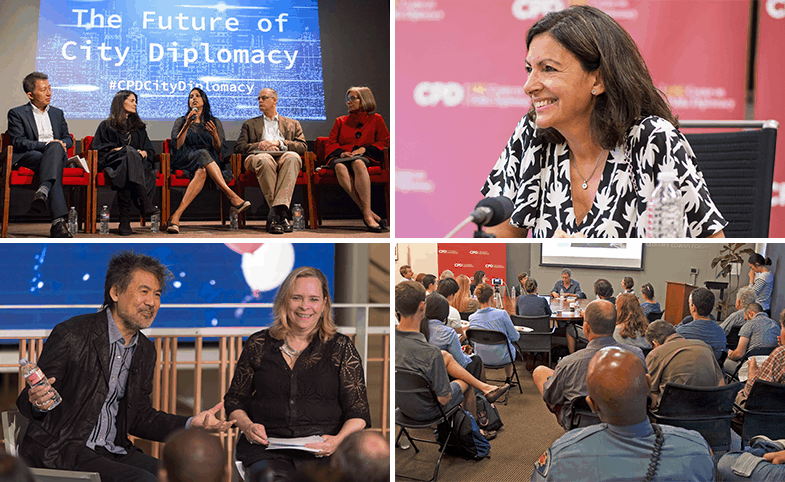 This Year in Events
Dec 20, 2018
Each year, CPD hosts a multitude of events with the top leaders and thinkers in public diplomacy. Included in this roundup are our 2018 event highlights ranging from an event with a Tony Award-winning playwright to a roundtable conversation with the Mayor of Paris and much more.
The social media revolution has been integral to communication across the Muslim world. From the Arab Spring and active youth engagement to extremist recruitment and networking, digital diplomacy and social media use have transformed the communication paradigm in international relations. So what does this mean for regimes and voters? For terrorist organizations? Haroon Ulla, former head of the former BBG (now USAGM), discussed his new book, Digital World War: Islamists, Extremists, and the Fight for Cyber Supremacy, which outlined social media's influence on the Muslim world, and its implications for regional and international politics. Moderating this program was Karen North, USC Annenberg Professor of Communication and Director of Annenberg's Digital Social Media program.
Some of the world's most lethal terrorist organizations have become media-centric enterprises, while also hijacking a major world religion, holding large swathes of physical territory and governing their own virtual states. In this concise and penetrating book, USC Annenberg Professor and CPD Faculty Fellow Philip Seib traces how terrorism has proliferated and increased significantly in menace in the relatively brief period between the rise of al-Qaeda and the creation of Islamic State. As Terrorism Evolves: Media, Religion, and Governance prescribes new measures for counterterrorism efforts, underscores the importance of soft power, and makes a strong case for recognizing that we have entered an era of terrorism of undetermined duration.
Technologies like artificial intelligence and blockchain are only just starting to have an impact. This poses a challenge not just for governments but for every actor in the international public space. We find ourselves at a turning point that calls for new alliances between actors capable not only of responding to these challenges, but capable of anticipating and embracing them. To explore these issues, the Ministry of Foreign Affairs of the Netherlands organized The Hague Digital Diplomacy Camp: Influence in a Diffuse Digital World in cooperation with CPD, the Netherlands Institute of International Relations (Clingendael), Diplohack, the University of Oxford, Hybrid Space Lab, Global Diplomacy Lab, Humanity X and RNW Media. At this "unconference," we invited participants to discuss consequences of digitalization for international affairs to share practical tools and design solutions for the future.
The spread of nuclear weapons poses an international security challenge. With nuclear weapons just a button-push away, North Korean leader Kim Jong-un and U.S. President Donald Trump have sparred over social media as the hermit state continues to launch provocative missile tests. As tensions with North Korea run high, the proliferation of nuclear weapons and how U.S. policy should respond are pressing issues. Robert L. Gallucci, the chief U.S. negotiator during the 1994 North Korean nuclear crisis and former president of the MacArthur Foundation provided insights and unpacked reality from rhetoric.
The PyeongChang Winter Olympics offered an opportunity for South Korea to present itself to the world and also served as an important platform for public diplomacy, given the regional instability. The Olympics' role in facilitating global and regional relations is particularly poignant, as future games—Tokyo's 2020 Summer Olympics and Beijing's 2022 Winter Olympics—will be hosted in the East Asian region. CPD brought noted scholar Susan Brownell to discuss her experience in PyeongChang to examine the Olympics through the lens of sports diplomacy. This event was in partnership with the Korea Foundation and moderated by Ben Carrington, associate professor at the USC Annenberg School for Communication and Journalism
CPD was pleased to co-host with the University of the Witwatersrand the first Africa-U.S. Public Diplomacy Conference in Johannesburg, South Africa on March 10, 2018. The conference marked the establishment of the African Centre for the Study of the United States (ACSUS) at the Wits University. The public diplomacy program at the Centre is the first of its kind in Africa and will lead a variety of collaborations on research, teaching and engagement. The first major such gathering on public diplomacy in Africa, this event brought together African, American and other global practitioners and academics from diverse fields.
We live in a time of uncertainty, with daily headlines often full of gloom. How the news is chosen is itself contentious, with a fierce battle in America between President Trump and his critics. So for concerned citizens: how could the news—the media we consume—be of greater benefit to society? Roger Mosey served as one of Britain's most experienced broadcast news executives, and he is now Master of Selwyn College, Cambridge. He casted a critical eye over what we see and hear, as well as suggested some proposals that might help the truth win out.
Since 2009, Greece weathered one of the severest economic crises in recent global financial history. For years, a widespread tide of negative publicity—triggered mainly by misinterpreted facts—spread across the international media. Contrary to gloomy predictions, confidence in the recovering Greek economy is growing, and the country is ready to enter a new era of opportunity. The Ambassador of Greece to the United States, Haris Lalacos, displayed the dynamic policies that the Greek Government is implementing with diligence in order to enhance economic reforms and achieve sustainable growth.
Cities are increasingly poised—and being called upon—to play a greater role in addressing challenges at the international level, from climate change and immigration, to the health and security of citizens. With recent rhetoric and policies at the national level leaving foreign leaders unsure of the U.S. government's position and leadership on certain global challenges, U.S. cities have a unique opportunity to use their resources and expertise to influence discourse in the international arena. At the heart of realizing a city's influence and impact on the world stage is crafting an effective global engagement strategy and building the skills and capacity required for this emergent role. CPD in partnership with the Los Angeles Mayor's Office of International Affairs hosted a panel to explore growing opportunities and emerging challenges in city diplomacy.
Tony Award® winner David Henry Hwang ("Yellow Face," "M. Butterfly") joined CPD and Center Theatre Group to discuss the inspiration behind his world premiere of Soft Power, a play with a musical. In a discussion moderated by Sasha Anawalt, USC Annenberg Professor and Director of Annenberg's Arts Journalism, Hwang discussed how he portrayed China's interests in achieving soft power through this new piece of musical theatre for Los Angeles audiences.
CPD held a conversation about the variety of approaches to common challenges faced by the European Union and the United States in dealing with world crises. Panelists included Caroline Vicini, Deputy Ambassador, European Union; Rossella Schillaci, Director, "Ghetto PSA;" Mary Mucha, Directing Attorney, Los Angeles County Bar Association's Immigration Legal Assistance Project; and CPD Director Jay Wang as moderator. A reception and screenings of two films, Ghetto PSA (15 minutes) and Welcome to Germany (90 minutes), followed the panel discussion. This program was presented by Austria, Belgium, Bulgaria, Croatia, Czech Republic, Estonia, Germany, Hungary, Italy, Latvia, Lithuania, Luxembourg, Poland, Romania, the European Union, the American Cinematheque and Obicà USA, and co-presented by CPD and the Pacific Council on International Policy.
Michael Scott Moore was kidnapped by pirates in 2012 on a reporting trip to Somalia and held hostage for two and a half years. His book about the ordeal, The Desert and the Sea, was published in July. During our first fall 2018 event, Moore discussed widely held beliefs—some which are untrue—surrounding Somali pirates. Beyond illegal fishing, we were able to learn what Moore gleaned about Islam and U.S. hostage policy. In conversation with Michael was Salpi Ghazarian, director of the USC Institute of Armenian Studies.
CPD was pleased to host Anne Hidalgo, Mayor of Paris, for a private conversation with 20 USC students on cities' global role and impact at a time of great change. Students hailed from USC Annenberg School for Communication and Journalism, USC Dana and David Dornsife College of Letters, Arts and Sciences and USC Price School of Public Policy for the invitation-only roundtable that covered climate change, the state of city diplomacy, Paris 2024 Summer Olympics, and what's next for the City of Lights.
From summit diplomacy to sports diplomacy, the role of public diplomacy continues to grow when it comes to security challenges on the Korean Peninsula. In the Western hemisphere, many questions arise: How does the American public view U.S. policy toward North Korea and the core issue of denuclearization? How critical is public diplomacy in dealing with these tensions? What diplomatic options exist for furthering dialogue and rebuilding peace in the region? CPD, the Indiana University Hamilton Lugar School of Global and International Studies and The International Center brought together leading experts in public opinion and public diplomacy for a timely discussion to broaden our understanding of the critical issues in this volatile region.
CPD and the Embassy of Sweden in Washington, D.C. jointly hosted a program to explore collaborations between the business sector and public diplomacy to shape the digital future. CPD Advisory Board member Fadi Chehadé from the U.N. Secretary-General's High Panel on Digital Cooperation joined other experts for a conversation on how digital innovation is re-writing the rules of our economy and society, and its implications for the future of business-diplomatic partnerships.
On September 11, 2001, three dozen U.S. flights landed in Gander, Newfoundland, a small community that sprung to action, welcoming and providing refuge to some 6,500 Americans who needed a home away from home. Fast-forward to April 2017 when Tony-nominated writers Irene Sankoff and David Hein created Come From Away, which tells this story of cross-cultural tension and integration during an incredibly vulnerable time. Mayor of Gander Percy Farwell, Center Theatre Group Producing Director Douglas C. Baker, Film Festival Director and Curator Jacqueline Lyanga, and Theatrical Producer and USC Annenberg alumna Cynthia Stroum participated in a panel discussion moderated by Josh Kun, Director, USC Annenberg School for Communication. Panelists discussed themes of openness, tolerance and cultural generosity: central components to good public diplomacy anywhere.
Given the growing role of soft power in India's foreign policy, the Center for Soft Power of the India Foundation hosted its inaugural conference in which CPD was a primary academic partner. The aim of the conference was to bring together scholars, practitioners, experts, policymakers and diplomats to deliberate and discuss Indian soft power. Featured topics included nation branding, digital storytelling, theoretical perspectives and Indian soft power across multiple areas, such as cinema, cuisine, design, museums, performing arts, spirituality and yoga.
Tags
Visit CPD's Online Library
Explore CPD's vast online database featuring the latest books, articles, speeches and information on international organizations dedicated to public diplomacy.
Visit our Online Library or click here to begin your search.
Stay in the Know
Public Diplomacy is a dynamic field, and CPD is committed to keeping you connected and informed about the critical developments that are shaping PD around the world.
Depending on your specific interests, you can subscribe to one or more of CPD's newsletters >.
Popular Blogs
Please follow and like us: