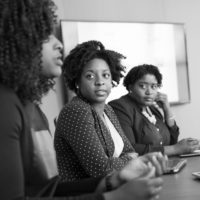 fundsforngos.org

image fromDeadline: 17 May 2019The U.S. Embassy Kigali Public Affairs Section (PAS Kigali) has announced an open competition for organizations to submit applications or proposals for a grant to carry out a program that meets the specifications stated here below for the program "Academy of Women Entrepreneurs-Rwanda".The Academy of Women Entrepreneurs (AWE) is a program supporting the development of women entrepreneurs around the world. AWE's reach extends across Latin America, the Caribbean, Africa, and other regions where promoting women's economic empowerment is a principal U.S policy priority.AWE was developed to support White House led Global Development and Prosperity (W-GDP), which is designed to empower women worldwide to fulfill their economic potential, creating conditions for increased stability, security, and prosperity for all. AWE provides educational resources for women to engage in U.S-style education with guided facilitation and localization from local alumni, women business leaders, and key interlocutors to ensure small business growth and success.GoalsThe goals of this funding opportunity are to:
To raise business and entrepreneurial skills in women using the AWE platform and Massive Open Online Course called "DreamBuilders."
Strengthen people-to-people ties between the United States and Rwanda through exchange of information, experiences, and expertise.
Program Objective: To promote women's empowerment by organizing, facilitating and implementing the "Academy of Women Entrepreneurs, AWE-Rwanda".Funding Information
Length of performance period: June 2019 through June 2020.
Award amounts: awards may range from a minimum of $18,000 to a maximum of $24,000
Total available funding: $24,000
Anticipated program start date: July 2019

Participants and Audiences
PAS Kigali seeks proposals for a project entitled "Academy of Women Entrepreneurs Rwanda." Under this project, the grantee will collaborate with PAS Kigali to host 21 sessions with 30 aspiring women entrepreneurs between the ages of 20-35 who have little or no experience in entrepreneurship. The workshops/sessions will be conducted by expert facilitator(s) and will employ the DreamBuilders online entrepreneurial skill building course, which was designed specifically for women.
The grantee will have to develop a program that the Academy of Women Entrepreneurs, AWE-Rwanda course using the DreamBuilders program for the Rwanda context.
Eligible Applicants
The following organizations are eligible to apply:

Not-for-profit organizations, including think tanks and civil society/non-governmental organizations
Public and private educational institutions
Individuals
Eligibility is open to all non-profit, non-governmental organizations and individuals. Organizations may sub-contract with other entities, but only one, non-profit, non-governmental entity can be the primary recipient of the award. When sub-contracting with other entities, the responsibilities of each entity must be clearly defined in the proposal.

Cost sharing or matching is not required for this funding opportunity.
Pre-award costs are an allowable expense for this funding opportunity.
This award does not allow for construction activities or costs.
How to ApplyAll application materials must be submitted by email at the address given on the website.For more information, please visit https://rw.usembassy.gov/notice-of-funding-opportunities-academy-of-women-entrepreneurs-rwanda/Original Article