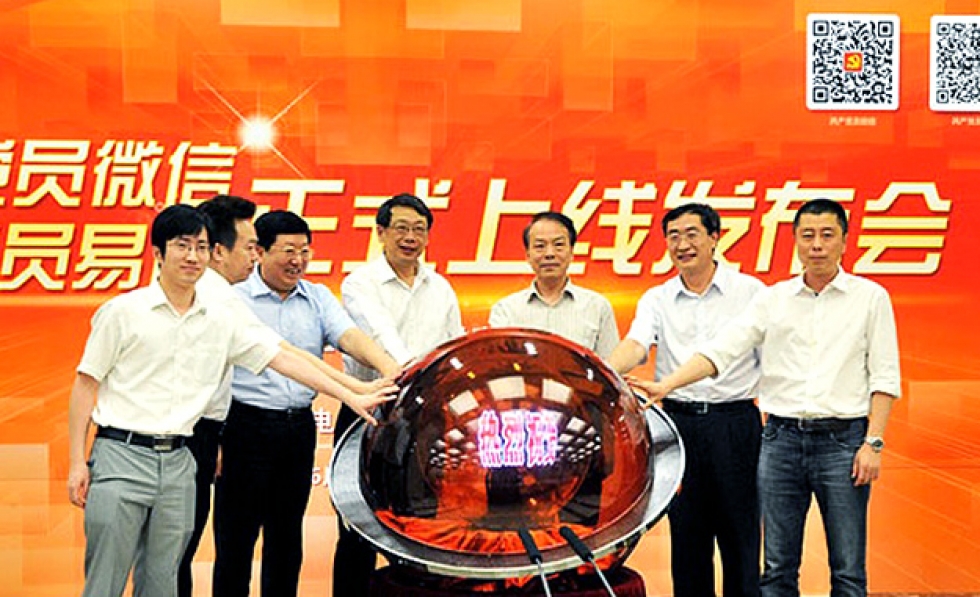 Is the Chinese Communist Party about to become China's 'most followed' poster on the internet?
The ruling party has told all 86.6 million of its members to engage with its first foray into social media with a public account launched this month on massively popular mobile social media platform WeChat, which boasts 438 million monthly active users.
The WeChat account is only updated on working days and so far it has largely served as a portal for news releases. Photo: SCMP Pictures
The account, called "gong chan dang yuan", or Communist Party member, is managed by the Organisation Department of the party's highest organ of power, the Central Committee. The department has told all members of the world's largest political party to follow the account.
"[The account] is a platform to publicise the party's policies and disseminate party theory … Party organisations must personally teach members and the public to use it," said an internal party memo sent by the department.
The WeChat account is only updated on working days and so far it has largely served as a portal for news releases. Most of its message feeds are newspaper articles tinged with heavy government agenda and rhetoric.
Public WeChat accounts allow users to subscribe to message feeds, similar to the public pages on Facebook. Businesses, celebrities and news media make up the majority of public accounts on the platform.
This has prompted some to wonder if the party's account could potentially become the most popular in China – and by some distance. Unlike social media platforms outside the country, such as Twitter and Facebook, WeChat does not publish the number of followers to its accounts. The most popular accounts on the platform however, are estimated to have several million followers.
"With more than 80 million followers it will become a real number one 'Big V'," said Zhang Yonghong, a lecturer at Wuhan Institute of Technology, referring to a nickname for verified online celebrities who have a big follower base.
However, even if the party succeeds in cajoling all of its members to follow the account, it will still need a boost from non-members to challenge the most followed posters on the internet.
Shakira tops that list with a stunning 102 million fans on Facebook, thanks to a boost in popularity due to consecutive appearances at Fifa World Cup opening ceremonies in 2010 and earlier this year. The Colombian singer-songwriter leads soccer star Cristiano Ronaldo, rapper Eminem, and pop sensation Rihanna, who all have more than 80 million Facebook fans.
http://www.scmp.com/news/china-insider/article/1580532/will-chinese-communist-party-become-social-medias-most-followed
Please follow and like us: