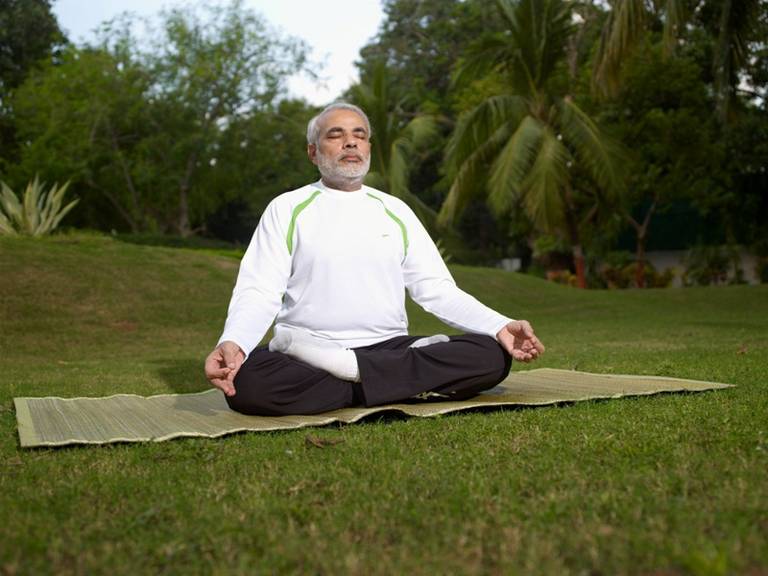 Modi is the third-most followed personality on Twitter in India. (Photo by Virendra Singh Gosain/ Hindustan Times) (Hindustan Times)
---
Prime Minister Narendra Modi is the sole non-Bollywood celebrity who has made the cut to the top 10 slots of most-followed Indians on Twitter in 2015, otherwise led by legendary actor Amitabh Bachchan, the micro-blogging site said on Monday.
Bachchan with 18.1 million followers till Dec 4, 2015 was followed the most, while Shah Rukh Khan was next with 16.5 million. Narendra Modi was ranked a close third with 16.4 million, while the 10th position was held by A.R. Rahman — 9.5 million.
The other actors in the list include Aamir Khan, Salman Khan, Deepika Padukone, Hrithik Roshan, Priyanka Chopra and Akshay Kumar, in that order.
Twitter also pointed out some interesting new accounts that were opened in 2015: The Taj Mahal, former cricketer Kapil Dev, Tamil actor Suriya, and even the Delhi Police Commissioner and Safe City India.
Golden Tweet: SRK's selfie with One Direction
The social media facilitator said while each Tweet was unique, only one could be termed as 2015 "Golden Tweet" in terms of the same being re-posted many times — a selfie by Shah Rukh Khan with British boyband One Direction's former member, Zayn Malik at the Asian Awards in London in April.
It took Twitter by storm with over 141,000 retweets and viewed nearly 18.3 million times globally as fans were thrilled to see the two together in this rare selfie.
IPL most popular hashtag in 2015
Popular Twitter hashtag trends in India saw a mix of sports, entertainment, political and social activism movements. Led by IPL, it was followed by SelfieWithDaughter, BiharResults, SaalEkShuruaatAnek (Modi's e-governance and digital diplomacy initiative) and DDLJ20Years (20 years of the movie "Dilwale Dulhania Le Jayenge").
#INDvsPAK most influential moment
The most influential moments were the Cricket World Cup #INDvsPAK, DelhiElections, HappyDiwali, ChennaiRains and Independence Day. The year also saw many firsts from users, partners and brands — experimenting, innovating and campaigning on the platform.
MakeInIndia first non-US brand to get its own Twitter emoji
In November, the "Make in India" — one of the largest economic development initiatives of the Indian government – became the first non-US brand to get its own Twitter emoji for a worldwide audience.
Given the millions of cricket fans in India, Twitter also created a special cricket timeline for the World Cup and Indian Premier League as a platform for tweets, commentary, expert analysis, photos and videos from the sidelines of the world's biggest cricketing events.
From the corporate world, JetInstant was a first of its kind Twitter-based innovation that was introduced to help passengers check the lowest fares or view flight status with just a single Tweet.
Also introduced was SmartCare — a Twitter-based customer service allowing 120 million Reliance Communications users to access and manage their mobile phone accounts using #SmartCare, with options to pay bills, recharge, view and buy best deals, track usage and check the balance.
http://www.hindustantimes.com/india/yearontwitter-modi-not-the-most-followed-srk-s-golden-tweet-and-more/story-Q9hvot7R5sTdxbKcf3KYBO.html
Please follow and like us: