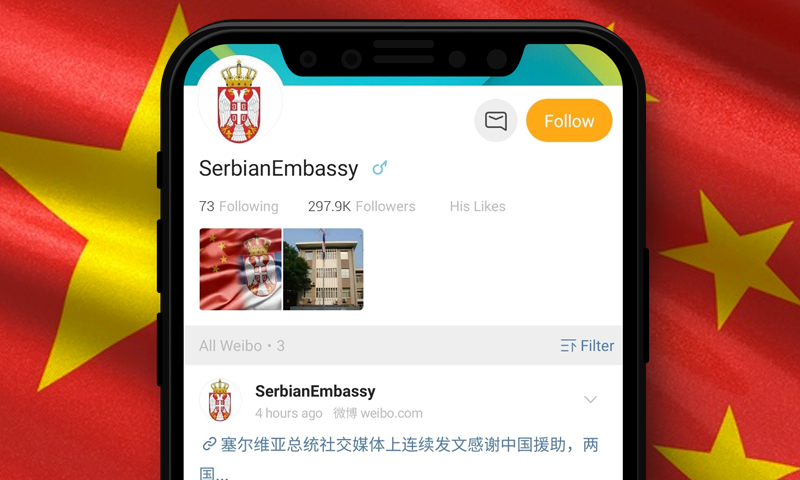 COVID-19 definitivno otvara nova poglavlja digitalne diplomatije. Samo 24 časa od otvaranja profila 'SerbianEmbassy' na popularnoj kineskoj društvenoj mreži Weibo, stranicu naše ambasade zapratilo je više od 300.000 korisnika.
Poslednjih dana moglo se čuti dosta o prijateljstvu Kine i Srbije, pogotovo u vreme pandemije izazvane COVID-19 virusom. Kineske vlasti odlučile su da priskoče u pomoć mnogobrojnim zemljama Evropske unije u vidu zdravstvenih radnika i medicinske opreme, a posebnu molbu kineskom predsedniku Si Đinpingu uputio je i predsednik Srbije Aleksandar Vučić.
Prema pisanju mnogobrojnih državljana Srbije koji trenutno borave u Kini, isečak njegovog obraćanja javnosti završio je i na mnogobrojnim kineskim društvenim mrežama, izazvavši empatiju i poruke podrške kineskog naroda.
Prateći talas pozitivnih poruka, danas smo saznali da se Ambasada Republike Srbije u Kini priključila jednoj od najpopularnijih mreža, Weibo, te da je za manje od 24 časa oko sebe okupila više od 300.000 pratilaca, pri čemu pojedini postovi broje i više od pola miliona lajkova.
Tri dana sam pisao kako bi bilo dobro da Srbija otvori oficijalni profil na kineskoj mreži Weibo kako bi Kinezi mogli da doniraju pomoć Srbiji.

Država Srbija je juče otvorila profil – za jedan dan ga je zapratilo 300 000 ljudi, a postovi prelaze 500 000 lajkova. 🇷🇸🇨🇳 pic.twitter.com/o0xkgZjrTQ

— Sergej Dojcinovic (@Serdjosega) March 19, 2020
Sergej Dojčinović istakao je na svom Twitter nalogu da će građani Kine sada moći da doniraju novac i pomoć Srbiji i to direktno putem aplikacije, što je i bio korak koji su zahtevali u proteklih pet dana. "Država Kina će oficijalno pomoći Srbiji, a sada će to moći da urade i građani Kine koji u nama vide velike prijatelje", zaključio je Dojčinović u objavi.
Za 24h Weibo profil Ambasade Srbije u Kini skupio 300.000 pratilaca