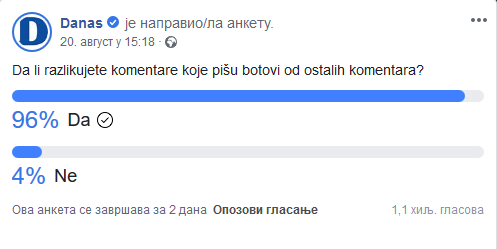 Čak 82 odsto građana samtra da može da razlikuje komentare koje pišu botovi od ostalih komentara, pokazuju rezultati ankete sprovedene na sajtu Danasa.
Na našem sajtu sprovedena je anketa sa pitanjem "Da li razlikujete komentare koje pišu botovi od ostalih komentara?", na kojoj je glasalo 916 građana. Od ukupnog broja, čak 82 odsto građana veruje da razlikuje te komentare, 13 odsto građana nije sigurno, dok svega pet odsto tvrdi da ne može da ih razlikuje.
Ista anketa sprovedena je i na društvenim mrežama, gde je na Fejsbuku glasalo oko 1.100 građana. Rezultat je bio sličan, tačnije 96 odsto glasalih izjasnio se da razaznaje komentare botova, dok je samo četiri odsto njih reklo da ne razlikuje komentare.
Približni rezultati dobijeni su i na Tviteru, gde je glasalo 633 građana, od čega 89 odsto njih smatra da razlikuju komentare botova od ostalih komentara, devet odsto njih nije bilo sigurno, dok svega dva odsto ne razlikuje.
Kao i na ostalim anketama, na Instagramu je rezultat bio jako sličan. Naime, 94 odsto građana izjasnilo se kako razlikuje komentare botova, dok je šest odsto reklo da ne razlikuje.
Pojavila se velika polemika među komentarima na ovu temu na našim anketama i mogla su pročitati različita mišljenja.
"Neretko nekog ko ne misli kao neka grupa, optuže da je bot, što nema veze sa istinom", glasi komentar jednog od čitatelja.
Drugi pak smatraju da se sve to radi iz koristi, kao i da sve partije imaju svoje botove.
"Sve se to radi iz koristoljublja. Vrlo malo je iskrenih "boraca" za opste društvene interese, isto tako je naivno verovati da samo Naprednjaci imaju taj servis.. Imaju ih sve političke grupacije", ističe se u jednom komentaru na našem sajtu.
Please follow and like us: