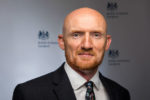 Skip to content
British Ambassador to Bosnia and Herzegovina
22nd August 2019 Sarajevo, Bosnia and Herzegovina
Creativity – It's Good Business
This week, like many others, I have been enjoying the Sarajevo Film Festival (SFF). I feel particularly lucky that my first as UK Ambassador was the 25th SFF (I will admit to having sneaked in unofficially last year, just before I began my mandate). I am still star struck after seeing two of my favourite directors on stage to receive their 'hearts', Iñárritu and Pawlikowski, and a masterclass from Tim Roth.
As usual, the festival has brought together a wide-reaching and exciting programme, which challenges as much as it inspires. As critic Roger Ebert put it, a film is a machine for generating empathy, and this year I have been transported to lives in a neglected French suburb, a rich Korean home, a Bosnian mahala, a US gospel concert, and many more places.
Documentaries always have a special place for me, including this year's brilliant 'A Dog Called Money' about the British singer PJ Harvey, and 'Invisible Child', about the search for a young woman's birth mother.
But as well as putting us closer to others on screen, the SFF also brings people together in Sarajevo, from across Bosnia and Herzegovina, the region, and the world. Our British Council colleagues again helped to attract some of the UK's top film producers, journalists and other professionals, to share their experiences on panels and in workshops, to exchange ideas and plan projects.
The streets are also filled with visitors, around the clock, with people enjoying the sights and sounds of the city. For some it will be their first taste, but like those who drink the water in Bascarsija, they will no doubt be back.
This side of the SFF is important, and it brings clear economic benefits to the city. Some estimates put the figure as 51 million KM in revenues from tourism. And it is this economic side of the arts that I think needs to be better understood and appreciated.
Today in the UK we have begun to count the benefit of the 'creative industries' – film, TV, photography, fashion, art, and more – and the numbers are eye-catching. We now have the fourth largest creative industry sector in the world. The creative industries are growing at twice the rate of the wider economy, and estimated as worth over £100 billion to the UK.
This kind of success does not happen by chance. It takes consistent and determined effort by the industries themselves, working closely with education institutions, and government.
I took the chance this week to speak to David Wilson of 'Bradford Film City', here to take part in a panel on 'Creative Cities'. Since his arrival just a few years ago, Bradford, a city of about the same population as Sarajevo in beautiful West Yorkshire, has been transformed into a TV and film location. Shot in Bradford are shows like Peaky Blinders and Downtown Abbey, and films God's Own Country and Official Secrets.
David explained to me how Bradford was recognised as a UNESCO 'Creative City', and the world's first UNESCO City of Film. It did so by rooting its partnership with the creative industries in education and sustainable community development. I was pleased to learn that Sarajevo is in the process of applying to UNESCO for Creative City status, hopefully soon joining 180 cities around the world.
Sarajevo, and the whole of Bosnia and Herzegovina, already has a deep pool of talented and creative individuals, including in fashion, design, acting, production and more. These industries often work closely with other growing sectors, such as IT and tourism, depending on the same digital and physical infrastructure. It is telling that the international VII photography agency has decided to make Sarajevo one of its three global centres for its Academy.
Education plays a huge role in building successful creative industries, and I hope that Bosnia and Herzegovina institutions will recognise and adapt to these opportunities, meeting the need for qualified editors, engineers, designers, producers, directors and more.
Having travelled from Cazin to Trebinje, Blagaj to Drvar, I also believe that this place itself is the biggest potential star, offering stunning locations all across the country. I look forward to seeing that the next Game of Thrones, or Mission Impossible, was shot in, produced in and starring, Bosnia and Herzegovina.
Please follow and like us: