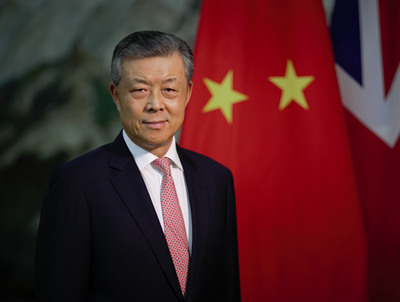 In a new book which was published recently, veteran diplomat Liu Xiaoming detailed how he interacted with people from all walks of life in the United Kingdom and how he told China's story as the longest-serving Chinese ambassador to the country, where he worked for 11 years.
His new book Tell China's Story, published by CITIC Press Group earlier this month, features 35 of his speeches during his time as ambassador in the UK and includes more than 30 photos.
The book shares his take on how to understand China, its governance, peaceful development, diplomacy, national defense, reform and opening-up as well as opportunities available in China.
Written in plain language, Liu precisely interprets China's past and present to people in the UK and in the West, recounting how the Communist Party of China has led the Chinese people to a greater future. He also introduces aspects of Chinese culture, and explains government policies and the Chinese Dream.
Liu is currently the Chinese government's special representative for Korean Peninsula affairs. He has been a career diplomat for 49 years, with a career spanning Africa, North America, Asia, and Europe.
In February 2010, he became the 11th Chinese ambassador to the UK.During his 11 years in the UK, Liu witnessed historic changes in China's relations with the world and experienced the ups and downs in China-UK relations.
He earnestly carried out public diplomacy, promoted cooperation between China and the UK in various fields, boosted people-to-people exchanges and helped narrow the gaps in mutual understanding between the people of the two countries.
During his tenure in the UK, Liu delivered more than 700 speeches, wrote more than 170 articles in mainstream newspapers and magazines, and was interviewed more than 170 times by leading UK media.
Liu also gave suggestions in the book on how to tell Chinese stories well in the new era.
"Ambassador Liu Xiaoming has played a great role in telling Chinese stories and letting the world understand China by using international language so that Westerners can hear, understand and take heed of," Xie Zhenhua, China's special envoy for climate change, said in a message recommending the book.
"For us, he is worth learning from."
zhangyunbi@chinadaily.com.cn
China's foreign ministry finally starts using Weibo to promote its message to millennials