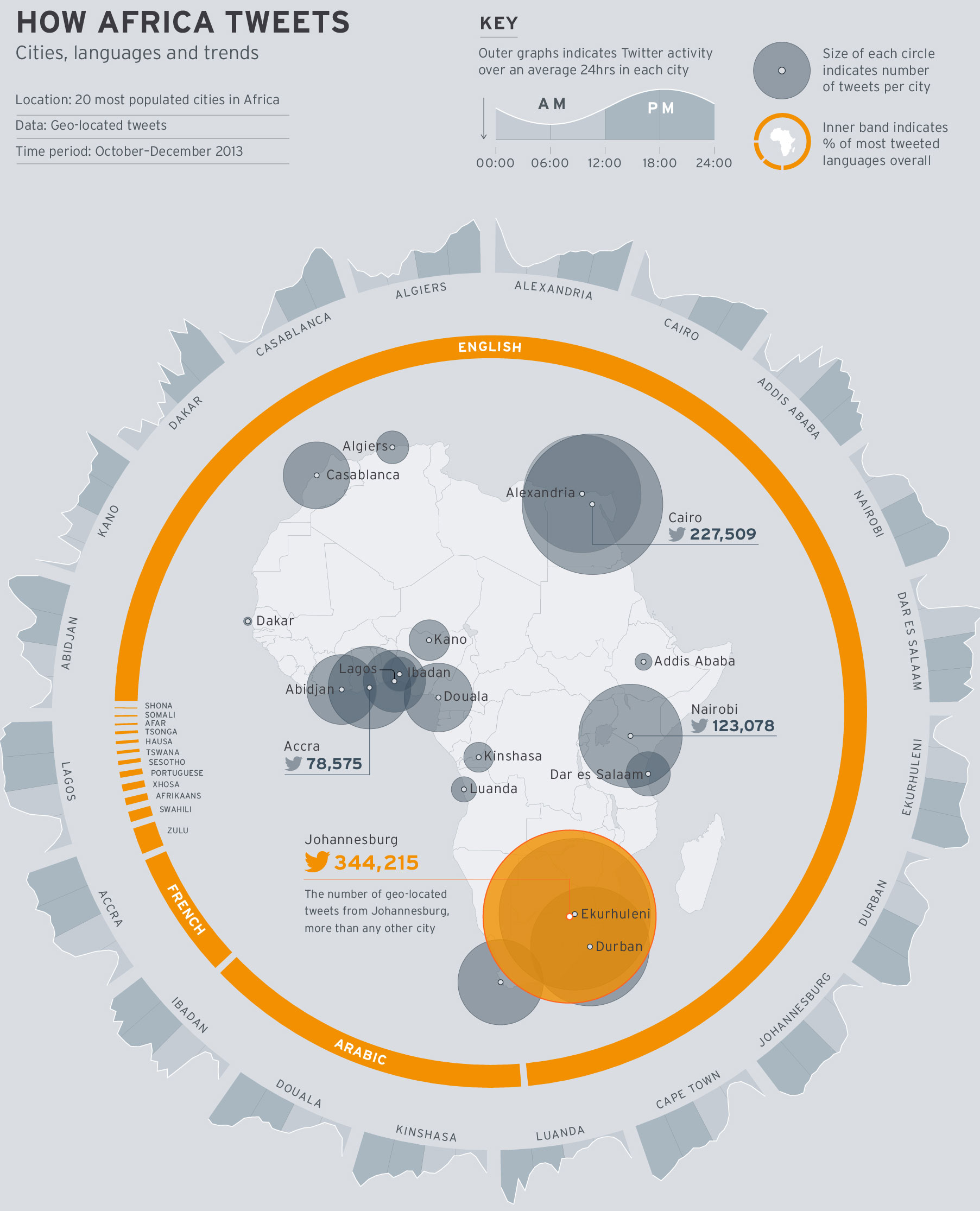 Africa is experiencing an extraordinary transformation, but few areas have seen such fundamental change as communications. Thanks largely to the incredible rate of adoption of mobile phones, the way people speak to each other, share opinions and access information and services has been revolutionized in a handful of years.
Business consultancy McKinsey estimates that more than 720 million Africans out of a population of one billion now have mobile phones. The rise of smartphones means that 167 million already use the internet and 52 million are on Facebook. The figure is increasing fast by the day.
So is the reach and role of social media. Whether it is heads of state tweeting about high-level visits, the campaign to bring back Nigeria's missing schoolgirls or simply kids posting on Facebook, social media is now a fact of everyday life for many millions of Africans. But so far there has been little research into who is making the greatest use of this new medium and why.
How Africa Tweets, a new study from Portland analysing Twitter activity in major African cities, addresses this.
The research found that cities in South Africa and Egypt are the most active, with Nairobi and Accra making a strong showing. English, French and Arabic are the most common languages, accounting for over 75% of all tweets on the continent. But African languages, notably Zulu, Swahili, Afrikaans and Xhosa, are making an increasingly strong showing. Like it or loathe it, Twitter is now unavoidable whatever language you speak.
How Africa Tweets confirms the growing popularity and importance of social media platforms in Africa, with big news events driving traffic and conversations online. It is still early in the year, but it is already clear that the Oscar Pistorius trial in South Africa is going to be one of the biggest social media events of 2014.
In 2012, our research revealed that Twitter was used predominantly for day-to-day social exchanges; it is now also an important marketing channel. If you are a brand or key personality, you must be active in the Twittersphere or risk losing market share and visibility. Portland tracked major hashtag activity from top brands such as Samsung (#SamsungLove), Adidas (#Adidas) and Magnum ice cream (#MagnumAuction), who have understood that social media is a key way to keep in touch with their customers. This activity is only going to increase.
While sms is still popular, entire new channels of communication are being created through social media and instant messaging. Industry sources say WhatsApp is used by 10.6 million South Africans. Cheaper smartphones and the roll-out of affordable broadband will accelerate this trend.
Governments now understand the connection between internet access and economic growth, and are rolling out ambitious plans to expand access to high-speed access. A wave of innovation has seen entrepreneurs and large corporations launch web-based ventures, from e-commerce sites like Jumia, HelloFood and Easytaxi, to mobile health apps such as MedAfrica.
The information revolution is affecting all aspects of life on this continent. It's reshaping everything from the way farmers' access markets to the level of transparency demanded by electorate. Governments no longer have a monopoly on information and citizens are gathering more information, from more sources. Governments are facing greater calls for transparency and openness, and accountability for their promises and actions.
Consumers are also empowered with more ways to communicate, engage and share information. They, like all consumers around the world, want to know much more about the companies behind their favourite brands. Companies are realizing that their reputation – and even stock price – can be affected by what is said online.
Those wanting to join and influence the conversation – governments, businesses and campaign organizations – need to be online, actively listening and participating in social media.
Social media is not replacing traditional media in Africa, far from it. The reach and impact of newspapers, radio and television remain very significant. This is especially true in rural areas where mobile phone penetration is more limited. For the time being, at least, radio remains the most effective, and cheapest, way to reach large rural audiences in Africa.
However, communicators in Africa, whatever their background and message, have the opportunity to tap into numerous conversations, reaching increasingly diversified audiences. But to do so, they will need to be present and engaged on even more fronts, ready to face difficult questions from empowered consumers and citizens.

Author: Allan Kamau is Head of the Nairobi office of Portland.
Image: A technician shows a cell phone to a customer in his store in Khartoum December 21, 2011. REUTERS/ Mohamed Nureldin Abdallah
http://forumblog.org/2014/05/tweets-forum-africa-2014/?utm_content=bufferb509c&utm_medium=social&utm_source=twitter.com&utm_campaign=buffer
Please follow and like us: