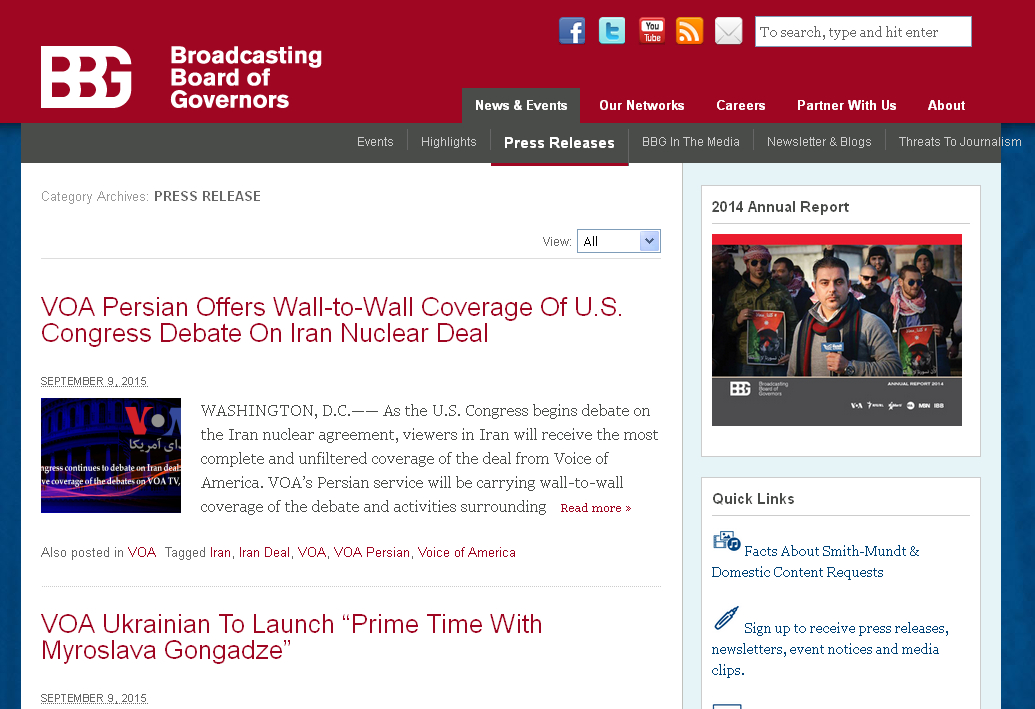 John Lansing koji je penzionisani izvršni direktor u kablovskoj TV imenovan je za izvršnog direktora Radio difuznog Saveta guvernera, Agencije koja nadgleda međunarodne medijske kompanije kao što su Glas Amerike (Voice of America) I Radio Slobodna Evropa (Radio Free Europe).
Gospodin Lansing će Agenciju preuzeti u septembru.
Članovi Kongesa (members of the Congress) su kritikovali Agenciju zato što su loše radili u kontrapropagandi prema zemljama kao što su Rusija ili Islamska država (Islamic State) John se smatra proverenim rukovodiocem- executive (direktorom) koji stvara sadržaje sa multiplatformskim sadržajima, razvojem i distribucijom. U jednom intervjuu je rekao da se nada da će početi da sprovodi brojne korake koje je preporučio Savet guvernera, verujući da će se uspostaviti komunikacioni linkovi koristeći društvene mreže kao što su Twitter, Facebook i druge digitalne komunikacije koje se mogu suprtostaviti bilo kojoj propagandi.

Dnevna emitovanja do sada su bila nadgledana od strane devetočlanog Saveta koji je bio poznatiji po svojoj disfunkciji u praćenju emitovanja programa namenjenog auditorijumu od 215 miliona ljudi širom sveta svake nedelje. Novi Savet (Board) hvale zbog toga što pravi značajne reforme Agencije, uključujući modernizaciju opreme i stvaranje većeg dometa.
Agencija je takodje proširila svoje korišćenje društvenih medija i mobilnih aplikacija i postala je manje zavisna od kratkotalasnog emitovanja i svoje napore usmerila je na propagandu protiv Islamske Države, stvarajući programe poput "Podigni svoj glas u Iraku"namenjenog TV i radiju.
Čini se da je Radiodifuzna agencija sada spremnija da se suprotstavi rivalima kao što su Rusija i Kina u međunarodnom informativnom ratu. U tom smislu John-ov zadatak neće biti samo da iznese stav SAD, već da ljudima dopusti da imaju diskusiju o tim vidjenjima i politici. Gospodin Lansing će takodje morati da pridobije i skeptični Kongres koji je do sada bio veoma kritičan prema agenciji. U tom smislu Savet guvernera bi trebalo da postane savetodavno telo, dok bi se formirala komunikacijska agencija Freedom News Network.
Do nedavno Lansing je bio izvršni direktor i predsednik Kablovske i telekomunikacione asocijacije za marketing koju čini 90 najboljih američkih i kanadskih kablovskih kompanija i TV programera.
Redakcija BIDD-a
Please follow and like us: