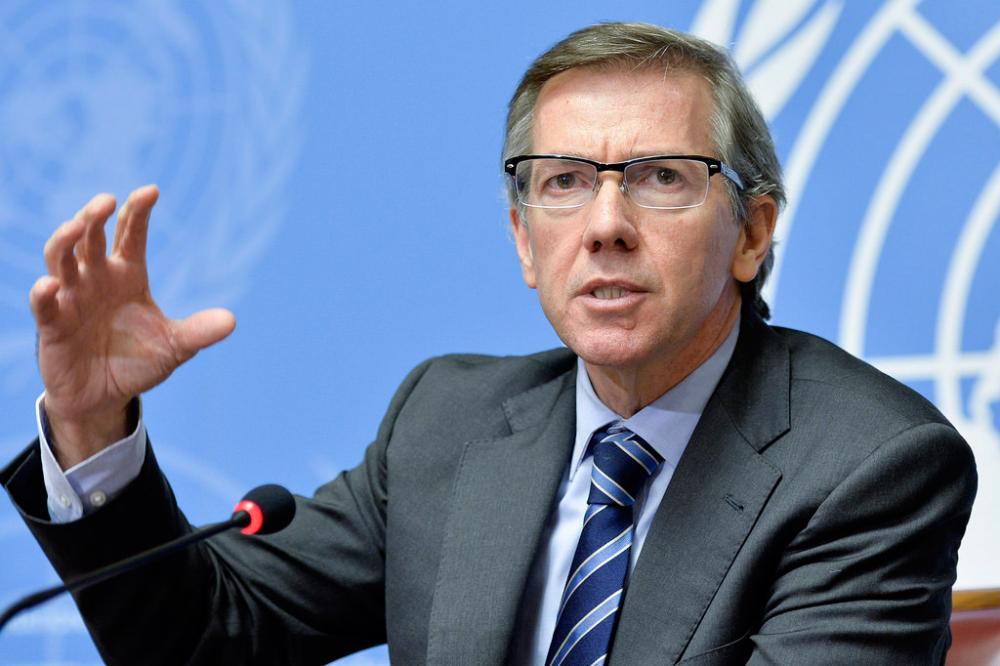 Former UN envoy, Bernardino León, is tasked with training the UAE's next generation of overseas representatives
Diplomats of the future will need to be experts in international relations on social media, a former UN envoy says.
Bernardino Leon, who has been given the task of training the UAE's next generation of overseas representatives, said digital diplomacy was becoming an essential skill.
The former head of the United Nations' support mission in Libya stressed the significance of platforms such as Twitter and Facebook.
"An ambassador who wanted to get the right information and influence 100 years ago had to go to the halls where the main representatives of a society were gathering," Mr Leon said.
"Today, this is done on social media. So successful diplomacy is a diplomacy that also understands this new phenomenon. Technology is very important."
Mr Leon took the job of director general of the Emirates Diplomatic Academy in 2015. His role is to help train young Emiratis seeking to represent the country abroad, building on existing expertise in the UAE's diplomatic corps.
Essential to that task, he said, was keeping on top of modern forms of communication.
Mr Leon said the idea of diplomacy as a private endeavour conducted in secrecy among small groups of elites was outdated.
Instead, a second generation of more public diplomacy was evolving, surpassing even the open political debate typical of the ideological battle during the Cold War.
"What we have today is something very different," Mr Leon said. "Now you have millions of people who can respond to your messages.
"You don't only send messages and tell them what you think about a certain issue but you can engage in a conversation with them and they will respond.
"This is what we call second generation public diplomacy, and it's a fascinating possibility."
He said ambassadors also had to be aware of the negative aspects of social media, such as the spread of fake news. The term has become synonymous with the US presidency of Donald Trump, who frequently accuses those who disagree with his policies of spreading lies.
Mr Trump often takes to Twitter to promote his version of international affairs with his millions of followers. He has used the platform to send complimentary and threatening messages to a series of overseas leaders, including the North Korean leader Kim Jong-un.
On Wednesday, Mr Leon will address the Abu Dhabi Diplomacy Conference, a two-day event aimed at improving training for prospective envoys. About 300 delegates from around the world are expected to take part, sharing their ideas and methods of best practice.
Mr Leon said it made sense for countries to improve their diplomatic corps, and described the frenetic nature of global politics as reaching a particularly challenging moment where diplomats could be the doctors who heal rifts.
"When the International Renewable Energy Agency's diplomatic talks are taking place, what is at stake is the future of our children," Mr Leon said.
"Their lives will depend on the world making the right decisions. The Paris Agreement on Climate Change was not just one more diplomatic conference but deciding something that matters for everyone.
"We cannot solve any more problems in a country without taking into account and bringing into the conversation people who are in other places. We know threats are no longer just threats from neighbouring areas, they are now coming from thousands of kilometres away.
"So diplomacy is really an issue for everyone. All members of society should be part of that conversation and reaching out to them, understanding their views, their suggestions, will lead to a better diplomacy."
https://www.thenational.ae/uae/government/modern-diplomats-must-be-social-media-experts-says-uae-academy-head-1.790037