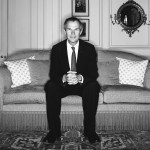 Skip to content
Ambassador to Austria and UK Permanent Representative to the United Nations and other International Organisations in Vienna
Part of UK in Austria
7th October 2019 Vienna, Austria
"Our Planet: Our Business" – what you can do
What climate-induced catastrophes might a child born today experience? Such a child might see the disappearance of insects and pollinators. During the child's lifetime, plant and animal species will be wiped out and crops could fail. This child may watch the coral reefs bleach and die. She or he will wonder why the adults of today could not have done more.
What can, and should, businesses be doing right now?
The UK was the first G7 country to adopt a legally binding Net Zero emissions target. In 2020 the UK has been nominated to host the 26th UN Climate Change Conference, "COP 26", which will take an 'all of society' approach to action. The UK has doubled its commitment to the Green Climate Fund, pledging £1.44bn for the next period. Last month, the UK announced a new £220m Biodiversity Fund aimed at backing global projects to prevent the loss of habitats and species and saving those most at risk.
UK organisations have leading capabilities in green finance and expertise in technical and business services to support the low-carbon transition across sectors including offshore wind, smart energy and electric vehicles. London is already a green finance hub, with a cluster of key banks and investment funds based in London. Out of the total $167.6b green bonds issued globally in 2018, $25.3b (or 15%) were issued by the London Stock Exchange.
Businesses have a vital role to play in creating sustainable business models and products. This is why the Department for International Trade, which promotes UK trade and works to attract foreign direct investment, has launched the "Sustainable Fast Track UK" campaign. DIT is looking to attract to the UK innovative start-ups with sustainable products or services in infrastructure, finance, energy, agriculture, health and life sciences and manufacturing. We are looking for the top 100 companies across Europe. More information about the campaign is here ("free office space in London… Mission to Africa…") Check it out.
In support of all this, last month the Embassy in Vienna held an event for more than 50 business leaders and others with the World Wild Fund for Nature to showcase the beautiful film 'Our Planet: Our Business'. The film presents an important message on the role business plays in preventing climate change. After watching the film, we discussed what business could do to make a difference. 89 percent of our guests said, that "going greener" had a positive effect on their competitiveness in a global market.
Tackling climate change is not just for business or government but for all of us. We urge you to watch the film; to share it (it's free!), and to discuss its messages and what you can do. Whether as an individual, a small business, or an industry leader, it's time for action.