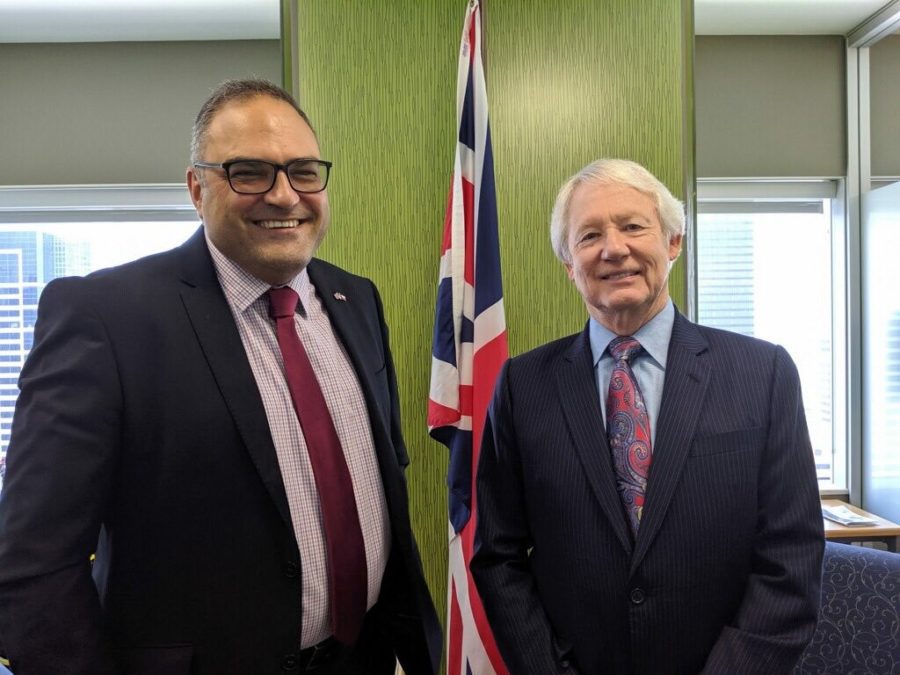 William Janowski
SIN Officer, Houston
Guest blogger for Rosie Duthie
Part of Global Science and Innovation Network UK in USA
7th October 2019 USA
World cancer Research Day 2019: UK Encouraging Relationships with US Cancer Research Hotspots
Cancer is an international problem, requires international solutions! Glad to hear Houston's Richard Hyde & CPRIT's CEO Wayne Roberts talk about the value of UK & TX collaboration on the challenge!
World Cancer Research Day 2019: UK Encouraging Relationships with US Cancer Research Hotspots
No matter your background, the social and economic impacts of cancer are far-reaching. The chances are that cancer impacts somebody you know or love. In the fight against cancer, cutting-edge research takes place both here in the UK and internationally in the US. Such scientific research promises long-term solutions to global challenges. Revealing how this devastating disease will continue to increase globally over the next 20 years, we will take a look at how solutions today will impact oncology tomorrow.
Cancer Trends and Statistics
Worldwide- 17 million new cases of cancer in 2018
Worldwide- 27.5 million new cases of cancer per year by 2040
UK- 363,484 new cases of cancer annually between 2014-2016

163,444 people will die from the disease annually

UK- Annual NHS costs for cancer services are £5 billion, but the cost to society as a whole – including costs for loss of productivity – is £18.3 billion.
US- 1,735,350 new cases of cancer will be diagnosed in the United States (2017)

Approximately 4800 new cases daily

US- 609,640 people will die from the disease annually (2017)

Approximately 1600 deaths daily

US- Estimated national expenditures for cancer care in the United States in 2017 were $147.3 billion
The Texas-sized Cancer Research Fund dedicated to eliminating cancer
The Science and Innovation Network (SIN) and the Department for International Trade (DIT) participated in a Greater Houston Partnership-Healthcare Council event on 20 August, during which the Cancer Prevention Research Institute (CPRIT) CEO Wayne Roberts set out how this state agency has made significant investments into cancer prevention research, including $31m in 2019.
CPRIT was established legislatively as a state agency during the 2007 Texas' Election. This vote formally amending the Texas Constitution, authorised the appropriation of $3 billion in bonds precisely for cancer research and prevention programs in Texas, demonstrating that commitment to cancer research support rises beyond politics. This state-level funding mechanism is unique in the US, CPRIT is charged legislatively to create cancer innovation, attract or expand research capabilities, and continue to develop the Texas Cancer Plan.
As part of SIN's ongoing commitment to scientific research collaboration, CG Richard Hyde and the Head of SIN Houston, Lauren George, met with Wayne Roberts to discuss expanding the scope of research. As cancer prevention and early detection is key to hindering cancer rates, these talks revolved around how the UK and US could share best practices and discussed where the strengths and weaknesses of Texas and UK could line up, optimistically strengthening the commitment to long-term cancer research globally. With a ballot resolution to appropriate an additional $3bn of state funds due to be voted on November 5th, Texas voters have a further opportunity to approve funding towards cancer research over the next decade.
Going Forward
World Cancer Research Day was September 24th. Allowing for reflection on those affected by cancer and awareness of the cancer research conducted currently, keeping in mind that "this global campaign aims to raise public awareness of the importance of cancer research and the extraordinary contributions of cancer researchers worldwide" take this year to discover international cancer research around the globe. The US and UK are committed to sustaining international collaboration to make the cancer epidemic a thing of the past.
For more information, please feel free to contact William Janowski (Science and Information Officer- Houston) at William.Janowski@fco.gov.uk
Please follow and like us: