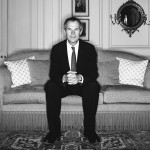 Skip to content
Ambassador to Austria and UK Permanent Representative to the United Nations and other International Organisations in Vienna
Part of UK in Austria
17th September 2019 Vienna, Austria
Outstanding British food and drink in Vienna
'You should try this English sparkling wine.'
'Really? Is it any good?'
'Try some. Make your own mind up.'
'OK.' (Long pause.) 'Wow. Can I have a couple more glasses?'
Our annual Queen's Birthday Party at the residence in Vienna is not only one of the city's hottest tickets (apologies, again, to all those we are not able to invite) but also a great opportunity to showcase some of the best food and drink on the planet.
British food and drink exports are booming. In the first quarter of 2019 they were up 10.7% to £5.8 billion (EU: 9.9%, non-EU: 12.2%). Top products included whisky (up 19.2% by value); salmon (40.5%); chocolate (5.9%); cheese (15%); wine (19.7%) and gin (29.6%). Total food and drink exports in 2018 were £22.5 billion.
Scotch whisky exports have long been at the top of the charts, worth a record £4.7bn in 2018. Gin exports are also rising fast, up 15% in 2018 to £612m, more than double the total of £288m in 2010.
Meanwhile wine production in the UK soared in 2018 to 15.6m bottles, with sales increasing 31% between 2015 and 2017 and the area under vine increasing 194% in the last ten years. Around 8% of English wine is exported.
We were fortunate at the QBP in being able to offer many outstanding British food and drink products. In addition to a bar offering a range of top whisky and gin products, we were also proud this year to offer the award-winning Nyetimber Sparkling wine. Without wishing to sound competitive, exhaustive research and independent awards have shown that Nyetimber is just as delicious as sparkling wine produced in any other country in Europe. Try it and see!
A while ago, the Department for International Trade Austria (DIT Austria) organised a professional tasting session for Nyetimber at the Embassy, targeting trade & industry contacts, followed by an evening reception to introduce the brand to the Austrian market. Nyetimber sparkling wine is also served at events at the Residence.
We were also delighted this year to offer a mouth-watering selection of British cheeses, including Stilton, Red Leicester and Wensleydale from Lye Cross Farm and Lynher Dairies. A couple of years ago, Lye Cross Farm's cheese was introduced to the Austrian market at a Food & Drink Event at the Residence, where import distributors and wholesalers had the chance to discover British products. As a result, the cheese is now available in Austrian supermarkets.
DIT Austria supports British companies exporting to Austria, and is in contact with many manufacturers and brands. If you are a wholesaler interested in buying British food and drink products but don't know where to go, please contact Carina Gastelsberger carina.gastelsberger@mobile.trade.gov.uk. DIT Austria would be happy to support you sourcing products from the UK. You won't regret it!