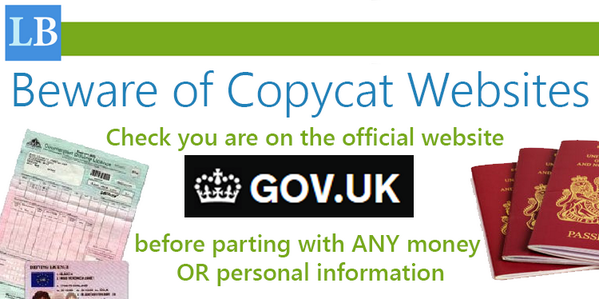 Police have swooped on four addresses around the UK, making a string of arrests in a nationally coordinated probe into so-called "copycat websites" which imitate government online services such as filing a tax return or renewing a passport.
The raids were carried out following an investigation by the National Trading Standards eCrime team into the sites, which trick users into parting with their cash unnecessarily by charging for services that are provided cheaper or free-of-charge through official government channels.
A Northumbria police spokeswoman said: "Police supported trading standards carrying out a warrant. A 43-year-old man was arrested on suspicion of fraud by false representation. The operation was carried out with police support by National Trading Standards' eCrime team." Police in Hampshire also participated in the raids, in which a total of five people were arrested.
The National Trading Standards Board said: "Four search warrants were executed last week on properties in England, which could see the operation of at least 25 copycat websites disrupted."
More than 5,000 complaints were made to Citizens Advice last year and 700 were made to the Advertising Standards Authority. The most commonly reported complaints related to tax returns, driving licences, EHICs and passports.
Lord Toby Harris, chair of the NTSB, added: "Our eCrime team is clamping down on the cyber fraudsters behind these websites and we are making it as difficult as possible for these online hoaxers to operate.
"We have been working with search engines such as Google and Bing to remove adverts from online search results and we continue to gather intelligence across the country to help tackle this issue."
The misleading websites often use URLs that include fragments such as "govuk", "directgov" or use names that make them appear as official providers of certain services. Design features are also incorporated to replicate the look and feel of official websites.
The government has launched a video to help consumers. Jo Swinson, minister for consumer affairs, said: "It's great that it is becoming easier and more common to use the internet to order official documents such as passports or tax discs, but people should be aware of rogue websites that are out there trying to exploit them and take their hard earned cash and even put them at risk of identity theft.
"The enforcement action which the National Trading Standards eCrime team has taken demonstrates the government's commitment to tackling these scammers. We will not let them get away with misleading consumers.
"The video launched today will mean that people are less likely to fall foul of clever fraudsters and be better equipped to access the official government sites. The key thing to remember that the best place to find government information and services is gov.uk."
Please follow and like us: