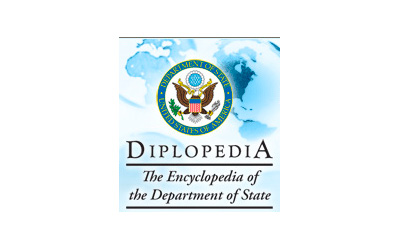 Despite the United States' long history of innovation in the field of communications technologies, the State Department's emergence as the world's leading user of ediplomacy was not a natural consequence of this. A 2001 book by Wilson Dizard Jr., Digital Diplomacy: U.S. Foreign Policy in the Information Age, tracks a long history of reluctant adaptation to technological innovations at State. In a discussion about the UK and other countries' adoption of the telegraph, he notes:
Incredibly, the U.S. State Department was a latecomer to this process. Its officials did not hire a communications clerk for a dozen years after the first Morse telegraph network began operations…It was another decade before telegraph connections with the State Department's overseas missions were established.
At the end of the book, in a discussion on "The Future of Digital Diplomacy," Dizard writes:
In November 1998, the State Department issued an "international affairs strategic plan," outlining its policy priorities for the next decade and beyond. It included the standard list of issues (national security, trade, environment, human rights) without referring, except for a cliché nod towards the information age, to the role of electronic technologies in determining the form and content of these issues.
This reluctance to acknowledge new digital realities reflects an organizational culture that still resists change.
The origins of ediplomacy at State can be traced to this same year—1998—and the East Africa bombings, when a Blue Ribbon Panel investigating the attacks concluded State was poorly placed to internally communicate. But it was not until after the September 11 attacks that the first Taskforce on eDiplomacy was established in 2002 under Secretary Colin Powell.
This was renamed the Office of eDiplomacy, which grew into the Department's knowledge management lead. But this office kept a relatively low profile, maintaining a staffing level of around six (p. 6) until 2009.
There are now literally dozens of dynamic innovators driving ediplomacy efforts at State, which makes singling out anyone inherently unfair. But given the state of affairs described by Dizard above and the rapid and dramatic transformation from laggard to leader since, understanding the role of leadership is central.
As noted, Secretary Powell, with his high-tech military experience, was a clear visionary with his creation of the Taskforce on eDiplomacy. This team has been led by several officials over the years, but much of the growth has come under the entrepreneurial leadership of Richard Boly, described by one official as having "a black belt in bureaucratic jiu-jitsu" for his ability to attract staffing resources.
Secretary Condoleezza Rice's transformational diplomacy agenda laid some of the foundational work for ediplomacy. Her road map for getting there in her address to Georgetown University in February 2008 could have been uttered by Secretary Clinton:
All of this requires further modernization of the State Department. We need to trust our people to manage greater amounts of risk. We need to get our people the best technology to liberate them from embassies and offices so they can work anytime, anywhere. We will need to be better at fostering and rewarding creativity and initiative, innovation and independent thinking, especially among our youngest professionals.
Secretary Rice also took an unusual chance in appointing a young 24-year-old Jared Cohen to her policy planning staff to drive some early ediplomacy initiatives. He continued on for a time under Secretary Clinton's tenure and together with Alec Ross (Secretary Clinton's Senior Advisor for Innovation) and Anne-Marie Slaughter (Director of Policy Planning from 2009 to 2011) did much of the thinking that would drive State's embrace of ediplomacy. Another central, but under-acknowledged figure, is Ben Scott (Secretary Clinton's Innovation Adviser). He joined the innovation team in 2010.
While ediplomacy's emergence at State has been a bipartisan project, there is perhaps no more central figure than Secretary of State Hillary Clinton. In some respects, she is an unlikely champion of new technologies. As she jokingly noted in her 2010 Newseum address on internet freedom: "even in established democracies like the United States, we've seen the power of these [social networking] tools to change history. Some of you may still remember the 2008 presidential election here."
"I don't think the Secretary goes home and downloads the latest app," one of her advisers said. But as her tongue-in-cheek remarks make clear, she understands that the internet and connection technologies matter.
Ironically, it was her loss to Obama that appears to have driven her enthusiasm for connection technologies. As one official put it: "Her starting point coming into the job was that the internet changed the world and by extension the election. And so it will affect diplomacy. That's why she brought in Alec [Ross]."
Her understanding of the power of these technologies has manifested itself in her hiring of young, entrepreneurial staff, her preparedness to accept risk (what Ross terms "mistakes of commission rather than omission"), and her willingness to back them up when minor controversies occur.
When Jared Cohen infamously tweeted about the best frappacino in Syria during a tense visit in 2010, the U.S. media reacted with hostility.
An old-world foreign ministry would have bought into the media narrative of young, inexperienced upstarts in need of a firing, demotion, or severe dressing down. Her staff report that Clinton's reaction to the kerfuffle was nonplussed, and officials from policy planning stated on background that the incident as mere "stray voltage."
With every minor success, she would tell them, "I want more. I want more," and with every minor scandal, "The only person who should hold you back from pushing the limits is me. And you haven't got there yet."
What started as a thoughtful experiment in diplomatic innovation soon began to expand in scope. After the first dozen or so innovations had been rolled out, the Secretary commissioned a review of what worked and what hadn't. Of those that worked, an assessment was done of which initiatives had succeeded because of the personalities behind them and which would have worked regardless of personalities/leadership. It was these latter initiatives that were used as the template for ediplomacy's broader roll-out across State.
The next stage of the process was the cultivation of champions within bureaus and embassies. A second aspect of this was the cultivation of international champions. This effort was spearheaded by Ross who has been on an endless international road trip evangelizing ediplomacy.
State counts this evangelizing mission as one of its most successful, with most serious foreign ministries around the world beginning the technological transition. In anticipation of this being further entrenched, State has already begun conceptual work on the idea of "networked diplomacy"—that is, moving beyond the traditional siloed approach to information gathering in capitals, where every embassy closely guards all its information, to a networked approach where information is easily shared between like-minded governments.
Within the State Department itself, acceptance of new technologies has not been universal. eDiplomacy has been most widely accepted for public diplomacy purposes. Its application to internet freedom and knowledge management are also reasonably well entrenched. In other areas where it could be extremely helpful—such as policy planning, consular affairs and diaspora engagement—dynamic organizational champions are yet to emerge.
The remainder of this paper is focused on the three areas where ediplomacy is most baked in at State—public diplomacy, internet freedom and knowledge management—and how it is being used, how its effectiveness is being evaluated and how it could be further embedded at State.
By: Fergus Hanson
Part 2 of "Baked in and Wired: eDiplomacy @ State"
http://www.brookings.edu/research/reports/2012/10/25-ediplomacy-hanson-history