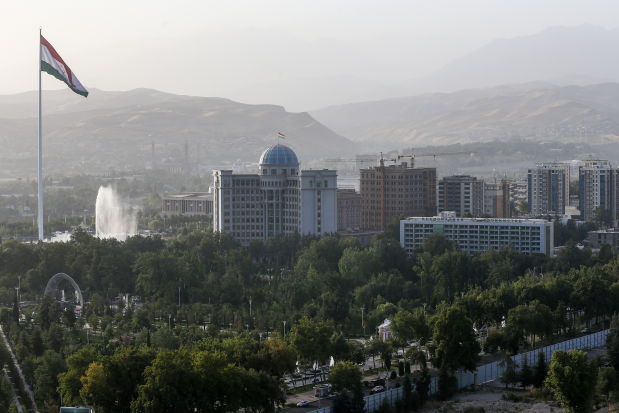 A Western voice has tilted toward post-Soviet authoritarian leader in Central Asia, say diplomats and the network
Tajikistan's capital, Dushanbe, where U.S.-owned and -funded Radio Ozodi tilted toward the president and his family, diplomats and the network's parent say. PHOTO: ALEYEV YEGOR/TASS/ZUMA PRESSBy Jessica Donati, The Wall Street JournalWASHINGTON—Federal officials are scrutinizing the U.S. government's Radio Free Europe / Radio Liberty news service, established to promote democratic values abroad, after complaints it has distributed foreign propaganda favorable to authoritarian regimes in Central Asia, according to the network, its employees and an internal State Department memo.State Department officials sent a six-page memo to the leaders of Radio Free Europe / Radio Liberty earlier this year criticizing a pro-government stance by the service's Tajikistan network and urging them to intervene following repeated complaints by U.S. diplomats, network employees and academics specializing in Central Asia. They said the network was providing programming favorable to Tajikistan's president, Emomali Rahmon, his government and family.The State Department officials also noted that they had asked the State Department Office of Inspector General to investigate several contracts between the Tajikistan network, called Radio Ozodi, and a broadcast company controlled by a relative of Mr. Rahmon for evidence of corruption and fraud. The contracts were intended to deliver U.S.-backed programming to a wider audience.
American Voices
Radio Free Europe/Radio Liberty — once two separate organizations that have merged — is part of the U.S. government network that broadcasts in areas with restricted press freedoms.

U.S. Agency for Global Media (formerly called the Broadcasting Board of Governors)Chief Executive OfficerRadio FreeEurope / RadioLibertyVoice ofAmericaOffice ofCubaBroadcastingMiddle EastBroadcastingNetworksRadio FreeAsiaSource: USAGMRadio Free Europe / Radio Liberty said it too had asked the State Department Office of Inspector General to investigate. Its officials acknowledged the complaints in a statement published online after The Wall Street Journal approached the agency with questions about them. "Earlier this month, RFE/RL asked the State Department's Office of the Inspector General to investigate," it said in the statement in late March. "Corrective action will follow any investigation by the OIG, as warranted." The statement said the Tajikistan service had "failed to live up to RFE/RL standards."The Office of Inspector General, which doesn't confirm or deny whether it is conducting investigations, declined to comment. A State Department spokesman declined to discuss the details of the memo reviewed by the Journal. The official said the State Department had raised concerns with Radio Free Europe / Radio Liberty.Representatives of Mr. Rahmon, who has ruled Tajikistan since 1992and has been criticized in the U.S. and internationally for nepotism and for stifling dissent and religious freedom, didn't respond to requests for comment about the coverage and other issues.Radio Free Europe, founded in 1950 to broadcast to Eastern Europe, and Radio Liberty, founded in 1953 to broadcast to the Soviet Union in Russian, both of them to combat Soviet propaganda, merged in 1976. Use of the network's broadcasts to support authoritarian regimes would run counter to the network's mission statement, which says it is designed to "promote democratic values" in places where independent journalism is banned.
Tajikistan's President Emomali Rahmon meets with Russian President Vladimir Putin at the Kremlin in Moscow in mid-April. PHOTO: POOL/REUTERSThe network is overseen by the U.S. Agency for Global Media, or USAGM, an independent agency formerly known as the Broadcasting Board of Governors, which also controls Voice of America and other outlets and is monitored by the State Department. In the wake of the complaints and continuing investigation, two high-level officials of Radio Free Europe / Radio Liberty, its regional director for Central Asia and its Tajikistan service director, have resigned, Radio Free Europe / Radio Liberty said.Indicating the depth of concern, a group of academics who specialize in Central Asia wrote in a letter published in March on the Open Democracy website: "Radio Ozodi, once the most credible source of news and information in the country, has become a mouthpiece for the deeply corrupt authoritarian government of Tajikistan's President, Emomali Rahmon."The academics and U.S. diplomats said the network's leaders haven't recognized the extent of the problem and the potential damage to U.S. credibility in the region. "I don't think it should be swept under the rug," said Edward Lemon, a fellow at the Daniel Morgan Graduate School of National Security in Washington, D.C., who was among scholars who signed the published letter. "We want to raise public awareness."Among coverage criticized as questionable, most of which was carried in Tajik, an article on the Tajikistan service's website in December reported that youth in the Tajik capital of Dushanbe increasingly were asking their barbers to style their hair like that of Mr. Rahmon's oldest son, Rustam Emomali, his political heir, who is the city's mayor. It quoted a student explaining that many consider the son "a model of a young and successful leader and they are trying to imitate him in everything."Original Article