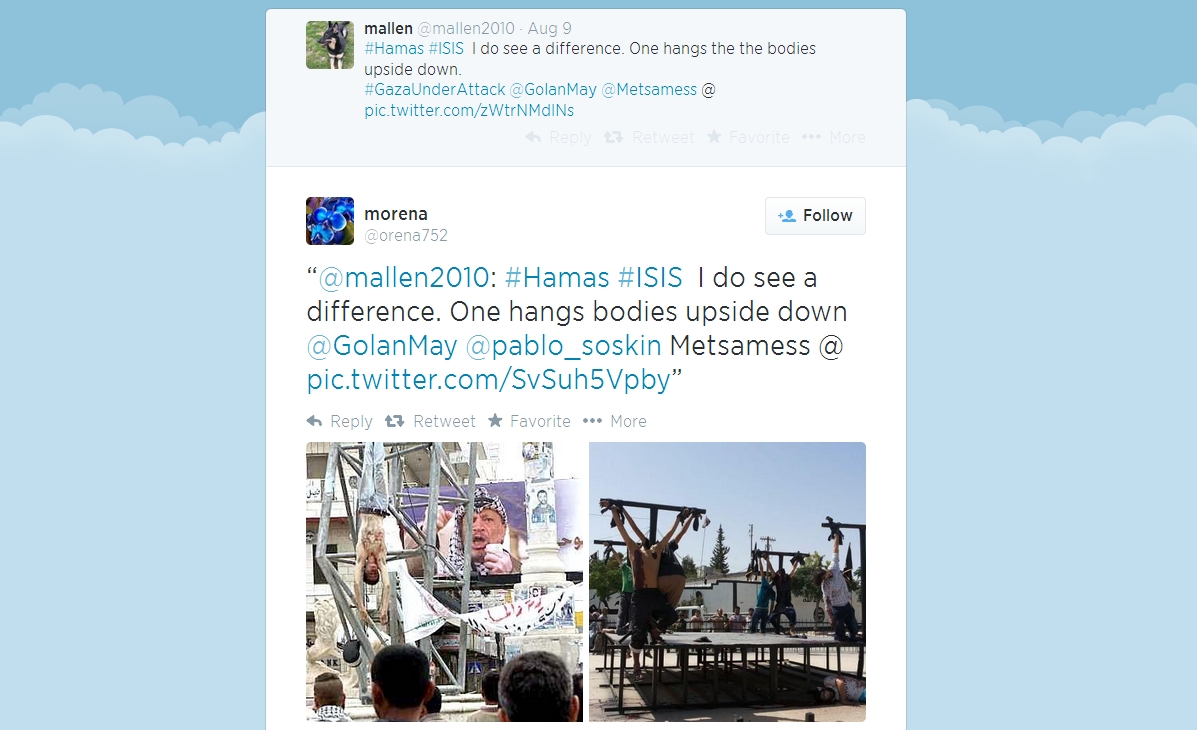 "It's almost like using Linux to control a bomb." posted on Aug. 20, 2014, at 7:45 p.m.
The extremely graphic video spread like a toxic wildfire across Twitter on Tuesday — the black-clad, fluent English-speaking fighter, allegedly from the Islamic State of Iraq and Syria [ISIS], threatening all Americans before brutally beheading American Journalist James Foley.
Within an hour Twitter began to suspend some accounts that had shared the graphic images, including @muhajid4life, an English-speaking jihad supporter. In recent days, Twitter had already shut down scores of key official and unofficial ISIS accounts, including ones like @AsawirtiMedia, which originated many of ISIS' hashtag campaigns. The problem Twitter faces is that, as soon as they shut one account down, another one is opened.
ISIS has adroitly exploited Twitter to try and spread its deadly ideas — and no doubt violent videos like Foley's execution will continue to spread. But ISIS's internet users have also been looking elsewhere for places from which to disseminate their explicit propaganda. They have turned to less-well known online networks — like justpaste.it and Diaspora. But their future there may also be short-lived.
Since 2013, ISIS has set up an extensive network of official accounts and high-profile supporters that capitalize on services like Twitter, Facebook, YouTube, WhatsApp, and Ask.com. In recent months they've flooded Twitter with images of beheadings and crucifixions that document the group's ruthless advance across eastern Syria and parts of Iraq.
A Twitter spokesperson declined to comment on individual accounts but told BuzzFeed the company had not made any policy changes to prompt the recent wave of suspensions; rather, it had been receiving increased reports of violations that it then acted upon. (Facebook and YouTube are generally quicker to remove content than Twitter.)
"I don't know that there was an obvious specific reason that they got shut down," said J.M. Berger, an analyst who specializes in monitoring extremism on social media. He said he had not registered any particularly unusual activity in recent days among the accounts now suspended, leaving him to conclude that Twitter's actions were likely not driven by content alone. "If I had to guess it would be pressure from the government," said Berger.
One of the other websites ISIS first turned to about a month ago was friendica.eu, according to Berger. The website claims to offer better data and privacy protection than Twitter — but also quickly shut ISIS' accounts down.
"Islamic State not welcome on friendica.eu," now reads the message on a page that used to provide a link to an ISIS—affiliated social media account. "[The militants] have made the mistake of using the Website of a private individual who is opposed to them," a Friendica administrator, who remained anonymous, told Medium.
ISIS-affiliated accounts kept searching for a new platform through which to disseminate official messages, press releases, and images of their violent exploits. In June, Mariusz Żurawek, 26-year-old programmer from Wrocław, Poland, noticed a rise in traffic from Arabic-speaking countries on his text-sharing site, called JustPaste.it, a service he created four years ago as a student. Soon, half of his traffic was coming from Arabic-speaking countries, Saudia Arabia, Egypt, and Syria chief among them, and the other half split between the U.S. and Europe.
Then the British Metropolitan police contacted Żurawek on June 8. "A concerned member of the public has reported to the Metropolitan Police Service some Twitter accounts which link to illegal content, namely pictures of murdered civilians in Iraq and Syria," they wrote in an email shared with BuzzFeed. That's when Żurawek said he first realized ISIS was using his service to share links to Twitter accounts replete with violent videos and graphic photos, as first reported by The Guardian.
Żurawek said he cooperated with the UK police and removed the content they requested; after all, Żurawek added, supporting terrorism is against Polish law.
Now Żurawek told BuzzFeed he was working on strict guidelines to regulate extremist content, though as of now justpaste.it continues to spew out a heavy stream of ISIS content. But did Żurawek feel any guilt that his service had been used to support such a violent group?
"The people know that the service is not responsible for what users are posting," Żurawek said. "As soon as they stop using Justpaste.it, they will find another site."
The latest site appears to be Diaspora, a decentralized network with no central server made up of "pods," or subgroups regulated by a third party. Maxwell Salzberg is the third party that administers a pod called joindiaspora.com, the main hub for where ISIS related content has been spreading.
"We have a zero-tolerance policy for violence and other hate speech, so we delete any accounts which have been reported as violating these terms," Salzberg told BuzzFeed in an email on Tuesday afternoon. By Tuesday evening, several ISIS affiliated accounts in Salzberg's "pod" had been closed.
Diaspora, however, does not have a server wide policy, and does not intend to create one, Diaspora's press contact Dennis Schubert told BuzzFeed in an email.
"Unfortunately, we are not able to provide terms of service or other rules for our network because that's not our responsibility," Schubert said. "The individuals who own and manage the Nodes inside the diaspora* Network (called 'Pods') are the ones who define the rules."
Schubert continued: "We are not offering a service, we just create the software driving the network. It's almost like using Linux to control a bomb… There's nothing the project could do against that. Of course, it's very unfortunate to see violent groups using our software and as you already know we are working on getting them out of the network. But again, all we can do is to contact pod admins and ask for their assistance."
Had Diaspora been contacted by any U.S. or U.K. authorities requesting takedowns? No, Schubert said, not that he was aware of.
Which network will ISIS turn to next? This Twitter user, who did not appear to be part of ISIS, shared this suggestion for the group after Twitter suspended many accounts on August 18.
An ".onion site" allows users to send files securely using an encrypted channel called tor. One new free software that uses this kind of file is OnionShare. Founder Martin Troy said he did not think his system — intended for an Edward Snowden-like whistleblower to send encrypted material — would suit ISIS' needs. But he admitted an ISIS invasion of his online service would be near impossible to stop.