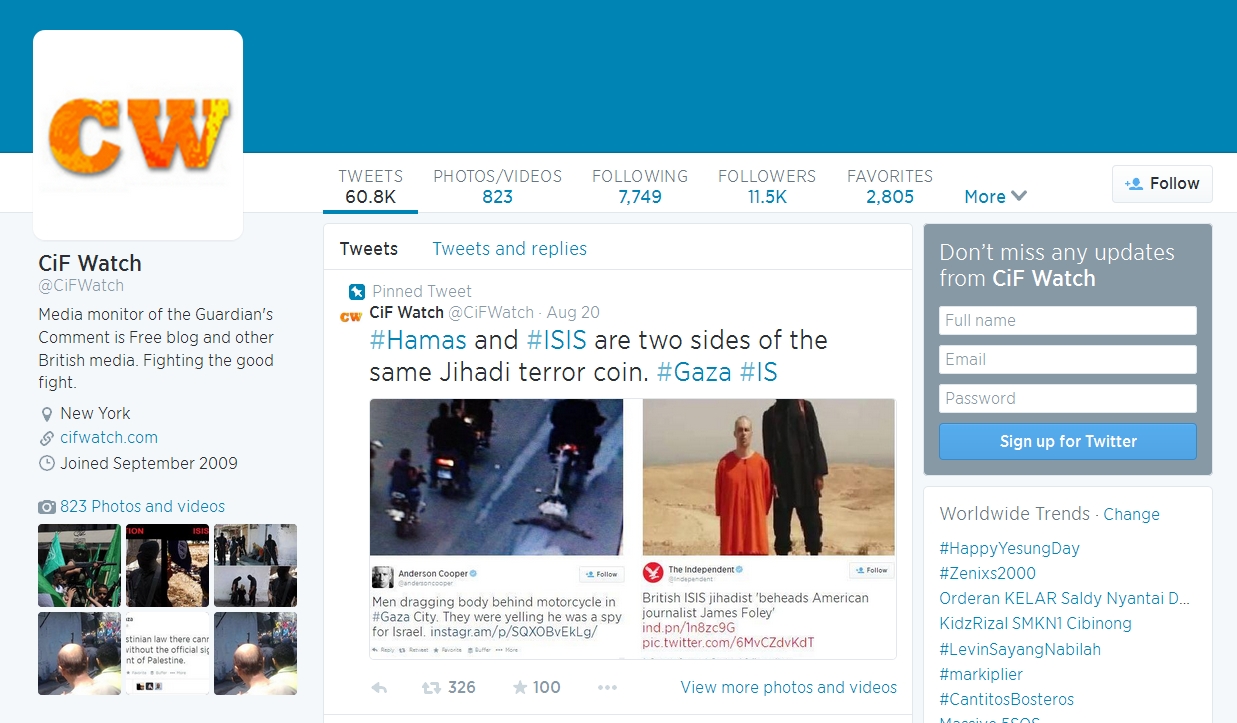 Social Media Storm Over James Foley Photo Prompts Change of Images
Israeli Prime Minister Benjamin Netanyahu in Tel Aviv on Wednesday Agence France-Presse/Getty Images
TEL AVIV—The Israeli Prime Minister's Office did an about-face Friday in its public-relations campaign against Hamas, after setting off a social media storm by tweeting the image of U.S. journalist James Foley taken from the video documenting his execution.
In an effort to further a comparison made for weeks by government officials between the Islamic militant rulers of Gaza and the Islamic State of Iraq and Syria, the communications staff in the prime minister's office published Thursday afternoon a graphic on Twitter juxtaposing Mr. Foley with an image of a body being dragged through the streets of Gaza. Encouraging followers to share the tweet, the prime minister's office added the caption: "RT this: Hamas is ISIS ISIS is Hamas."
The tweet repeated a controversial linkage drawn a day earlier by Prime Minister Benjamin Netanyahu, who mentioned Mr. Foley's execution at a news conference.
"You saw this beheading of an American journalist Foley," Mr. Netanyahu said. "We face the same savagery."
The tweet was shared at least 900 times, but it was published amid a campaign to scrub social media of the graphic video out of respect for the journalist's family and to curb the propaganda campaign of ISIS.
Within hours, the prime minister's office communications staff deleted the tweet. Shortly after midnight Israel time Friday, the prime minister's office posted a new Twitter message with the same graphic and same message, except Mr. Foley's picture was replaced by the black and white ISIS symbol.
Friday afternoon, the prime minister's office posted a new tweet purporting to show one image of masked Hamas militants about to execute alleged collaborators with Israel and another image of ISIS gunmen alongside Iraqi soldiers.
An Israeli official, who confirmed that the prime minister's office published and then deleted the original tweet, said the staff understood the tweet had backfired after getting direct "contacts" about the message and from criticism on social media.
"It was obvious, it was all over Twitter," said the official. "We did not show anything showing an atrocity or violent acts, but when we understood the sensitivity of the specific photograph, we changed it.
"The point we want to make is a valid point," he said.
Over the course of the six-week battle, both Hamas and Israel have taken to social media to promote their narratives of the conflict. Friday, Hamas official Izzat Risheq slammed the Israeli tweet on his Facebook account, calling it "low and cheap…without any sanctity for the dead." Hamas also rejected Israel's comparison to ISIS, calling themselves a "national liberation movement."
http://online.wsj.com/articles/israel-does-about-face-over-hamas-isis-tweet-1408724928#printMode
—Asa Fitch contributed to this article.