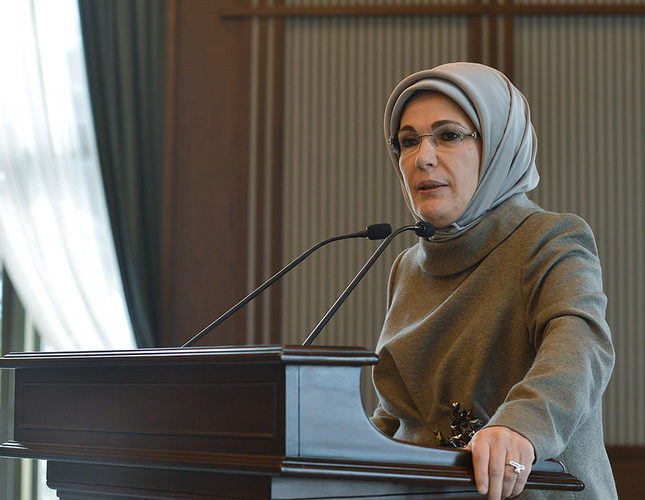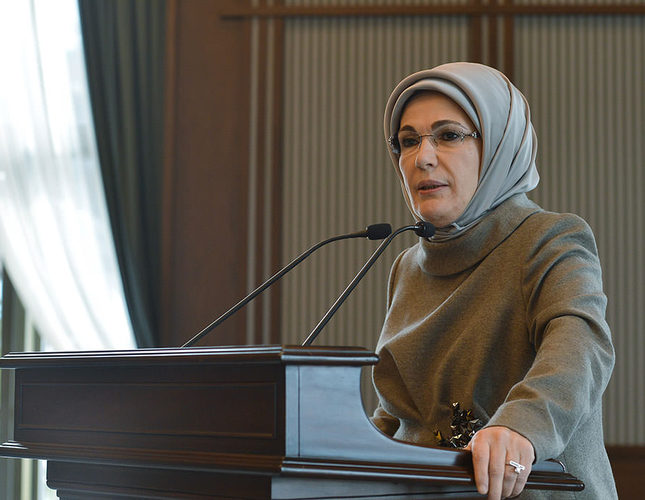 In a landmark meeting with Turkey's female diplomats and wives of Turkish diplomats yesterday, First Lady Emine Erdoğan urged them to play a more active role in the international community in Turkey's soft power efforts
Emine Erdoğan hosted female ambassadors and other high-ranking diplomats as well as spouses of Turkish diplomats from all around the world yesterday in the presidential palace in Ankara. The meeting, the first of its kind, was inaugurated with a speech by Erdoğan, who stressed the need for women to engage in the country's efforts to spread its soft power approach to foreign relations.
Along with diplomats and diplomats' spouses, women representatives of state-run agencies focused on work abroad such as aid agencies and journalists were invited to the meeting over lunch. Prime Minister Ahmet Davutoğlu's wife Sare Davutoğlu, Foreign Minister Mevlüt Çavuşoğlu's wife Hülya Çavuşoğlu and the Minister for European Union Affairs Volkan Bozkır's wife Nazlı Bozkır also attended the meeting.
Addressing the guests, the first lady said women's engagement in diplomacy can make a difference. "You can make Turkey's soft power more active in the international platform as members of the diplomatic community. As citizens of a country that showed Islam can coexist with democracy, a country that has never been a colony, you can make our national values meet with global tendencies," Mrs. Erdoğan said.
Mrs. Erdoğan called upon the spouses of diplomats to develop relations with businesswomen, and members of cultural and arts communities in the countries where ambassadors serve "so that you may have their attention turned to Turkey." She said female diplomats and the wives of ambassadors can also serve as a conduit for Turkish entrepreneurs looking to expand abroad.
Quoting Mevlana Celaleddin Rumi's "compass metaphor," in which he likened himself to a compass with one fixed hand, while the other roams around the world, Mrs. Erdoğan said that the "fixed hand" of the women of the diplomatic community should be entrenched in Turkish culture, tradition and historical values, while the moving hand would accumulate global experience. She stated that such work would be highly valuable for Turkey's interests.
Mrs. Erdoğan said Turkey has risen to a prominent place in the world in the past decade, but has also suffered campaigns against it, especially in 2014. "It has never been easy to defend justice throughout history, and fighting against oppressors forces people to pay a price. Despite the campaigns, Turkey has been the defender of an order based on public conscience and humanity, and has sided with the oppressed without discrimination. We acted with patience and virtue, and sided with truth because truth itself is power and overcomes prejudice. Now is the time to tell the world how Turkey struggled against challenges in a righteous way and correct the wrong, negative portrayal of Turkey by foreign media," she said.
Mrs. Erdoğan stated that women in diplomatic posts, had a great duty at a time of deteriorating conditions in the Middle East, and at a time of rising Islamophobia in Europe. "We have to present Turkey's particular experience to the world in the best way," Erdoğan said. She added that women's sensitivity, sense of compassion and potential for self-sacrifice would definitely help solving numerous problems the world is facing, and women's awareness would certainly become helpful for international diplomacy. Mrs. Erdoğan mentioned a project to help underprivileged children and the needy, which she spearheads in coordination with the wives of provincial governors in Turkey, and said that diplomats' spouses can launch similar projects in the countries where their husbands work.
Turkey, under the tenure of Recep Tayyip Erdoğan as prime minister, was included among the first 20 countries with an influential soft power according to a survey by Monocle magazine. The AK Party government which will mark its 13th year in power this year, pursues a more active foreign policy compared to its predecessors with its soft power approach. Promoting the country as a hub of stability, the government has managed to boost foreign investment in the country and the country's recognition as an influential actor in regional and international affairs.
http://www.dailysabah.com/nation/2015/01/07/first-lady-launches-womens-diplomacy-bid