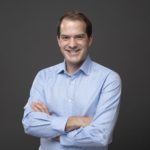 Skip to content
Nick Grant
Executive Director, Strategy and International Partnerships at Cancer Research UK
Guest blogger for Rosie Duthie
Part of Global Science and Innovation Network
15th October 2019 Science and Innovation Network
India and the UK join forces for Affordable Approaches to Cancer – Funding for Seven Research Challenges open now!
Late last year, just over 60 leading cancer experts from India and the UK gathered in Delhi for 2 days. They were attending a researchers' summit with one important aim: to identify the core research challenges in developing affordable approaches to the prevention, early detection and treatment of cancer.
During those 2 days in India, the foundations were laid for the 'Affordable Approaches to Cancer' initiative, a partnership between Cancer Research UK and India's Department of Biotechnology (DBT). This new partnership aims to bring together the best and brightest of the British and Indian scientific communities to address the biggest cancer challenges in India, the UK and globally. This partnership also exemplifies UK and India working together as a global Force for Good.
Coming together for global solutions
With 18.1 million new cases diagnosed worldwide in 2018 and 29.5 million new cases projected for 20401, cancer is a truly global issue, and one that puts a significant strain on many already struggling healthcare systems. To accommodate a growing number of patients and improve prevention, detection and treatment, leaders in cancer research and healthcare must champion creative, innovative and affordable approaches that can be put in place worldwide and adapted to different countries' infrastructure.
As the world's largest independent funder of cancer research, Cancer Research UK works in close partnership with governments and organisations worldwide to lead the way in fostering international collaborations and bring together the best minds and most innovative ideas to address the global challenges in cancer.
Channelling Indian excellence for multidisciplinary research
Life expectancy in India has been improving steadily and has increased by 11 years since 1990. But as people live longer, instances of cancer have increased as well. Over one million Indians are diagnosed with a form of the disease each year, and new cases are expected to rise to 1.7 million by 20352. Today, fewer than 30% of cancer patients survive for five years or more after their diagnosis, a mortality rate disproportionately higher than across the rest of the world.
Fortunately, India's unique assets in research and innovation make it well placed to address this challenge. Indian excellence in science, technology, engineering and mathematics (STEM) enables increasingly multidisciplinary approaches to tackling cancer, as teams harness expertise from such diverse fields as computer science, nanotechnology and material sciences.
With this in mind, an expert bilateral Advisory Panel created specifically for this initiative helped Cancer Research UK and the DBT identify seven key research challenges for British and Indian teams to focus on together. The challenges form the backbone of the Affordable Approaches to Cancer initiative, which aims to drive bilateral collaboration and support innovative research that will be readily applicable in multiple settings.
Calling the innovators of tomorrow
Cancer Research UK and DBT are calling on joint teams from India and the UK to come together to tackle one of the seven research challenges. From 2 Sept – 4 Nov 2019, teams can apply for seed funding awards up to £30,000 in order to develop full applications, over 6 months, for programme awards of up to £1.5M over 4 years.
Cancer Research UK are looking forward to seeing the innovations these bilateral partnerships inspire. We hope this initiative will find solutions that will not only improve cancer survival in India and the UK, but also around the world. Whilst there are many players in the global fight against cancer, sharing knowledge and learning from one another's practices will only serve to help accelerate the progress and translation of live-saving research.
1IARC Globocan 2018 https://gco.iarc.fr/today/data/factsheets/cancers/39-All-cancers-fact-sheet.pdf
2 New cancer cases are projected to rise from around 1 million in 2012 to 1.7 million by 2035: Figures from IARC
Please follow and like us: