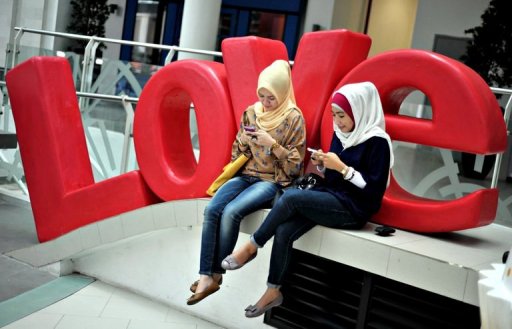 It was already clear that Indonesia loves to tweet, but those short little messages are getting attention globally and saying a lot about what people in the social media crazed country are thinking.
Indonesia's most recirculated tweet – a call to vote for Joko Widodo in the presidential election –  was the second-most retweeted tweet in the world, second only to a star-filled selfie taken at the Academy Awards and sent out by host Ellen DeGeneres. Within the Asia-Pacific, five of the top 10 retweeted tweets for 2014 come from Indonesia and 10 of the top 20 accounts.
The Golden Tweet, as Twitter dubbed the most retweeted messages, came from Denny Januar Ali (@DennyJA_WORLD), founder of Indonesian pollster the Indonesian Survey Circle and a member of Mr. Widodo's campaign team.
''With this retweet, you'll be contributing to the win of Jokowi-JK. Vote for a leader you can trust (Jokowi) and an experienced one (JK)," said the tweet, referring to Mr. Widodo by his popular nickname, Jokowi, and his running mate Jusuf Kalla, or JK.The tweet was retweeted more than 1 million times, an indication of how politics and social media have paired well in Indonesia, one of Twitter's fastest-growing markets. It also shows how influential Indonesians are on Twitter and how popular it has become in a country were growing numbers of people are gaining access to social media through their smartphones, Twitter said in a report looking at the behavior of its users in 2014.
Fastest-Rising Conversations on Twitter in Indonesia in 2014
Rank

Date

Moment

1

26 March 2014

Fiery speech by Prabowo on campaign trail

2

13 Feb 2014

Mount Kelud erupted

3

4 April 2014

Agnez Mo on Indonesian Idol

4

 8July

2014

World Cup Semi Final match: Germany beats Brazil 7-1

5

13 July 2014

World Cup Final: Germany beats Argentina 1-0

6

2 April 2014

Jokowi & JK duet announcement

7

25 March 2014

#MH370 officially declared lost

8

7 April 2014

#jokowitidaklayak vs #prabowotidaklayak

9

8 Feb 2014

Rumors of the breakup of popular JKT48 girlband

10

28 March 2014

The Raid 2 Movie Release
"The general election was exceptional because it's the first time in Indonesia that an election is using social media channels," said Iwan Setyawan, head of Provetic, a Jakarta-based data consultancy that monitored the conversations around this year's election, one of the closest in Indonesian history. "Not only are politicians interested in using Twitter [to campaign], but also the public is excited to use it as a channel to get information about the campaigns."
That Indonesia's Golden Tweet was election-related hasn't come as a surprise to those who tracked the conversations around the campaign period. More than 95 million election-related tweets were sent out during this year's contest and a campaign in support of Mr. Widodo (#Salam2Jari) was among the top hashtags of the year.
Other fast-rising hashtags were #Halamadrid, in support of Real Madrid football club, #MH370, the number of a Malaysia Airlines flight that went missing in March, and #ShameOnYouSBY, which netizens used to blame then-president Susilo Bambang Yudhoyono for the passage of a bill that scrapped direct local elections.
While celebrities account for a large share of the most-followed Twitter accounts, so do news outlets, including Metro TV and online news portal Detik.com – an indication that Twitter has become a quick way of getting and sharing information, the report said.
| | | | | |
| --- | --- | --- | --- | --- |
| Rank | Twitter Handle | Name | No. of Followers | Category |
| 1 | @agnezmo | Agnez Monica | 11, 854,157 | Musician |
| 2 | @TweetRAMALAN | Ramalan Indonesia | 9,387,042 | Zodiac Daily Info for Indonesian |
| 3 | @radityadika | Raditya Dika | 8,724,709 | Comedian |
| 4 | @detikcom | Detik News | 8,707,097 | News |
| 5 | @sherinasinna | Sherinna | 8,570,127 | Musician |
| 6 | @LunaMaya26 | Luna MAya | 8,317,068 | Actress/Director |
| 7 | @vidialdiano | Vidi Aldiano | 7,389,726 | Musician |
| 8 | @afgansyah_reza | Afgansyah Reza | 7,199,582 | Musician |
| 9 | @Metro_TV | Metro TV News | 6,194,655 | News |
| 10 | @SBYudhoyono | Susilo Bambang Yudhoyono | 6,098,017 | Former President and Chairman of the Democratic Party |
Mr. Widodo, now Indonesia's president, currently has 2.59 million followers, about 3.5 million fewer than his predecessor—one of the world's most followed leaders on Twitter—Susilo Bambang Yudhoyono. Mr. Widodo picked up around 755,000 followers between the start of the year and the July 9 election.
He joins an influential list of world leaders who communicate on Twitter with citizens for digital governance and with other world leaders for digital diplomacy, Twitter says in its report.
http://blogs.wsj.com/indonesiarealtime/2014/12/16/indonesia-has-world-no-2-retweet-on-jokowi-election/