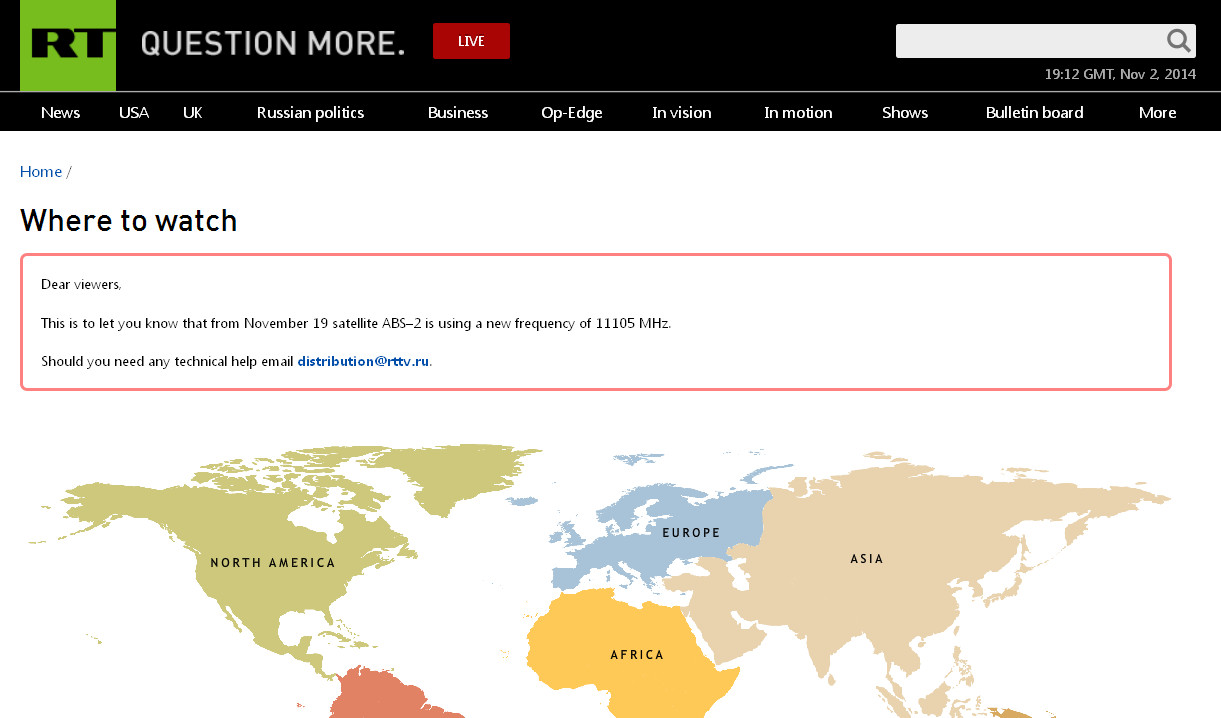 International Kremlin-backed 24-hour news channel already faces six investigations by media regulator Ofcom
The battle for hearts and minds of the global television news audience has entered a new phase with the launch of a dedicated UK version of the Kremlin-backed 24-hour news channel, RT.
It is the first time an overseas news operator has launched a service specifically targeted at British viewers. Last week's launch will be followed on Wednesday by the unveiling of Qatar-funded al-Jazeera's glittering new studios in the Shard in central London.
These are the latest salvos in a soft power onslaught in which RT, al-Jazeera, China's state-funded CCTV and the BBC World Service and its commercially-funded sister TV channel BBC World News, are among the most prominent players.
RT, bankrolled by Vladimir Putin to the tune of £250m a year and criticised as a propaganda mouthpiece for the Russian government, is likely to find its output under intense scrutiny.
The international version of RT, short for Russia Today, is facing six separate investigations by media regulator Ofcom, including its coverage of the shooting down of Malaysia Airlines flight MH17.
Richard Sambrook, former director of global news at the BBC and director of the Centre of Journalism at Cardiff University, said: "Editorially its line is clearly one that is being driven by the Kremlin agenda.
"It's a surprising move to focus resources on the UK. It's not a commercial proposition, therefore the main purpose must be to gain influence. It's about soft power for the Kremlin."
RT, in preparation for its UK launch, and the English language service of al-Jazeera, funded by the Qatari government, have been on recruitment drives in the UK for the last 12 months.
This is in contrast to the World Service, which has seen budget cuts and faces further uncertainty after its funding was switched from the government to the BBC's licence fee in April.
The World Service's outgoing director, Peter Horrocks, said: "The World Service is an antidote to extremism and sensationalism which is a lot of [what] RT presents … There is an even stronger role for the BBC to play.
"The BBC does not present news from a British point of view or perspective – telling it straight paradoxically is what boosts Britain's reputation globally."
Tony Hall, the BBC director general, has targeted a global reach for the corporation of 500 million people by 2022 (it is currently 256 million, including 192 million via the World Service in its various forms). It will take on advertising, to the consternation of some of its critics, to help safeguard its future funding.
Horrocks said al-Jazeera, which launched in America last year after its $500m (£312m) purchase of Al Gore's Current TV, has become "much more of a player".
The channel, which has rejected accusations of bias, beat the BBC and Sky News to win the news channel of the year prize at the Royal Television Society television journalism awards two years ago.
Salah Negm, al-Jazeera's English director of news, said: "al-Jazeera gives a voice to the voiceless and the under-reported stories of the world. It puts the human story at the heart of its reporting. We have the same objective as the BBC – to be honest and neutral."
Marc Saikali, director of French government-owned France 24, which also broadcasts in the UK, said he could only look on with envy at the resources being deployed by RT.
"I'm jealous of what RT is doing in the UK because it means they have a lot of money. We have €52m(£41m) for three channels," said Saikali.
"There is no government influence in France 24. When something goes wrong in France we will talk about it. We want to be clear and transparent."
RT's UK channel will be made up of five hours of programmes a day broadcast from its new studios in Milbank, with the rest of the schedule filled by content from its international channel.
Its output is likely to be closely monitored by critics, particularly its coverage of Ukraine which has been unashamedly pro-Russian.
Mark Wallace, the executive editor of the Conservative Home blog, made a Twitter appeal to "fellow Westminster bods" not to appear on the channel.
"There is no upside in helping the Kremlin spread its propaganda," he said.
Ian Dunt, editor of rival blog, politics.co.uk disagreed. "We're not in the business of handpicking acceptable outlets," he said.
Another government-funded news channel, Press TV, the Iranian state broadcaster's English language outlet, was closed down in the UK two years ago, after its licence was revoked by Ofcom for persistent breaches of broadcasting regulations.
http://www.theguardian.com/media/2014/nov/02/russia-today-launch-uk-version-investigations-ofcom?CMP=twt_gu