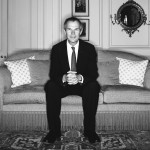 Skip to content
Ambassador to Austria and UK Permanent Representative to the United Nations and other International Organisations in Vienna
Part of UK in Austria
31st October 2019 Vienna, Austria
The Government Art Collection in Vienna
The Duke of Wellington stares across the room towards a distant Queen Victoria, while Emperor Franz Josef – sash, 'tache and all – observes impassively. Not the plot of a historical novel, but the paintings in the dining room at the ambassador's residence in Vienna.
Works from the Government Art Collection (GAC) are displayed in UK Government buildings in nearly every capital city, making it the most dispersed collection of British art in the world.
The Collection promotes British art and plays a key role in British cultural diplomacy, delivering an expression of Britain's culture and its values. Nowhere is this more relevant than in Vienna, a city where appreciation of art and culture flows through everyday life; and where our continuing deep, broad and historic relationship with Austria is on display every day of the week.
The GAC recently published a fascinating piece on their website about the works on display at the residence, which include an unfinished portrait of Lady Nugent, a striking installation by Edmund de Waal, modern photos, old etchings and everything in between. I recommend these links.
Why does any of this matter? Thousands of guests attend events at the residence every year. The art enables conversations and says something about who we are – in our case, for example, highlighting the long-standing relation between UK and Austria.
Queen Victoria never travelled to Vienna; but she met Kaiser Franz Josef several times in France. What they talked about we'll never know; but it is nice to imagine Franz Josef saying goodbye using his customary phrase "es war sehr schön, es hat mich sehr gefreut" (that was lovely, I really enjoyed it). Indeed.
Please follow and like us: