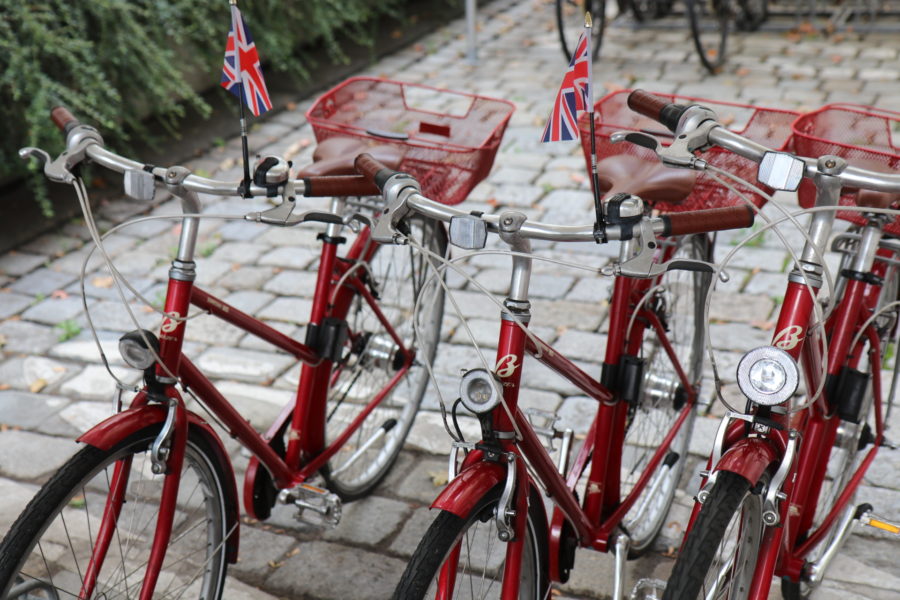 Diplomats from the British Embassy are off to an important meeting in Vienna. The Ringstrasse, as so often, is gridlocked. No problem for our diplomats, who hop on an embassy bike and arrive not only on time, but in style.
Our embassy bikes mean that British diplomats in Vienna make many journeys by bike which would once have been by car. Result: zero emissions (apart, perhaps, from some panting). The bikes are just one of the measures we have taken to make the three British diplomatic missions in Austria greener. Our Embassy 'green team' are constantly looking for ways to reduce our environmental footprint. Measures we have taken so far include:
Banning single use plastics. This is harder than it sounds. The first batch of non-plastic straws we ordered for events at the residence arrived individually wrapped in plastic.
Local, organic suppliers for residence food. The chefs work with excellent, seasonal Austrian produce when possible as well as delicious British products.
Discouraging printing and photocopying. Printers are set to print on both sides by default. It sounds like a small thing, but it reduced significantly the amount of paper we get through.
The air conditioning switches off when not in use.
Encouraging staff to use public transport. Whether "Bims" or busses, our staff use the "Offis" where possible.
We have installed low energy lighting throughout the embassy buildings, which switches off when not in use. Over the past two years, this has cut our electricity consumption by 20%.
Looking after our trees. Trees have once again become an important part of urban planning and we are fortunate to have some lovely examples around the embassy.
If you have any suggestions for how to further reduce our environmental impact, please share them in the comments section.
We are at a turning point for our planet. As the world comes back from COVID-19, it is vital that we build back greener and more resilient. Decisions we make now will directly impact our ability to safeguard the environment for future generations. Next year, the UK will host the UN climate change conference COP26, in Glasgow with our partners, Italy. This will provide an opportunity for the world to come together and commit to urgent action.
The embassy bikes have had a quiet couple of months, as more meetings have taken place online, but watch out for them on the streets of Vienna again soon.