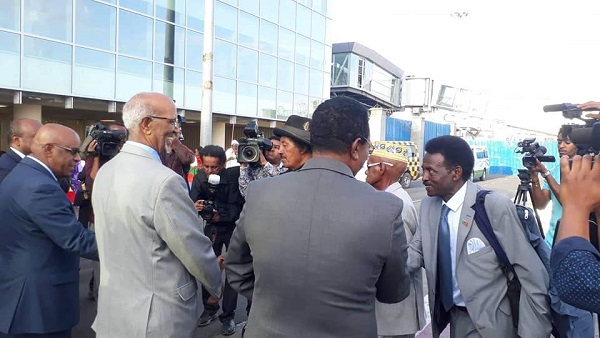 borkena.com, February 14,2019; see also
Eritrean Public Diplomacy team in Addis Ababa. Concerts planned in four cities for Eritrean musicians ; the last one which is on February 21 will be in Addis Ababa.
As Ethiopia and Eritrea are deepening relations, Eritrean public and cultural diplomacy [JB emphasis] team has arrived in Addis Ababa earlier today, disclosed the Ministry of Foreign Affairs of Ethiopia.The team which is composed of 55 Eritreans from different cultural, professional and other backgrounds is pursuing motives of strengthening historical as well as people-to-people relations between the two countries.In its sojourn in Ethiopia, the team will take part in a range of events and concerts in different parts of Ethiopia. Addis Ababa, Hawassa and Bahir Dar are among cities where the public diplomacy team will attend events and musical concerts.During arrival at Bole International Airport, the team was welcomed by Ambassador Redwan Hussien (Ethiopian Ambassador to Eritrea), Ambassador Araya Desta (Eritrea's Ambassador to the African Union), Nebiyu Bayu (Head of the Addis Ababa Culture and Tourism Bureau), Nebiat Getachew (Spokesperson of the Ministry of Foreign Affairs) and a number of Ethiopian Public Diplomacy team.Cultural and Musical concerts are planned to celebrate and strengthen peace between the two countries.According to Eritrean Press report, among Eritrean singers to perform in Bahir Dar, Adama (Nazareth) and Hawassa are Bereket Mengisteab, Wedi Tukul, Engineer Asgedom, Fihira, Elsa Kidane, Bisrat Aregawi and Mohamed Osman.The concert in Bahir Dar is on February 16, Adama February 17, Hawassa February 19 and Addis Ababa February 21.Ethiopia and Eritrea officially ended twenty years of hostile relation in July of 2018 ensuing in the reopening of their embassies. The two countries have formed joint commission with the aim to regulate cooperation between the two countries in a range of areas.