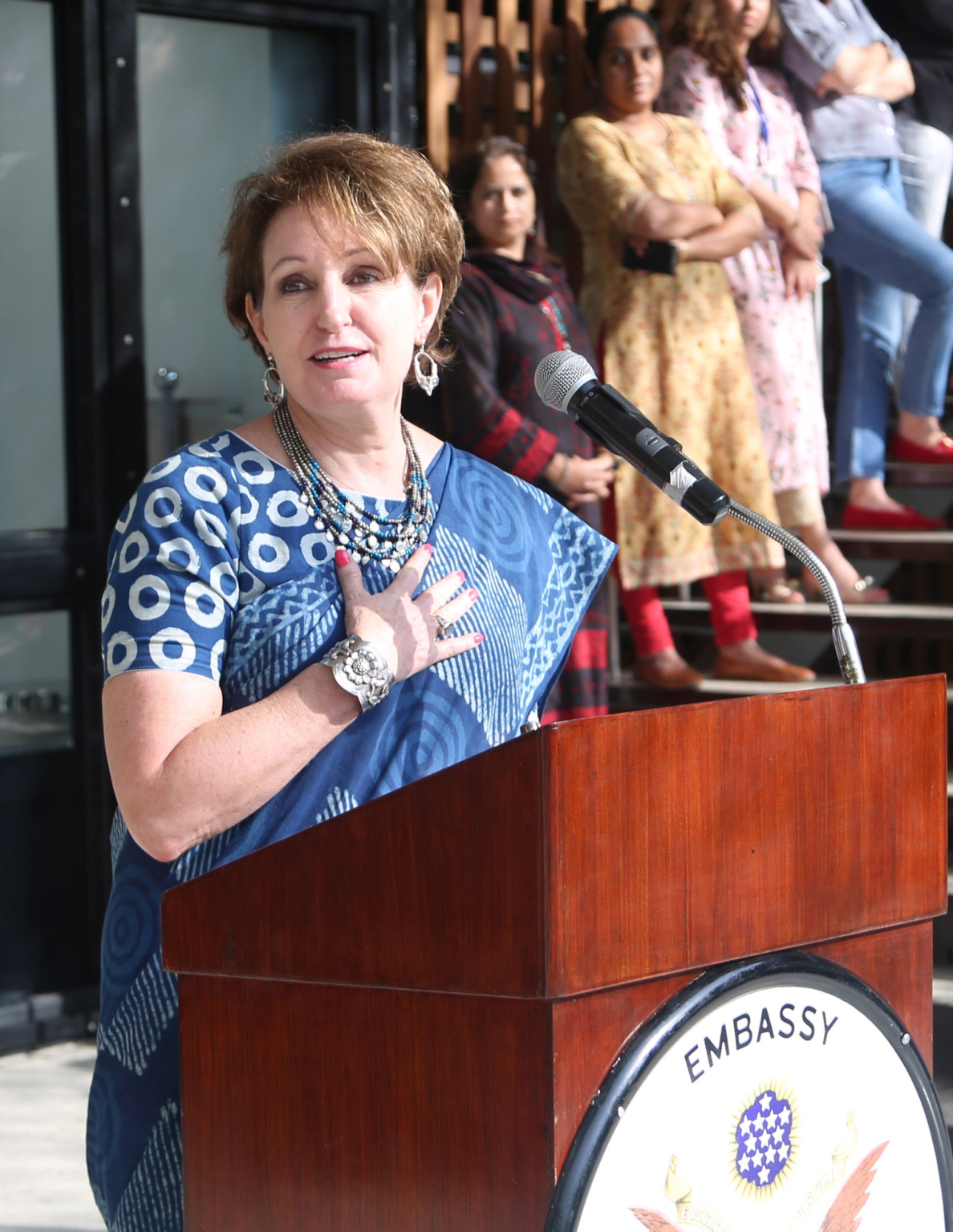 By Nilima Pathak Correspondent, gulfnews.com
New Delhi: Her colleagues at the United States Embassy in New Delhi can corroborate that MaryKay Carlson, the US Deputy Chief of Mission, wears saris as often as she wears Western outfits.
Carlson herself tells Gulf News, "I often joke that my love of the sari is connected to my love of Indian food. As I have gained a few pounds in Delhi, I simply adjust the sari to fit! I cannot do that with my western clothes."Ahead of India's Independence Day this year (August 15), the US Embassy released a video in which Carslon, while greeting everyone, talked about her love for saris."The sari represents the vast culture, colour and diversity of this great country," she says.
Online buzz
Considered one of the public diplomacy [JB emphasis] initiatives by the US envoy, who is also active on Twitter, the video created quite a buzz online.



U.S. Embassy India
✔@USAndIndia
Chargé d'Affaires Carlson was delighted to attend the @AmChamIndia Christmas ball with friends from the US business community. US is India's most important foreign market & US companies contribute greatly as the biggest & best source of investment. #USIndiaBusiness #USIndiaTrade
499:41 AM – Dec 10, 2018

See U.S. Embassy India's other TweetsTwitter Ads info and privacyLast year, while serving as chargé d'affaires, she started an online campaign #SareeSearch and urged people to help her choose the perfect sari to wear for the August 15 celebrations.People from across India voted for the saris.Of the four choices — Kanjeevaram, tussar, jamdani and dupion, each type of sari a reflection of the region it comes from — she wore the red kanjeevaram (the most popular among voters online), when along with her diplomat-husband, she attended the flag-hoisting ceremony at Red Fort.The second most popular choice among voters was the tussar, which she wore for the President's At Home event at Rashtrapati Bhavan, the presidential residence.
Photo 4 I think this is called "tissue silk." From a pop-up mela in Delhi. I bought the embroidered blouse at Roshan Tailor (I assume it is from Rajastan, due to the mirror work).
The Kanjeevaram sari is a famous weave and heritage from the southern Indian state of Tamil Nadu, which has been weaving these silk saris in splendorous shades and colours for centuries.The tussar is also a silk sari woven in the states of Bihar, Madhya Pradesh, Orissa, Jharkand and West Bengal, to name some.
Photo 2 – Tussar saree
Carlson says, "I wear saris not just for special occasions or functions, but also to work. There have been a few weeks in the recent past when I have worn a sari to work every day of the week."On what attracted her to saris, she recalls, "Since arriving in the country over two years ago, and even before then, I admired the beautiful saris Indian women wore. As I learnt more about India's rich textile heritage, I became more enchanted by the intricate designs, rich colours and interesting weaves and textures. But I was intimidated to try to wear one myself."My worry was, I might look out of place or pick up the wrong sari for the occasion. I now regret having waited nearly a full year after arriving in India before wearing one."Although many Indian women find it difficult to drape and wear the sari to work, Carlson is adept at it.
Photo 5 Ikat silk saree
While admitting that some saris are a bit difficult to handle, she says, "Now I am able to drape them in less than 10 minutes. Though folding the pallu (the front end of the sari that's pleated and pinned over the shoulder) can be a bit of a challenge; the more I wear them, the easier it gets."The draping of the sari has many approaches in India and many regions have their own variation of it.
Traditional drape
Modern fashion has brought in some innovative ways that offer a fusion of the old and new draping styles. But for Carlson, the traditional drape that has the exquisitely devised front pleats, like a fluid accordion in motion, is the way to go."I especially like the Bengali style of wearing a sari (that has the pallu coming in over the shoulders from the back and creating a motif-like impact on the front) and also some modern methods of draping. But I am apprehensive that if I tried something too modern or different, I might just look like a woman who didn't know how to drape her sari properly," she said.Starting out with four saris, Carlson has turned into a connoisseur with her collection having grown to 20."Even though I like the look and feel of many different fabrics, I am particularly drawn to khadi and handloom varieties," she says. "Khadi, 'the fabric of freedom', will always be special to me, given its connection to the Indian independence movement," she adds. She has diverse outlets from where she makes her purchases. "I have bought saris from Khadi India, women's co-operatives and also at various pop-up fairs. I recently bought a beautiful ikat sari in Hyderabad."For people who often deliberate on what to gift Indian women, the US emissary has a word of advice: "Indian textiles of all types, especially saris, are definitely treasured gifts. They will always carry for me wonderful memories of the people, places, events and experiences connected with each one of them," she says.Original Article
Please follow and like us: