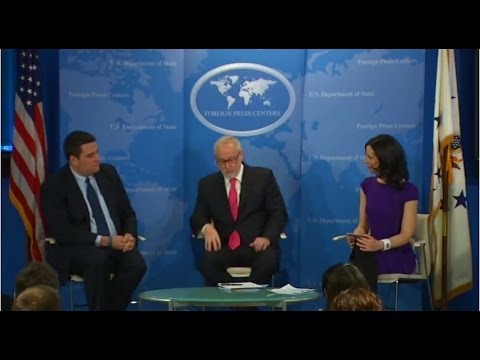 Whispers: US Secretary of State John Kerry speaks privately with South Korean Foreign Minister Yun Byung-se. At other times, Secretary Kerry and his department are counting on public broadcasts through social media.
It has had its fair share of social media scandals and been accused of buying fake Facebook likes, but the White House believes the benefits of being an active participant in the uncertain world of social media still far outweigh the risks. It calls it digital diplomacy.
In a case possibly best described as if you can't beat them, join them, the US Department of State, responsible for international relations, has adopted an aggressive approach to social media, running accounts on almost every available platform including Twitter, Facebook, Google+, Instagram, Flickr, YouTube, Tumblr and Vine. It even invited foreign media for a briefing on its strategy. (The video is here.)
Headed by Secretary of State John Kerry, the department's senior staff are actively encouraged to engage with the general public, academics and other governments on social channels believing the risk of potential blunders are worth the big picture pay off: transparency about US foreign policy.
Secretary of State John Kerry welcomes social media clearance from the State Dept. Photo: Screen shot
"We have to trust their judgment," said Doug Frantz, assistant secretary of state for public affairs.
"You want people to be willing and able to take responsible risks. [We say] don't try and change US policy on Oman but we can afford small mistakes. We are willing to take those risks."
Yet social media use by government  aides has not always been a success. A White House official was fired last year when it was revealed he was behind an anonymous Twitter account that criticised US President Barack Obama's administration.
The State Department's new focus on social media came after a scathing report last year revealed its Bureau of International Information Programs spent $630,000 on buying Facebook 'likes'.
Since then, the department has appointed Macon Phillips, a veteran of  Mr Obama's 2008 election campaign and former White House Director of Digital Strategy, to lead the Bureau of IIP's mission. That may go some way to explain Secretary Kerry's quip last year: "It only took a year but @StateDept finally let me have my own @Twitter account. #JKTweetsAgain".
Besides using it to document the travels of President Obama and Secretary Kerry, the department has used social media to send public comment on the current political crisis in Ukraine, as well as fund-raising efforts in the aftermath of Typhoon Haiyan, which struck the Philippines last year. Then it posted an "unselfie" photograph of Secretary Kerry holding a piece of paper with the address of a fund-raising website that  proved successful in encouraging donations to the recovery efforts.
Officials say social media helps them keep in touch with people on the ground, even if sometimes the reaction to otherwise low-risk tweets is political, like when Secretary Kerry posted an old photo of himself with John Lennon to profess his baby boomer love of The Beatles. Six minutes later, @SamDoyle75 snapped back: "@JohnKerry also were you planning on signing away responsible American gun-owner rights on the treaty w/o American's approval even then too?"
Other issues the US government says it has tackled through social media include recent violence in South Sudan. Exchange programs with other governments allow the US to tap into a global network of alumni when required. In South Sudan, that network was activated in an attempt to end violence in the fledgling country.
"That was a real example of how we can use digital diplomacy in conjunction with our network," the assistant secretary of state for educational and cultural affairs, Evan Ryan said . "We wouldn't have been able to do this 20 years ago but now we have a direct connection to these alumni who are on the ground in these countries and we can reach out to them when we need to."
And it's not just on social networks where the US  is attempting to have reach. A room in the State Department's Washington DC headquarters is filled with staff engaged in online conversations on websites in an attempt to counter extremist anti-American sentiment and recruitment drives.
They engage with the public in Punjabi, Arabic, Somali, Urdu, and more recently English after noticing a spike in English-language recruitment efforts by extremists.
In a less menacing environment, a program known as #Techwomen brings women from the Middle East, and North and Sub-Saharan Africa to Silicon Valley on educational visits.
"They are mentored and learn skills, marketing, and all aspects of business in Silicon Valley,"  Ryan. "They're able to then bring back that knowledge to their country and grow their own businesses in digital media. It's incredibly popular."
One of the biggest challenges, however, is social media's tone and how the most powerful individuals in the world make a joke – or otherwise – on Twitter.
"What is Presidential in 2014?" said Mr Phillips, who worked on digital strategy for the White House before taking on a similar role for the State Department.
"We are entering a medium that is very casual.  We can't go into it with virtual suit and tie. Humour is a big challenge. You might laugh at a lot of your social media but it won't be one of our jokes. We're looking at how we can have a more human tone in our content yet still respect the seriousness these issues deserve."