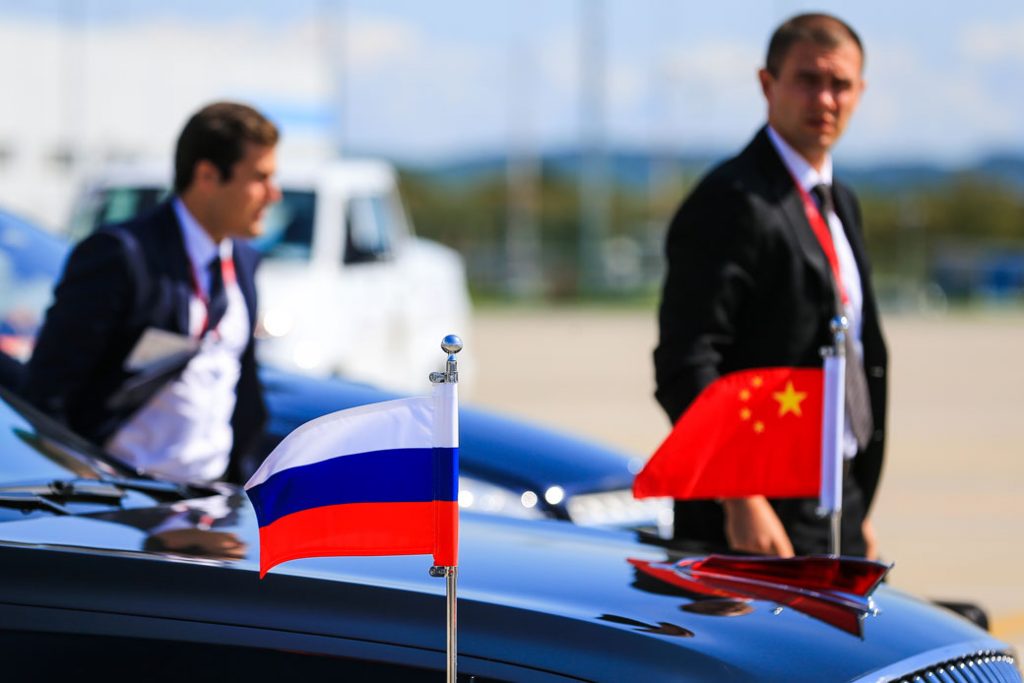 Carolyn Kenney, Max Bergmann, and James Lamond, americanprogress.org

Image from article, with caption: A motorcade car adorned with Chinese and Russian flags awaits Chinese President Xi Jinping's arrival at Vladivostok International Airport, Russia, on September 11, 2018.
Excerpt:
In an effort to develop legal and policy solutions to this threat, different democracies around the world are trying to establish frameworks for distinguishing types of influence activities that are acceptable from those that are not. For the purposes of this issue brief, the authors adopt the framework provided by former Australian Prime Minister Malcolm Turnbull in his speech on countering foreign threats, focusing primarily on influence activities carried out or supported by foreign governments that are "covert, coercive or corrupt."4 As such, this brief does not focus on legitimate, benign forms of foreign government influence, such as public diplomacy [JB emphasis] and exchange programs, but rather on illegitimate, malign forms of foreign government influence—also referred to as "interference" or "foreign influence operations." Such operations include hacking political campaigns, bribing government officials, and conducting cyberespionage. This distinction is important, especially when it comes to crafting appropriate responses; the focus should be on responding to illegitimate activities in ways that do not restrict legitimate activities. To identify possible solutions to the challenges these regimes pose, as well as where those solutions may overlap, this brief explores the goals and objectives of Russia and China; the broad array of activities they have undertaken in support of these goals and objectives; and how each regime's actions are similar or different. …
Approaches to countering foreign influence and curbing interference
Reinvest in U.S. public diplomacy operations. The single greatest tool that the United States and its democratic allies have to combat disinformation around the world is to advance a clear, coherent, and truthful narrative about the United States, its values, and its role in the world. Unfortunately, President Trump has catastrophically undermined that narrative by violating some of the nation's most cherished values at home and abroad.30 The next president must take on the important job of repairing America's image. To do this, he or she will need to make clear what America stands for in the world and reinvest in public diplomacy tools in order to illustrate U.S. values and beliefs. This effort might include increasing funding for government-funded media organizations such as Voice of America and Radio Free Europe/Radio Liberty (RFE/RL); investing more in cultural and educational exchanges; and empowering the U.S. State Department's undersecretary for public diplomacy and public affairs in the next administration. …
Conclusion
Foreign influence operations are by no means a new phenomenon. However, as witnessed in a series of recent elections and referenda across the United States and Europe, recent technological developments have made it easier for international actors to quickly and maliciously interfere with democratic processes. Russia and China constitute the greatest threats in both the short and long term. Although their goals, strategies, and tactics may differ, there are important measures that democracies can and should take to respond to and prevent future interference.
Carolyn Kenney is a senior policy analyst for National Security and International Policy at the Center for American Progress. Max Bergmann is a senior fellow at the Center. James Lamond is a senior policy adviser at the Center.
Endnotes …
4. Malcolm Turnbull, "Speech introducing the National Security Legislation Amendment (Espionage and Foreign Interference) Bill 2017," malcolmturnbull.com.au, December 7, 2017, available at https://www.malcolmturnbull.com.au/media/speech-introducing-the-national-security-legislation-amendment-espionage-an. ↩ …
30. Magsamen and others, "Securing a Democratic World." ↩ …