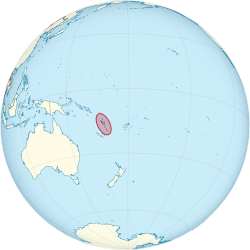 careers.coffey.com

Image of Vanuatu Republic from Wikipedia

Image (not from entry) from, which notes: Port-Vila is the capital of Vanuatu and the administrative centre of the Shefa Province. It is situated on the southern cost of the island of Efaté and possesses the biggest port and airport in the country, as well as a university. Thanks to these facilities, the city of Port Vila has become an economic and commercial centre.
Job no: 497618
Work type: Contract
Location: Vanuatu
Categories: International development
Opportunity to contribute to the education sector in Vanuatu
Based in Port Vila, Vanuatu
Duration: Full time contract until December 2021
The ProgramOn behalf of the Australian Department of Foreign Affairs and Trade Coffey is managing the delivery of support and technical assistance to the Vanuatu Ministry of Education and Training (MoET) as part of the Vanuatu Education Support Program (VESPII). We support the MoE in implementing its reform program that is focused on children across Vanuatu having better access to an inclusive, quality basic education, as well as supporting the management and allocation of education resources through evidence-based decision making.VESPII commences in February 2019 and will help build on the Ministry's reforms to date and support teachers and students into the senior Primary years. As part of VESPII, the Australia Awards Vanuatu (AAV) will also be supported.Coffey through VESPII (AAV) is seeking applications for the position of AAV Alumni and Award Promotions Coordinator to join this program. This role is reserved for Vanuatu citizens.The PositionThe main focus of this role is strengthening, extending and advocating the AAV Alumni network. This includes in the planning, coordination and delivery of the AAV Alumni activities in Vanuatu, covering responsibility for working with Alumni to identify topics and speakers for the regular monthly Alumni events, as well as the promotion and expansion of the Alumni across Vanuatu.Key dutiesReporting to the Australia Awards Officer this role will also support the administration and delivery of each stage of the scholarships cycle, through providing targeted support and inputs to the promotion, applications, selection and mobilisation of scholars. Other key responsibilities will include.
-Plan and manage the Alumni event calendar throughout the year.
-Working with the VESPII Communications and Strategic Reporting Manager, develop materials and public diplomacy [JB emphasis] information suitable for use in social media and webpages
-Take a leading role in the communications and promotional activities in the AAV scholarship cycle, including strategies that engage with communities and Alumni across Vanuatu
-Work closely with the AAV Coordinator to plan and implement a set of of tailored alumni activities, with the purpose of expanding and strengthening the network.
-Maintain an understanding of OASIS (scholarship system) to enable its use and reporting
-Ensure GEDSI initiatives are included in AAV support activities and for Alumni events.
Position Description – AAV Alumni and Award Promotions Coordinator.pdfThe PersonWe are seeking applicants with a relevant tertiary qualification in a relevant field, e.g. administration, management, human resource development or communications. The successful candidate will have at least four years' experience in a similar (highly operational) role. You will have highly developed planning and implementation skills including the ability to effectively manage a range of competing tasks in a timely manner. Demonstrated ability to work with a range of stakeholders, including government officials, donor representatives and AAV alumni is essential as well as a positive customer focused approach. You will have proficient computer skills including MS office and some experience with data systems and previous work on an international development or development scholarships program is highly desirable. A high level of oral and written skills in Bislama and English is essential. The successful candidate will have the ability to operate in a cooperative team environment and be willing to provide support to colleagues during busy times in this interesting role.Further enquiries can be directed to internationaldevelopment@coffey.com quoting job number 497618.Applications close: 5pm (Port Vila time) 4th February 2019.Coffey has a 40 year history in successfully delivering international development projects on behalf of donors right around the world, including Australia's Department of Foreign Affairs and Trade, USAID and the UK's Department for International Development. Our people work side by side with local partners to support stability, economic growth and good governance, positively changing people's lives. Coffey has robust policies and guidelines which exemplify our commitment to safeguarding and technical excellence in gender equality. Our team of dedicated GEDSI advisers work closely with our staff and partners to ensure a context-specific and consistent approach is applied to all our programmes to improve the livelihoods of the world's most marginalised groups.Advertised: 23 Jan 2019 Central Pacific Standard Time
Applications close: 04 Feb 2019 (5:00 PM) Central Pacific Standard TimeBack to search results Apply nowOriginal Article