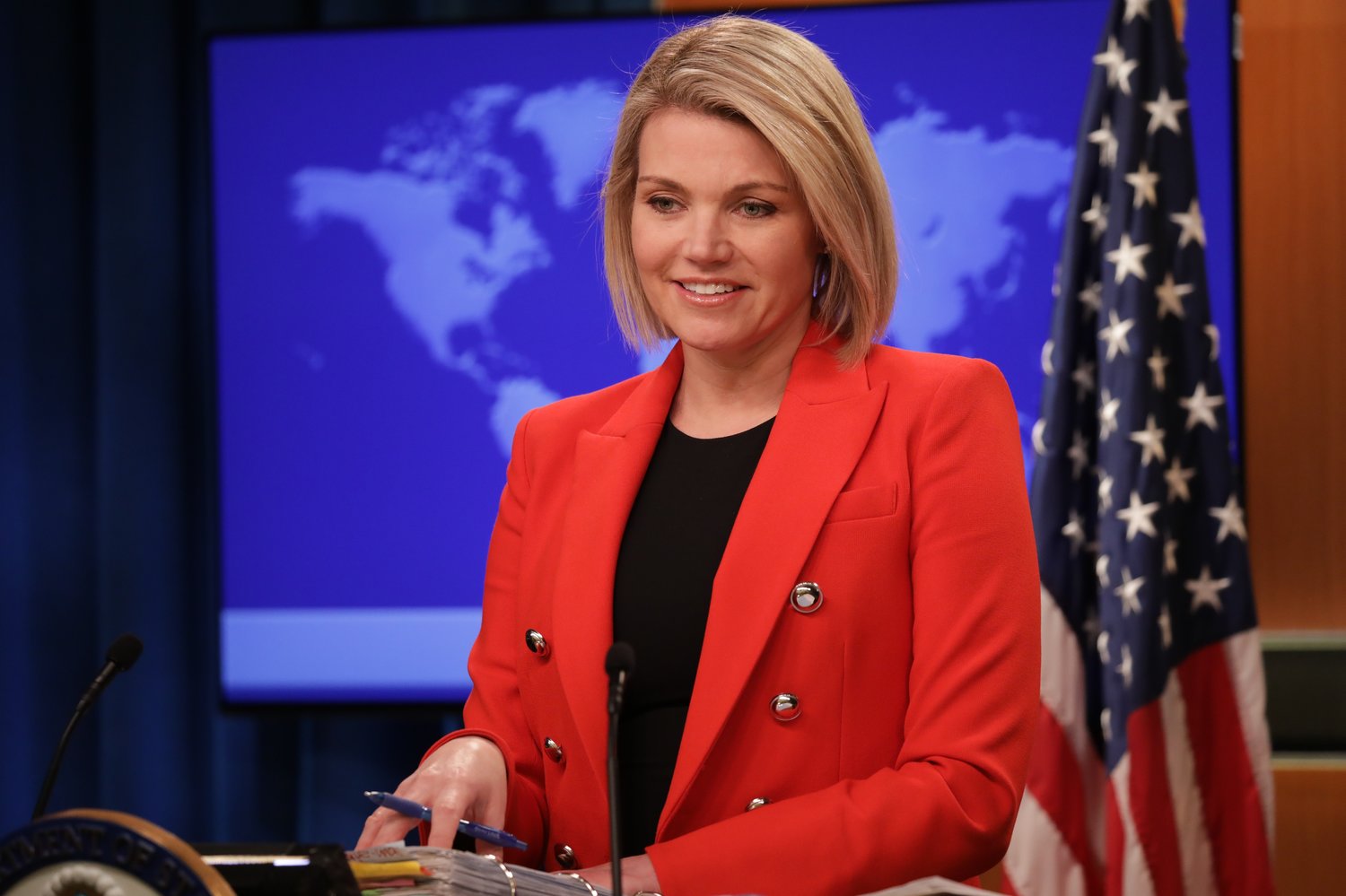 Emma Bowman, NPR, February 16; on Nauert, see below

Image from entry, with caption: Department of State Spokesperson Heather Nauert withdrew herself from consideration for the nomination of U.S. ambassador to the U.N. on Saturday.State Department spokesperson Heather Nauert withdrew herself from consideration on Saturday for the nomination of U.S. ambassador to the United Nations."I am grateful to President Trump and Secretary [of State Mike] Pompeo for the trust they placed in me for considering me for the position of U.S. Ambassador to the United Nations," she said, according to a statement released by the State Department. "However, the past two months have been grueling for my family and therefore it is in the best interest of my family that I withdraw my name from consideration."President Trump picked the former Fox & Friends host to become the next ambassador to the U.N. in December. Had she been confirmed, Nauert would have replaced Nikki Haley, who resigned as ambassador in October.But in the two months since her nomination was announced, Nauert's credentials for the position have been questioned.Nauert had no government or foreign policy experience until she joined the Trump administration in 2017, NPR's Michelle Kelemen reported, beyond overseas stints for ABC, including in Baghdad. During her nearly two-year tenure in the State Department, Nauert worked alongside former Secretary of State Rex Tillerson, and then Pompeo."Heather Nauert has performed her duties as a senior member of my team with unequalled excellence," Pomeo [JB: sic] said in a statement. "Her personal decision today to withdraw her name from consideration to become the nominee for United States Ambassador to the United Nations is a decision for which I have great respect."
Her time at the State Department was not without controversy. As NPR's Kelemen noted following Nauert's nomination:
"She faced some criticism for a tourist-like Instagram post from Riyadh, Saudi Arabia, on a trip that was meant to focus on the killing of Washington Post columnist Jamal Khashoggi."There have been other missteps, including the time when she cited D-Day — the Allied invasion of Normandy against the Nazis — as an example of America's strong relationship with Germany."
State Department Deputy Spokesperson Robert Palladino says Trump will pick a new nominee for the position soon. Before Trump picked Nauert, Trump had considered former White House aide Dina Powell.There had also been rumors that his daughter Ivanka Trump was under consideration. NPR's Laurel Wamsley reported, that "when the president was asked whether he was considering nominating Ivanka Trump for the U.N. post. Trump replied that she would be 'dynamite' in the job, but he was concerned about being accused of nepotism."***state.gov
Home Under Secretary for Public Diplomacy [JB emphasis] and Public Affairs
Biography


Share


Heather NauertDepartment SpokespersonTerm of Appointment: 04/24/2017 to presentPrint quality photoHeather Nauert joined the State Department as spokesperson in April 2017 after a career in broadcast journalism. Ms. Nauert was designated as Acting Under Secretary for Public Diplomacy and Public Affairs on March 13, 2018 to October 10. 2018.As a New York-based anchor and correspondent at the Fox News Channel, Ms. Nauert was responsible for overseeing breaking news on the top-rated US morning cable news show. She regularly solo anchored programs on Fox and contributed to every news platform, including radio and internet, covering global and domestic crises and interviewing senior elected and military officials. In 2016, she traveled to battleground states to report on the presidential primaries and election. She also reported from the Republican and Democratic conventions, presidential debates and the inauguration.Previously, Ms. Nauert served as a network correspondent for ABC News where she traveled extensively for breaking news stories in the United States and abroad. She was also previously a term member of the Council on Foreign Relations.Prior to working as a journalist, Ms. Nauert served as a health insurance consultant in Washington, DC. She is a graduate of Columbia University's Graduate School of Journalism and Mount Vernon College in Washington.Original Article
Please follow and like us: