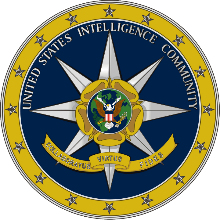 dni.gov


Image from Wikipedia, "Seal of the United States Intelligence Community," which states: "The United States Intelligence Community (IC) is a federation of 16 separate United States government intelligence agencies and a 17th administrative office, that work separately and together to conduct intelligence activities to support the foreign policy and national security of the United States."
Excerpt from document cited above:
The National Intelligence Strategy of the United States of America August 2019
IC Vision: A Nation made more secure by a fully integrated, agile, resilient, and innovative Intelligence Community that exemplifies America's values.
IC Mission: Provide timely, insightful, objective, and relevant intelligence and support to inform national security decisions and to protect our Nation and its interests.
This National Intelligence Strategy (NIS) provides the Intelligence Community (IC) with strategic direction from the Director of National Intelligence (DNI) for the next four years. It supports the national security priorities outlined in the National Security Strategy as well as other national strategies. In executing the NIS, all IC activities must be responsive to national security priorities and must comply with the Constitution, applicable laws and statutes, and Congressional oversight requirements. All our activities will be conducted consistent with our guiding principles: We advance our national security, economic strength, and technological superiority by delivering distinctive, timely insights with clarity, objectivity, and independence; we achieve unparalleled access to protected information and exquisite understanding of our adversaries' intentions and capabilities; we maintain global awareness for strategic warning; and we leverage what others do well, adding unique value for the Nation.
From the Director of National Intelligence
As the Director of National Intelligence, I am fortunate to lead an Intelligence Community (IC) composed of the best and brightest professionals who have committed their careers and their lives to protecting our national security. The IC is a 24/7/365 organization, scanning the globe and delivering the most distinctive, timely insights with clarity, objectivity, and independence to advance our national security, economic strength, and technological superiority.
This, the fourth iteration of the National Intelligence Strategy (NIS), is our guide for the next four years to better serve the needs of our customers, to help them make informed decisions on national security issues, and to ultimately keep our Nation safe. The NIS is designed to advance our mission and align our objectives with national strategies, and it provides an opportunity to communicate national priority objectives to our workforce, partners, oversight, customers, and also to our fellow citizens.
We face significant changes in the domestic and global environment; we must be ready to meet 21st century challenges and to recognize emerging threats and opportunities. To navigate today's turbulent and complex strategic environment, we must do things differently. This means we must:
• Increase integration and coordination of our intelligence activities to achieve best effect and value in executing our mission,• Bolster innovation to constantly improve our work,• Better leverage strong, unique, and valuable partnerships to support and enable national security outcomes, and• Increase transparency while protecting national security information to enhance accountability and public trust.
This National Intelligence Strategy increases emphasis in these areas. It better integrates counterintelligence and security, better focuses the IC on addressing cyber threats, and sets clear direction on privacy, civil liberties and transparency.
We have crucial work before us. Our customers depend on us to help them to make wise national security decisions, and Americans count on us to help protect the Nation, all while protecting their privacy and civil liberties. We must provide the best intelligence possible to support these objectives; doing so is a collective responsibility of all of our dedicated IC professionals and, together with our partners, we can realize our vision.
Our ongoing goal is to continue to be the very best intelligence community in the world. Thank you for your service and for bringing your talent and commitment to the work of keeping our Nation safe each and every day. Thank you for your dedication to our mission and to the security of our fellow citizens as we take this journey together.
[signed]Daniel R. CoatsDirector of National Intelligence …
Mission Objectives
National Intelligence and Intelligence Related to National Security means all intelligence, regardless of the source from which derived and including information gathered within or outside the United States, that pertains, as determined consistent with any guidance issued by the President, or that is determined for the purpose of access to information by the Director to pertain to more than one United States Government agency; and that involves threats to the United States, its people, property, or interests; the development, proliferation, or use of weapons of mass destruction; or any other matter bearing on United States national or homeland security. (Executive Order 12333)
The seven mission objectives broadly describe the activities and outcomes necessary for the IC to deliver timely, insightful, objective, and relevant intelligence and support to its customers. Mission objectives address a broad range of regional and functional topics facing the IC and their prioritization is communicated to the IC through the National Intelligence Priorities Framework.
Mission Objectives
The first three mission objectives address foundational missions of the IC which transcend individual threats, topics, or geographic regions. This is different from foundational military intelligence, which is intelligence on foreign military capabilities. As such, foundational mission objectives collectively represent the broadest and most fundamental of the IC's intelligence missions.
The next four mission objectives address specific, topical missions of the IC. The topical mission objectives are supported by the three foundational mission objectives and may contain elements of these. Other specific regional and functional issues, such as conflict areas and transnational criminal organizations, are implicitly covered by the mission objectives.
1 Strategic Intelligence addresses issues of enduring national security interest.
2 Anticipatory Intelligence addresses new and emerging trends, changing conditions, and underappreciated developments.
3 Current Operations Intelligence supports planned and ongoing operations.
4 Cyber Threat Intelligence addresses state and non-state actors engaged in malicious cyber activities.
5 Counterterrorism addresses state and non-state actors engaged in terrorism and related activities.
6 Counterproliferation addresses state and non-state actors engaged in the proliferation of weapons of mass destruction and their means of delivery
7 Counterintelligence and Security addresses threats from foreign intelligence entities and insiders. …
Please follow and like us: