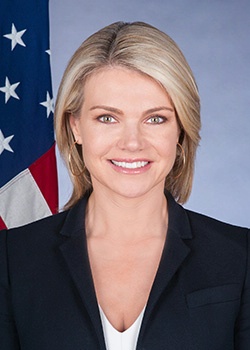 Dana Milbank, The Washington Post, December 25; original article contains links

Nauert image from
Excerpt:
Calls to the White House switchboard during this Christmas holiday are greeted by the following message:
"We apologize, but due to the lapse in federal funding we are unable to take your call. Once funding has been restored, our operations will resume. Please call back at that time."
Click.
Is there a better distillation of the Trump administration after year two?
You have reached the White House. We are not functioning. Please try again later. …
Trump's booby traps ensnare the nation: …
Not a creature is stirring in … the Trump administration, either. …
Trump's ambassador to the United Nations resigned, and his pick for the job is a former Fox News personality with little foreign-policy experience [JB: Heather Nauert, former Acting Under Secretary for Public Diplomacy and Public Affairs; her post remains vacant]. …
Please follow and like us: