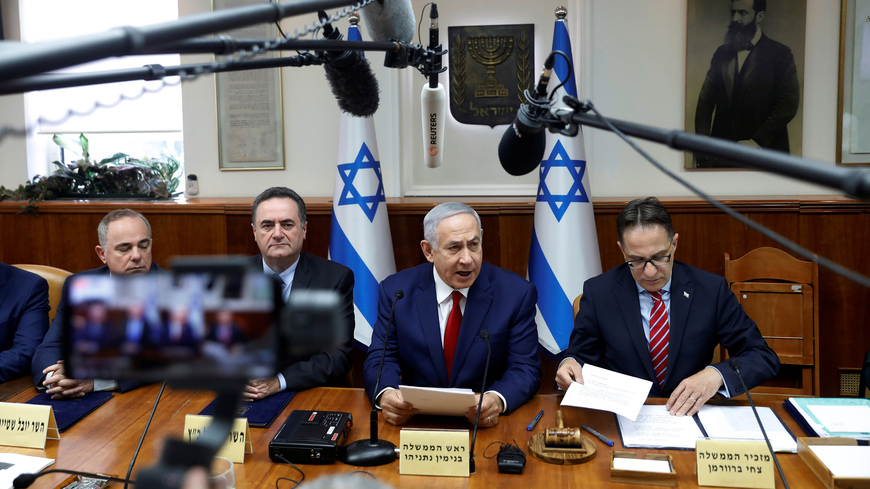 Akiva Eldar, al-monitor.com; original article contains links

Image from article: Israeli Prime Minister Benjamin Netanyahu attends the weekly Cabinet meeting in Jerusalem, Dec. 23, 2018.Excerpt:
"Israel's foreign relations are flourishing and have hit an unprecedented … all-time record," boasted Prime Minister Benjamin Netanyahu at a Dec. 17 meeting of his Likud party's Knesset members. "We have tremendous accomplishments [from] around the world, including the Arab world, which we never had before," bragged Foreign Minister Netanyahu. "We are protecting Israel as an island of calm," continued Defense Minister Netanyahu in the same vein. Netanyahu's remarks were prominently reported the following day by Israel Hayom, the newspaper owned by the family of American casino mogul Sheldon Adelson and distributed free on every street corner in Israel. …
Netanyahu complained about "several journalists" who "criticized and slandered" the Dec. 10 visit by "my wife, Sara" to Guatemala, a visit that made a "significant contribution" to Israel's public diplomacy. [JB emphasis] "And what did you hear here?" Netanyahu whined to his adherents. "Zilch. Almost zero." …
As was the case in the 2015 elections, in the elections scheduled for April 9, 2019, Israelis will have to choose between occupation and peace, between freedom of religion and rule by rabbis, and between liberal democracy and nationalist conservatism. In addition, they will have to choose between a regime that encourages a combative, independent media and one that turns the media into a disciplined propaganda tool.