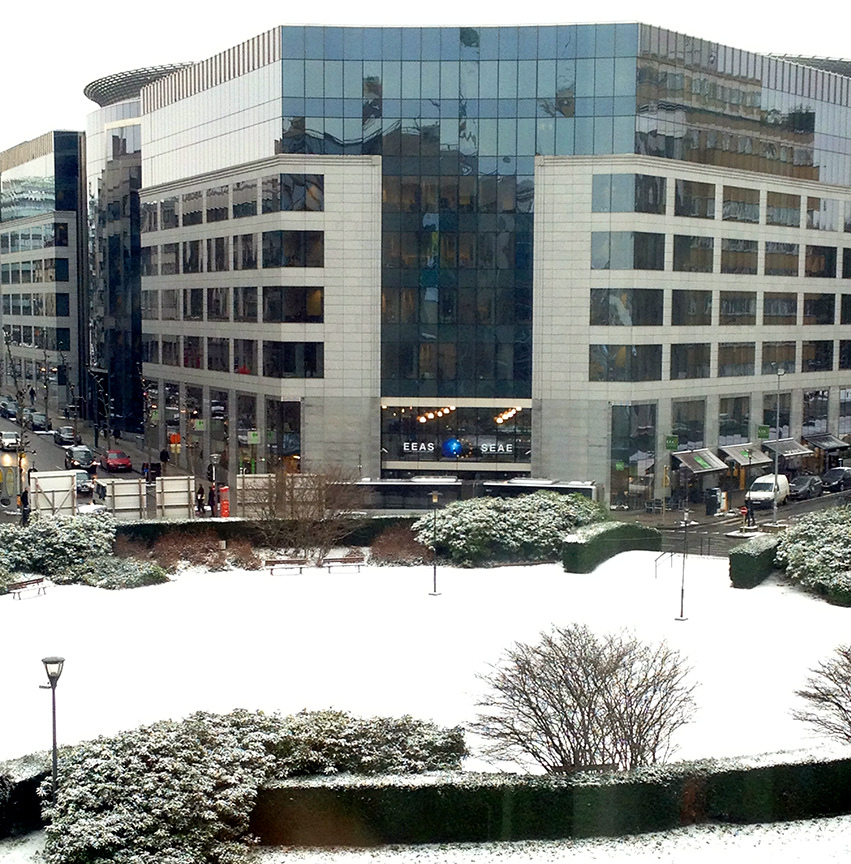 eeas.europa.eu

Image of EEAS Headquarters, Bussels fromThe European External Action Service (EEAS) supports the work of the High Representative in her tasks of conducting the EU's Common Foreign and Security Policy and chairing the Foreign Affairs Council. It also supports the High Representative in her capacity as Vice President of the Commission with regard to her responsibilities within the Commission in the external relations field including the coordination of other aspects of the EU's external action. The EEAS works in close cooperation with Member States, the Council and relevant services of the European Commission.The EEAS Strategic Communications Division (Stratcom) leads the European Union's communication on Foreign Affairs and Security Policy, as well as its external action more broadly. It provides around-the-clock professional support to the HR/VP in all her public diplomacy [JB emphasis] activities. This includes integrated communication campaigns and media relations, web-based communication and social media, speeches, articles, graphic design and audio-visual materials. StratCom provides tailor-made communications guidance and support to the EU's network of 140 Delegations and offices around the world, as well as to the EU's Common Security and Defence Policy missions and operations, and is responsible for allocating and ensuring proper control of communications budgets both at headquarters and in the field. It is also responsible for internal communications to EEAS staff.On 5 December 2018 the College of the European Commission adopted an Action Plan against disinformation (JOIN(2018) 36 final), which was presented jointly by the Commission and the High Representative. The plan outlines concrete actions to bolster EU capabilities to detect, analyse and expose disinformation and strengthen coordinated and joint responses between the Union and Member States. In this context, EEAS will establish Rapid Alert System, which will allow sharing alerts, assessments, information and best practices about disinformation campaigns targeting the EU and its Member States between national contact points and EU institutions. EEAS will also strengthen its Strategic Communications capacity, and in particular the Stratcom Task Forces for East, South and Western Balkans. This will be done bearing in mind the growing scale and importance of disinformation activities in those regions and the need to raise awareness about the adverse impact of disinformation. The Task Forces will also step up proactive strategic communications in the EU's neighbourhood and continue supporting independent media in cooperation with the relevant Commission services.WE PROPOSE:A Contract Agent FG II position of administrative agent to be based within the EEAS Strategic Communications Division. The Contract Agent will work with a team that designs awareness-raising campaigns on disinformation and undertakes outreach and advocacy activities to address negative impact of disinformation. S/he will also be responsible for providing administrative and logistical support for the activities leading to the set-up of national contact points network within the Rapid Alert System and to the diverse cooperation with international partners and civil society organisations.Functions and duties:We are looking for a dynamic, flexible and proactive colleague with good communication and organizational skills, with a developed sense of service. The assistant should be able to quickly adapt to a new working environment and be a good team-player. The successful candidate should have good computer skills with a sound knowledge of the standard IT applications and administrative procedures. He/she will be entrusted with the following main tasks:
provide efficient secretarial and logistical support;
carry out various administrative tasks such as correspondence and diary-keeping, filtering telephone calls, filing and ordering supplies;
assist with organisation of public, networking and outreach events;
document management: deal with the registration of incoming and outgoing correspondence, including in Ares;
organize missions of staff using MIPS application;
organize meetings and events;
co-ordinate the creation, keeping up to date and retrieval of documents and data in the appropriate files or IT databases;
ensure the preparation of briefing files, speeches, etc;
co-ordinate and authorize translation requests;
provide occasional support to the Stratcom team on related administrative and events' organisation issues.
Selection Criteria:
Proven experience in the secretarial field. Experience in the field of external relations will be an asset;
sound computer skills (MS Office) and good knowledge of standard administrative procedures. Knowledge of IT tools used in EU institutions (ARES, MIPS, Sysper) will be an asset;
ability to perform multiple tasks and adjust to changing priorities and respect deadlines;
very good knowledge of oral and written English and/or French;
previous experience in EU institutions and/or EU Delegations would be an asset.
Eligibility criteria:In order to be eligible for the post of contract agent FG II candidates must:
meet the minimum qualifications for engagement as contract agent FG II:
(i) Have a level of post-secondary education attested by a diploma; or
(ii) a level of secondary education attested by a diploma giving access to post-secondary education, and appropriate professional experience of at least three years; or
(iii) where justified in the interest of the service, professional training or professional experience of an equivalent level (related to the nature of the tasks and qualifications indicated in the Job Description).
Have the capacity to work in languages of CFSP and external relations necessary for the performance of their duties. Excellent knowledge of English (written and spoken) is essential.
Be a national of one of the Member States of the European Union and enjoy full rights as a citizen.
Specific conditions of employment:The successful candidate will be required to undergo security vetting if (s)he does not already hold security clearance to an appropriate level (EU SECRET), in accordance with the relevant security provisions.Application and selection procedure:Candidates should send their applications (CV and motivation letter – in English or French) to the mailbox: STRATEGIC-COMMUNICATIONS-RECRUITMENT@eeas.europa.euThe closing date for the submission of applications is 30/01/2019. Late applications will not be accepted.The selection panel will make a pre-selection on the basis of the qualifications and professional experience described in the CV and motivational letter, and will produce a shortlist of eligible candidates who best meet the selection criteria for the post.The candidates who have been preselected will be invited for an interview by a selection panel. The panel will recommend a shortlist of candidates for a final decision by the Authority Empowered to Conclude Contracts of Employment. The Authority may decide to interview the candidates on the final shortlist before taking this decision.Post available: March/April 2019 in EEAS HQ (Brussels)Original Article
Please follow and like us: